Top Posts of 2020 and Looking forward to 2021
Want to see what others learned about in 2020?? Let's take a look at the top posts of 2020 on my blog! There might be something you want to learn too!
Top Posts
First, I want to point out that not all of these posts were written in 2020 but people are still reading and learning from them. That is one of the aspects of blogging I love. The information is there anytime you need it!
And I would hate it if you missed any of our tutorials or information about our projects! Sign up below and I will send you tutorials straight to your inbox!
On with our most popular posts!
Bullet Journaling
Bullet Journaling has been the way I have managed our reinventing business since the beginning. There is sooo much to manage when you run your own business and outside of hiring an assistant, the BuJo system has helped me to keep it all organized and moving forward.
Here are a couple of posts about how I set up my Bullet Journal and how I use it to keep track of all the things business!
You can find more posts about Bullet Journal by clicking on the "Tid-Bits of Life" tab in the top menu or you can click here!
Now I have a question for you: are you interested in seeing more of my Bullet Journal in the coming year? Let me know in the comments.
Reclaimed Fencing Projects
Another popular post has been the one where we shared about reclaiming fence pickets! Kinda funny that it has been so popular because the fencing came to us for free.
In fact, it was from our own picket fence! I literally looked out at that fence from inside of our home one day (after the fence had been up for about 15 years!) and thought, "Look at all that free wood!!"
The crowbar was all I needed and time of course! The pickets had to be removed from the railings by hand!
Easy Dropcloth Projects
Dropcloth projects have been popular for a while. Someone just gifted me with a dropcloth they are no longer using and I am sure to put it to good use in the future!
Here are the drop cloth projects that my readers have enjoyed:
How to Reupholster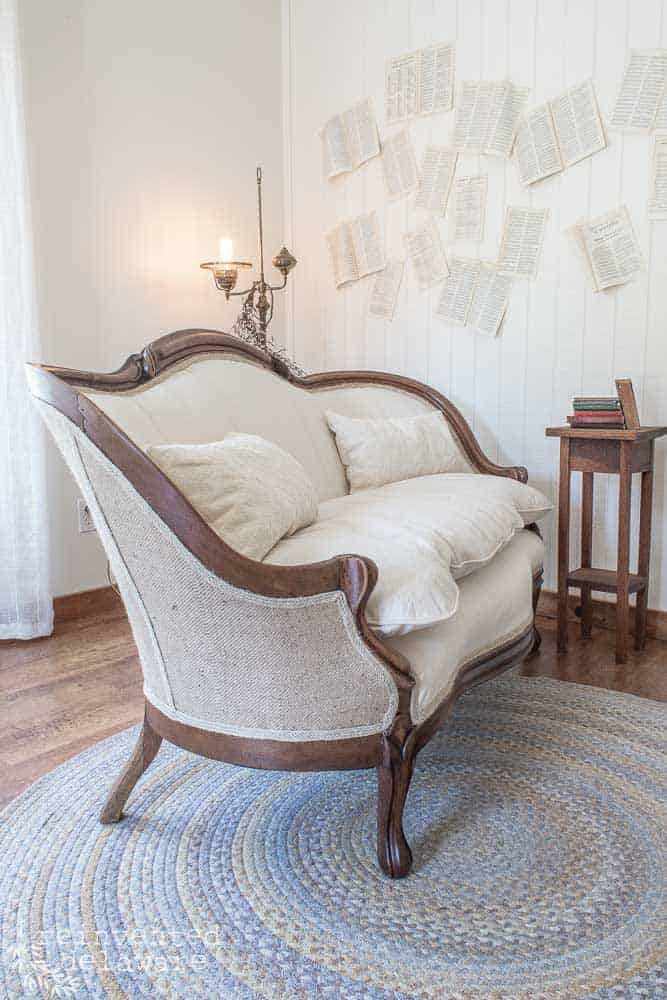 Reupholstery projects have been popular too. Especially this year!
We had the privilege of reupholstering an antique (early 1900's) Victorian-style settee for a client's wedding! We had months to work on it and believe me, that was helpful!
Here are several posts showing step-by-step how we repaired, restored, and reupholstered this gorgeous piece of furniture!
Furniture Repairs
One more post for you to read that others found helpful! It falls in the category of Furniture Repairs and Restoration.
You know we like to share furniture repairs and restorations here on the blog. And for good reason — if repairs are not made to these pieces then the restoration will not last for the next generation to enjoy. Having knowledge about furniture repairs is crucial to the restoration process!
We want to share our knowledge with you so your projects will be enjoyed for years to come!
Sharing is Caring
It has been a joy to share these tutorials with each of you! I am a firm believer in sharing what we have learned with others so they can learn too! If you find these tutorials helpful, would you let me know over on Instagram or Facebook? Or better yet, comment below and let me know your thoughts!
We Need Your Ideas!
I would also love to know what you would like to see more of here on the blog! The sky's the limit! Well, almost ;). Comment below or hop over to Instagram and let me know!
Here are some ideas to get you thinking:
Before and Afters of our projects
Step by Steps of our projects
Easy home decor sewing projects
Our home
Day to Day goings-on at our home
Bullet Journal ideas
Thanks for stopping by!
Thanks for joining me here today! Your support of our business including this blog means so much to us! We have enjoyed creating and sharing projects with you and we look forward to creating and sharing more of what you would like to see here!
Pop over to Instagram or Facebook and say 'Hi!" Be sure to pin any of the images in this post or the other posts I've shared above to your Pinterest boards! Follow me on Pinterest for more inspiration!