Simple Rustic Christmas Tree Decorating Ideas
Rustic Christmas trees don't have to be difficult to create. This holiday season, we've decided to create a rustic look using pine cones for ornaments, upcycled wooden bead garland, and a pallet wood crate to hold the tree. Let's take a look at these simple rustic Christmas decorations on our tree!
5 Days of Christmas Cheer
We are five blogger friends who are kicking off the Christmas Season with Five Days of Holiday Inspiration! Here is a sneak peek at what we will be sharing each day! Be sure to go to the end of this post to see today's inspiration!
5 Days of Christmas Cheer
The following post may contain affiliate links. That means if you click and then buy something, I will make a small commission at no additional cost to you! Thank you for supporting my blog. full disclosure here.
This post is sponsored by Dixie Belle. All opinions are my own!
rustic Christmas trees
Rustic Christmas trees bring a sense of hominess to the holiday season. Maybe that is because all of the 39 years we have been married, Our tree has had a rustic touch.
From the handmade ornaments that I have made over the years like upcycled wool angels, plaid wool angels with grapevine wings, fresh cypress branches from our yard that I spray-painted gold, rusted jingle bells that my daughter and I made into a garland, and the salvaged galvanized tub we used to hold the tree.
We know rustic Christmas decorations around here that is for sure!
simple Christmas decorating
This year I decided to simplify my Christmas tree decorations and make just a few rustic ornaments to hang on the tree in our living room.
Our living room area opens up to what I like to call, the public area of our home. The kitchen, the space with our dining table, and the living area are all in one room. When we built the house over 20 years ago, we had the electrician install floor jacks in the living room so that I didn't have to worry about where to plug in side table lamps.
That came in handy when we removed walls in a major renovation almost 15 years ago! I especially love using the floor jack to plug our Christmas tree in and place the tree in the middle of the whole living space! It's great because we can see the tree from all rooms and from all sides. Plus, the tree can be seen through the front door!
easy assemble pre-lit tree
King of Christmas was generous in offering an amazing tree to us for our home this year! They sent me a 7′ King Noble Fir with lights! This tree is so amazing! It's the sparse look I wanted for the rustic Christmas decor ideas that have been floating around in my mind!
And the fact that it is pre-lit – Woohoo! I can't say enough about that! No more dealing with string lights!!
After assembling the tree, which by the way was the easiest task! All I did was set up the stand, put the first section in the center tube, then the second section, and finally the last section – the very top. Sooooo easy! Plug it in and you are ready to go!
handmade wooden crate
The tree stand fits perfectly in our wood crate that my hubby built about ten years ago. We've used this wood crate outside on our front porch to hold our outdoor Christmas tree.
We've also brought it indoors. last year I painted it red and I wanted to change that because it had more of a country Christmas tree look to it. I love that look to but this year, I'm changing it up! Again!
The tree sat lower in the crate than I wanted so I grabbed a couple of wooden step stools, placed them inside the wooden crate, and set the tree on top. Next, I used bubble wrap to add some bulk around the tree stand that was visible. Then I layered in a vintage flax linen tablecloth over top.
rustic tree skirt
When I was a child, my mom would use a sheet around the base of the tree to reassemble snow. She used a white sheet in place of a Christmas tree skirt. I was enamored with that look as a little girl.
When I married, I continue the tradition but I also layered an antique lace tablecloth I inherited from my mom. I love the look of the snow and wanted to repeat it this year but with the twist pattern on the linen tablecloth.
rustic Christmas tree ornaments
Let's chat about the rustic Christmas ornaments. They are pretty simple and most are made from natural elements.
First, we have the pinecone ornaments I made. I added a special sparkly touch to these pine cone ornaments you will love! They are so festive! And they are so an easy and fun way to spend an afternoon.
Grab a friend and do some crafting together! You can create your own snowy pinecones for your farmhouse Christmas tree!
Next is the wooden bead garland I picked up at my local thrift store a few weeks ago. The wood garland was all different colors so I knew that had to change.
upcycled wooden bead garland
The garland was sold in a bag for only $8 and when I got it home and opened the bag I could hardly believe my eyes. There were eight strands, each about 6′ long!
Rustoleum is my go-to spray paint and I had Vintage gold on hand. A great way to spray paint. the wooden garland is to hang the strand on the clothesline. After spray painting the garland, I allowed it to dry completely.
It's so pretty! The wooden beads look like a strand of tiny gold ornaments on the Christmas tree!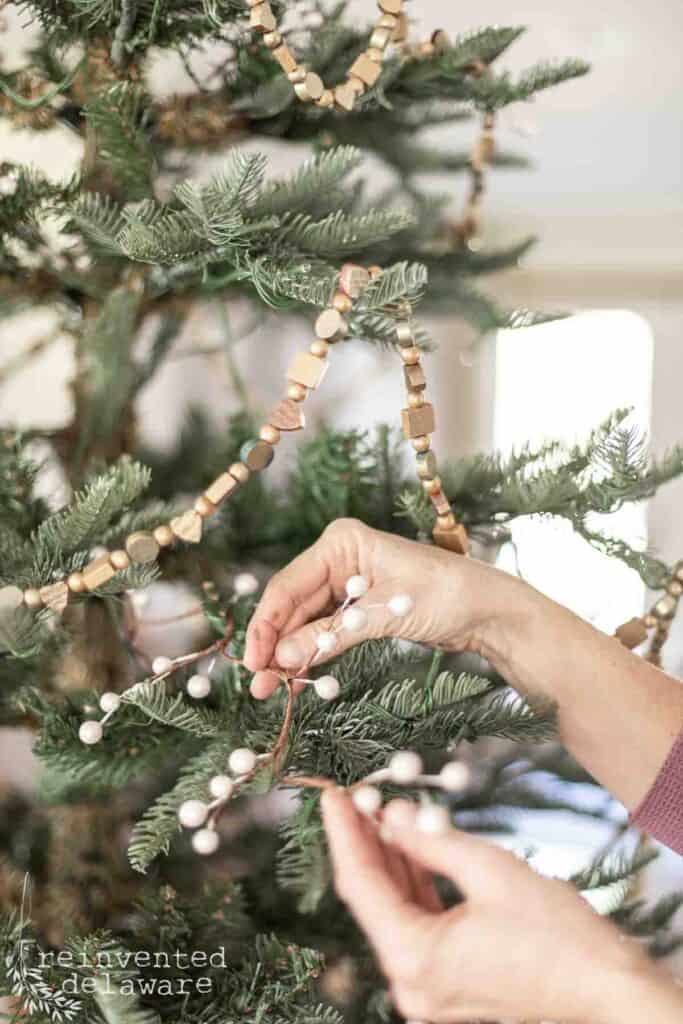 Speaking of upcycling garland, This white styrofoam berry-looking wire garland has been in my rustic holiday decorations for years! And I mean years, at least 20! It has held up well even though we store our holiday Christmas decorations in the attic.
If you would like to see more of the upcycled Christmas decorations I have made over the years, click HERE! You will enjoy looking back!
I took the garland apart and made smaller sections of it about ten years ago. Even though the berries are not real natural elements, they do look very realistic. I place the smaller sections on the branches so that each section lays right on top of the branches. I don't have enough to go on each branch so I space them out evenly.
bird Christmas tree decorations
Do you love to have birds on your Christmas tree? I do and I have quite a collection. This year I decided to go with these tiny little birds. They are so sweet. The birds measure about 3″ from the beak to the end of the tail. They look like they just fluttered in and perched.
They come with little metal clips to attach them to the branches. My grandkids will love them! I still might add some of my other birds. We'll see as the Christmas season goes!
The last of the rustic decorations I wanted to add to our Christmas tree is the topper. We've used a paper box star that resembled a wooden star for years. It was a gift box that I upcycled by drilling holes in it, placing in a light string,s and then painting the whole thing off-white. I love that star!
But in the spirit of using natural materials to create the farmhouse style rustic Christmas vibe I am going for, I grabbed one of the grapevine angels I purchased several months ago.
I had been on a weekend trip with my sisters and we had gone thrifting.
One of my sisters spotted these angels. The plan was to upcycle them and then sell them in our local vendor booth. But we longer have a vendor spot, soooo At least one of those is going on our Christmas tree!
Hubby spray-painted it for me in just a couple of minutes. It's the perfect topper for our rustic Christmas tree, don't you think?
YouTube Video
Click the image below to watch my tree unboxing and set-up!
King of Christmas trees
Here is just a sampling of what King of Christmas has to offer for holiday decorating. The tree you see in this post is the 7'King Noble Fir with LED lights. They lights give a nice warm glow, not the blue-ish color so many LED lights give.

more rustic Christmas tree decorating ideas
As I was writing this blog post, I thought of some other Christmas tree decorations you could use to create the rustic trees that are so popular. Let me know in the comments if you think of additional ideas!
use plaid ribbon and tie simple knots on the end of the branches
place a small Christmas tree in a vintage crock
purchase a wooden reindeer figurine and place them near the base of the tree to go along with the birds!
keep your eye out for small wooden toys that could be painted with white paint and used as wooden ornaments
use scrap wood or small wood slices to create personalized wooden name tags for each family member as custom ornaments – be sure to date them!
use good ole' fashioned candy canes and hang them on the tree as ornaments that are edible – the littles will love them!
painted paper mache stars using milk paint in any color your like!
I hope you enjoyed this post and that it puts you in a festive mindset! I would love to know how you plan on decorating your Christmas tree this year! Are you going with your traditional Christmas decor or are you switching things around and including rustic material as I have? Let's chat in the comments below!
thanks for joining our journey!
I'm so glad you stopped by today!
Thanks so much for joining us for this post! Join our journey so you don't miss any fun projects, tutorials, and inspiration we share with you each week! You can follow us on Instagram, Facebook, and YouTube. We share even more inspiration on Pinterest!
Until next time…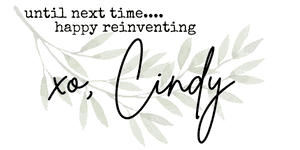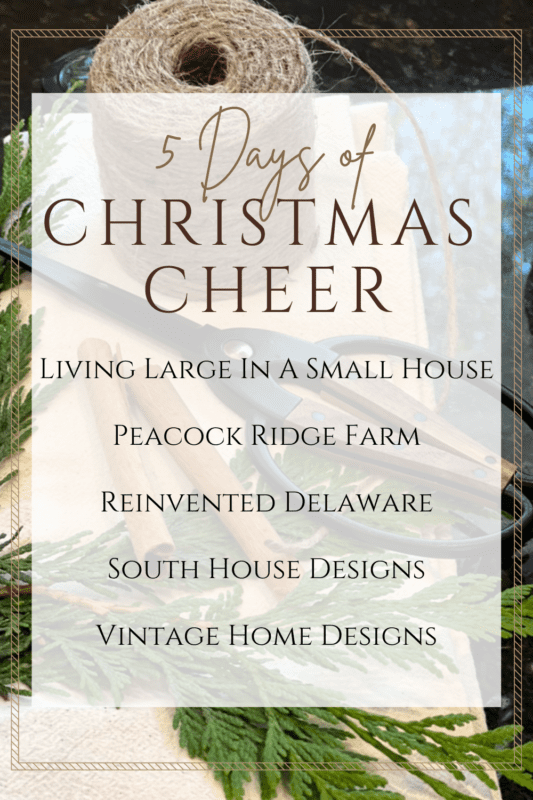 Vintage Home Designs
It's time to start decking the halls! I'm sharing lots of ideas for decorating your tree with simple, neutral, and vintage style ornaments along with creative tree skirt ideas, tree toppers, and more!

Living Large in a Small House
Creating a French Country Christmas Tree for my One Room Challenge space has been so much fun. The blue and white theme of the room set the tone for the tree and the gift wrapping.

Peacock Ridge Farm
Deck the halls with boughs of holly, fa la la la la! Christmas is almost here and that means it's time to get your home ready for the holidays. One of the most popular ways to decorate for Christmas is by putting up a Christmas tree. If you're looking for some ideas on how to make your tree look beautiful this year, then keep reading! We've got some awesome ideas for you. So put on your Santa hat and get started!

Reinvented Delaware
Rustic Christmas trees don't have to be difficult to create. This holiday season, we've decided to create a rustic look using pine cones for ornaments, upcycled wooden bead garland, and a pallet wood crate to hold the tree. Let's take a look at these simple rustic Christmas decorations on our tree!

South House Designs
Christmas tree decorating made easy with step by step guide full of all the top tips and hints. But loads of room to add your specific style.