Tuesday Turn About #177 Holiday Ideas
This week we are continuing with our holiday-themed posts! I hope you enjoy them – Tuesday Turn About #177.
Tuesday Turn About #177 Holiday Ideas
This post may contain affiliate links, at no additional cost to you. For more information, see my complete disclosure HERE.
Weekly Photography Tip
This is not my usual photography tip but it does have to do with being recognized. BTW, we want to be recognized for our photography too. The style we shoot in will become familiar to our readers and that's important.
Maybe we will chat about that in another post. Let me know in the comments if that interests you!
Today, let's chat about breeding familiarity among other bloggers. If they recognize your blog name (and we definitely want that to happen!) then they are more likely to click. If they see one of your images or your blog name on Pinterest, they are more likely to click.
And that holds true for link parties! If other bloggers see and recognize your blog name and your photography style, they are more likely to click.
More clicking = more pageviews and as bloggers, we all love that, don't we?
Here is an easy way to have others click on your link if you post at a link party:
Add your link as usual but before you click 'Done' double-check the Caption field and make sure your blog name is at the end of the post title. It should look something like this in the Caption field:
Blog Post Title – Blog Name
When the linked post shows up in the link party, your blog name will also be visible.
If other bloggers see your blog name and recognize it while they are perusing the links, then they just might click on it!
Bloggers helping other bloggers is one of the best aspects of this amazing blogging community!
BTW, if you are looking to improve your photography skills, look over to the right of this post and you will see my photography e-book! I promise this detailed guide will get you started!
my camera gear

Now, let the party begin!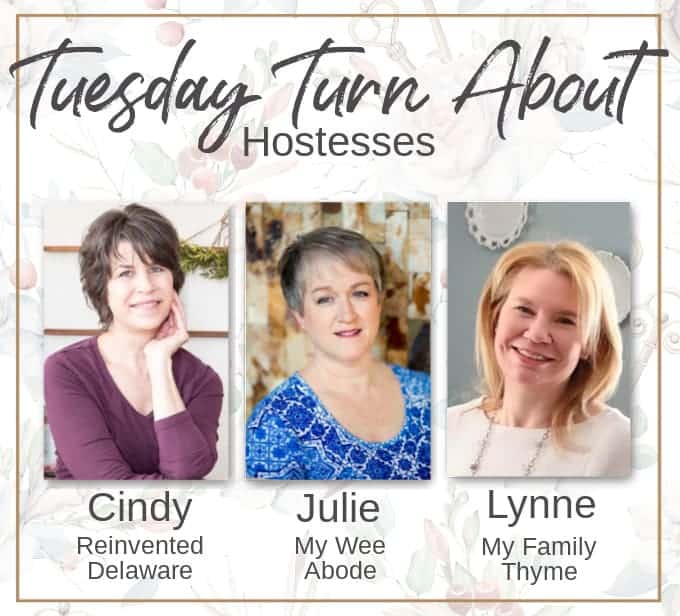 Join us on the socials!
Though not a requirement, we would love for you to join us on other platforms. Feel free to subscribe to our email lists, our Facebook pages, our Instagram accounts, and our Pinterest boards!
Let's create community!
Cindy at Reinvented Delaware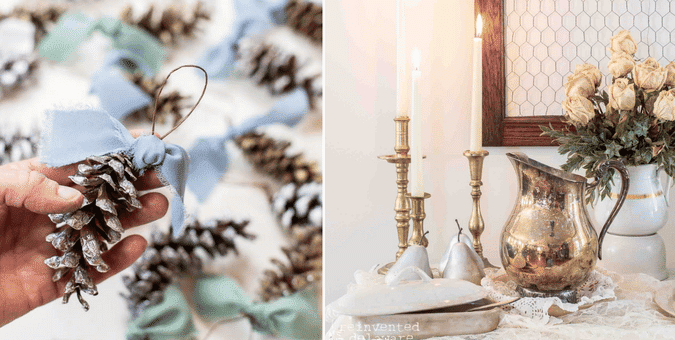 Cheap DIY Pinecone Ornaments | Vintage Buffet Tablescape for the Holidays
Julie at My Wee Abode
DIY Plush Chunky Yarn Christmas Wreath //
Christmas Decor and DIY Ideas for a Small Home
Lynne at My Family Thyme
Make a Bread Cornucopia for Thanksgiving | How to Make Perfect Pumpkin Bars
Be sure to hop on over to Julie's blog at My Wee Abode and Lynne's blog at My Family Thyme to check out SIX additional features from Tuesday Turnabout! If you haven't been featured on Reinvented Delaware this week, you just might be featured on one of the other hosts' blog!
Woohoo!! We are sharing 4 bloggers each week from now til Christmas!
Lora Bloomquist
Great Ways to Use Reclaimed Wood for DIY Home Decor Projects
A Loverly Life
How to Create a Festive Tree Using Vintage Tin Tiles
This Dear Casa
Two Easy Ways to Make a Eucalyptus Wreath
My Uncommon Slice of Suburbia
---
Let's start sharing! Because this is a party, we encourage all who link up to visit several other bloggers who have linked as well – comments and pins are a great way to spread the love!
Before you get started, take a look at our guidelines:
This party is for home decor and home-related posts only (recipes, organizing, DIY, crafts, etc.). Link up to 3 related posts. Please do not link up informational posts that do not relate to the topic.
If you would please not link up shops, advertising, round-ups, other link parties, or any posts promoting sales, we would appreciate it.
DO NOT PIN FROM IMAGES ON THIS PAGE (it just won't work right on Pinterest). However, please visit the original post/source and pin from there. That works perfectly!
Please make sure that your images are in a jpeg or png format. If we can't save your image, we may not be able to feature you. So sad!
By linking to the party, you give us permission to share your projects on our blogs and social media. We will always give proper credit with a no-pin image.
We're looking forward to all of your fun posts this week! Give us your best!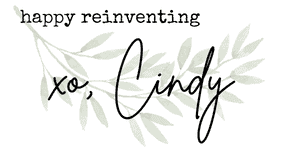 Tuesday Turn About Link Party runs from Tuesday 6 pm EST to Saturday 1 am EST. Join us during those times each week!
Whoa nelly – before you link up, did you read my photography tip for this week? Scroll back up and read it – You'll thank me later!