Antique Dresser Transformation | The Reveal
Wondering how to transform an antique dresser with a bit of effort and Miss Mustard Seed Milk Paint? In this post, I will show you just how easy it is!
Some links in this article are affiliate links and if you click on them, we will received a small commission at no additional cost to you! Clicking and purchasing helps to support this blog and all of the home decor tutorials we bring to you! Click to read my full disclosure.
love my job
After many dresser transformations, I am still amazed at what a bit of work and of course, paint can do for a tired piece of furniture like this antique dresser. I really do love this part of my job – finding the old and forgotten and tossed aside and bringing it new life, new purpose and a fresh start.
In the first part of this tutorial, I shared how to make minor repairs to the drawers and how to prep the piece for painting.
Then we painted the first and second coat of Miss Mustard Seed Milk Paint in Mora. This is a soft blue/green gray tone that depending on what the lighting is in a room can take on a blue or a green tone. It really is a lovely color!
After the second coat of milk paint was dry, I added some light distressing to age the piece.
aging with hemp oil
Miss Mustard Seed Hemp Oil also adds its own layer of aging to the piece. This product is so easy to apply! I used a chip brush to brush it on and then I used a lint-free shop towel to wipe off the excess. Brush on, wipe off is all it takes for an old-world feel!
chameleon color
Isn't she lovely? You can see in this image the Mora color of Miss Mustard Seed Milk Paint takes on a blueish gray.
There is just a hint of the green tone in this image.
original hardware wins the vote!
The drawer pulls look amazing don't they? They are original. Can you see a difference in the pulls? Look closely!
You see it now, right? I took a poll on Instagram and asked my followers if I should replace all of the hardware with new since one of the pulls didn't match. Y'all wanted me to keep the unmatched piece along with all the others and I must say that was the best decision! Just another layer of character to this antique dresser!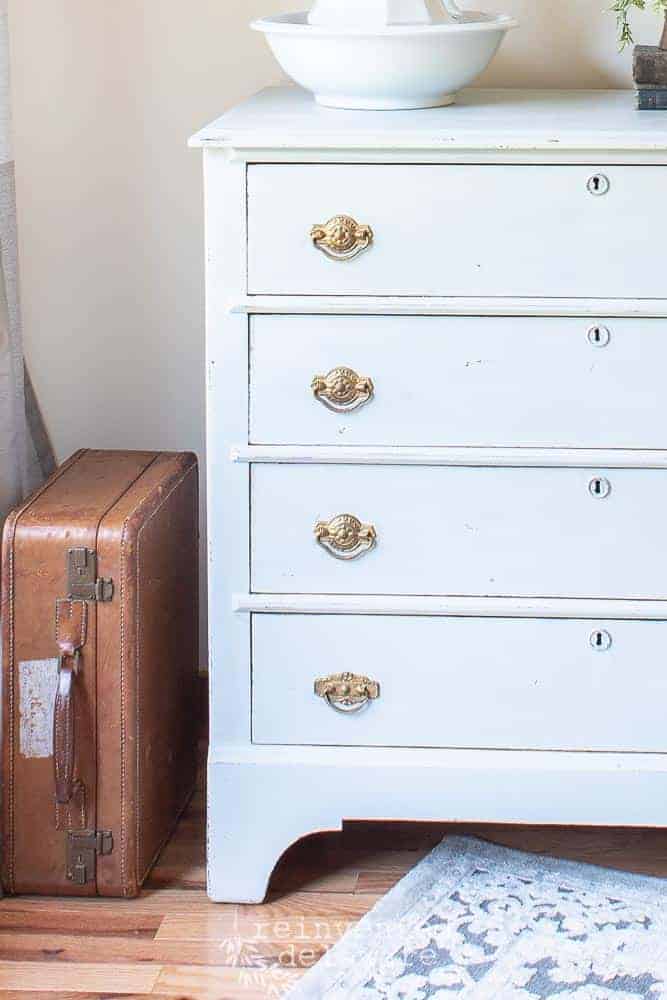 The light color of Mora helps this four drawer antique dresser to not seem too heavy even though it is a large piece.
all the crackles
The light distressing is perfect along with the crackling that happened on the top of the antique dresser. That is one of the many aspects of Miss Mustard Seed Milk Paint that I love – it really behaves the way it wants to on furniture. On this piece, it created another layer of aging by crackling!
Remember how we cleaned up the beautiful drawers and the joinery? I also applied Hemp Oil to the sides – look how the gorgeous the Knapp joinery looks with the Hemp Oil!
Knapp joinery helps to date this piece to the late 1800's. Isn't is so pretty??
Rub n Buff in Grecian Gold polished the drawer pulls perfectly! This products helps to maintain the vintage feel of the drawers pulls and other hardware pieces. No spray paint on these babies!
Be sure and check out the first part of this tutorial. I shared simple repairs and steps to prep the piece for paint!
before and after
Here is a fun before and after! And just for fun I made a second before and after image as well. Let me know which one you like best! I think I like the first image the best but I wouldn't want to sway you choice!
And here is the second before and after! Let me know which is your fave in the comments!
thanks for stopping by!
Be sure and pin this image to your antique furniture makeover boards on Pinterest! Send any questions you might have about furniture restoration! I would love to help you the best I can!
Follow along on Instagram, Facebook and Pinterest for more ideas and inspiration. Thanks so much for stopping by!