Antique Dresser Transformed with Artissimo Milk Paint
Dressers have been coming at me like wild fire lately! Keep reading to see this antique dresser transformed into a beautiful piece of history!
Hopefully, you saw the post about the Miss Mustard Seed Bergere dresser with glass knobs. Head on over and see how gorgeous it is! But be sure to come back to see the finished results of this dresser!

Thrift Shopping
One of my daughters and I were out thrifting and we spotted this beauty. I made an B-line for it!
I knew right away that it would need some work because there was an area along the back edge that was missing a piece. It was probably a mirror. The markings of were the mirror would have attached were still on the back of the dresser.
But I had a plan for the missing piece!
Thorough Cleaning
I will share the repairs in another post, but for know I can tell you that is got a light sanding and vacuuming. I like to turn the pieces on their side or completely upside-down so that I don't miss any grubbies…..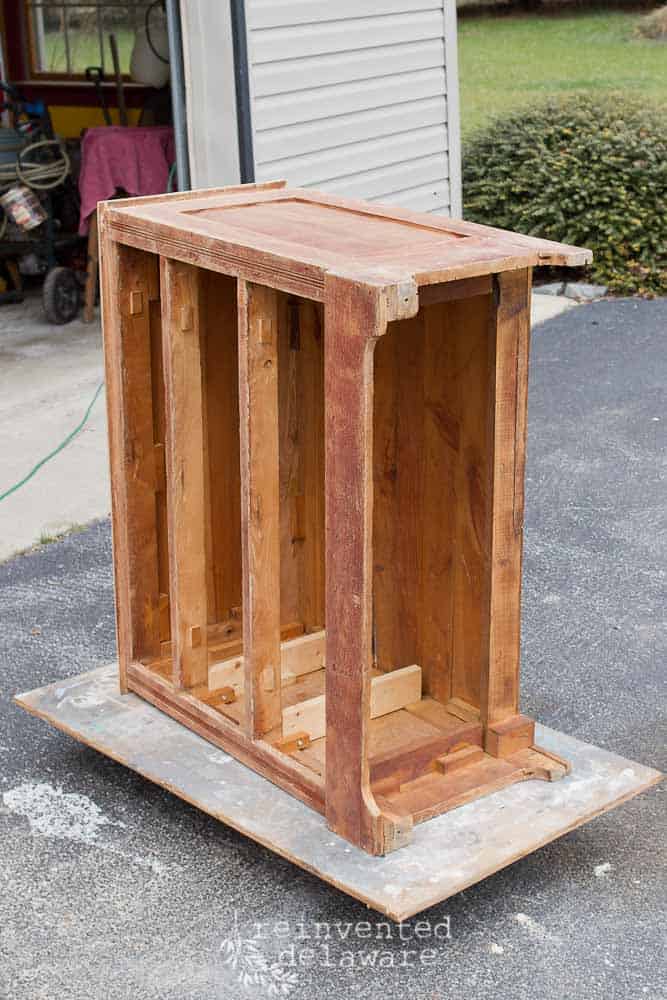 ….like this! Agh! That is the inside back of the dresser with years and years of dust! My shop vac loved it!!
On to the Pretty Stuff
After the sanding, vacuuming and cleaning, this piece got two coats of Miss Mustard Seed Milk paint in Artissimo. It is a deep, rich blue that I just love! I have painted a couple of pieces in this gorgeous color and believe me, it is a show stopper!
Just look at how this milk paint works!! It adds such an authentic chippiness to furniture!
Here is that same spot after just a bit of light sanding using a worn down sanding sponge. The paint just flakes right off!
I Love my Shop Vac!
It can get a bit messy! The shop vac takes care of all that flaking! Some of the paint continued to flake off while I vacuumed. I also used a dry micro-fiber cloth over it to remove any fine dust.
Miss Mustard Seed for the Win
I chose Miss Mustard Seed Hemp Oil to seal the surface. This has been my go-to sealer lately — I just love how it brings out the rich blue of the color! Isn't it gorgeous!!
I applied the Hemp Oil to the entire front and then wipe it down with a micro-fiber cloth. I started wiping down at the same spot I started when applying the Hemp Oil. That gave the oil a bit of time to soak into the wood.
I forgot to mention that I pour a bit of the Hemp Oil into a small mason jar. My gallon sized bottle of this stuff is just too hard to manage while applying it! This little mason is much more manageable 🙂
I also applied the hemp oil to the back of the dresser as well as the sides of each drawer. This just gives the whole piece a freshened look! No need to wipe off the excess on the bare wood – it just soaked it up!
See the difference between the right side that has Hemp Oil on it and the left side that doesn't? The oil really brings out the details in the wood!
In All of Her Glory
The top had been sanded down to bare wood — solid oak! It needed the Hemp Oil as well. Isn't it sooooo pretty??
Remember the piece that was missing on the back? Look closely at the before image and you will see an additional furniture piece on top of the dresser. It got the same treatment as the body of the dresser and then was attached to the back of the dresser! Problem solved! I knew that leftover piece from another project would come in handy!
This post is getting long and it is getting late in the day so I better wrap this up! I will be sure to share some of the repairs and updates we did to this piece in another post.
In the meantime, enjoy this beautiful piece of history!
I promise to share how I got the results on this antique drawer pulls! You won't believe how bad they looked up close. But look at 'em now!
Thanks for Stopping By!
So glad you stopped in for this antique dresser transformed with Miss Mustard Seed Milk Paint! Be sure to subscribe so you don't miss any posts including the upcoming post about the repairs to this piece!
Feel free to pin this image for your inspiration!
We share more of our reinventing journey on Instagram, Facebook and Pinterest! We would love it if you followed along!