Furniture Makeover Before and After |Radio Cabinet
Last time we looked at this antique cabinet it had been prepped, sanded, painted, and sealed. Now it's time to see the furniture makeover before and after!
before and after
Don't we all love a good furniture makeover before and after?? And when the before and after is on such a unique piece like this radio cabinet, well that just makes it all the better ☺️
We just don't have furniture like this in our homes anymore!
Back in the day, each home had a radio that connected them to the outside world. That's so hard for us to imagine now in the online world we live in today.
hiding electronics
But not unlike today's times, we like to hide our electronic devices like TVs, and laptops. This radio cabinet had a special place for the radio to be hidden!
original hardware
The original hardware on this furniture makeover was so pretty. I try to use the original hardware on most of our restorations. To me, it adds to the character and beauty of the piece.
All this hardware needed was a bit of wire brushing and some Rub-n-Buff in Antique Gold!
unique details
Another unique feature of this piece is the fold-down section. I wonder if it was used for foodservice? Did the family sit around the radio and listen while they had snack foods like we do when we are watching TV?
Probably not. I think we consume more food nowadays then they did in the 30's and 40's 😉
So what did they use the fold-down section for? Maybe they used it as a writing desk. Furniture has often been made with a dual purpose.
Regardless of what it was used for, I love the fold-down section of this piece!
chippy paint
The paint chipped perfectly since we used the beeswax method we talked about in the last post.
wood grain love!
And the two-tone finish!! Seriously, this is one of my favorite ways to restore furniture. I love to paint that we all know, but I also love the look of wood grain too!
And take a look at that gorgeous wood grain!! Miss Mustard Seed Hemp Oil just made the beauty of it come out!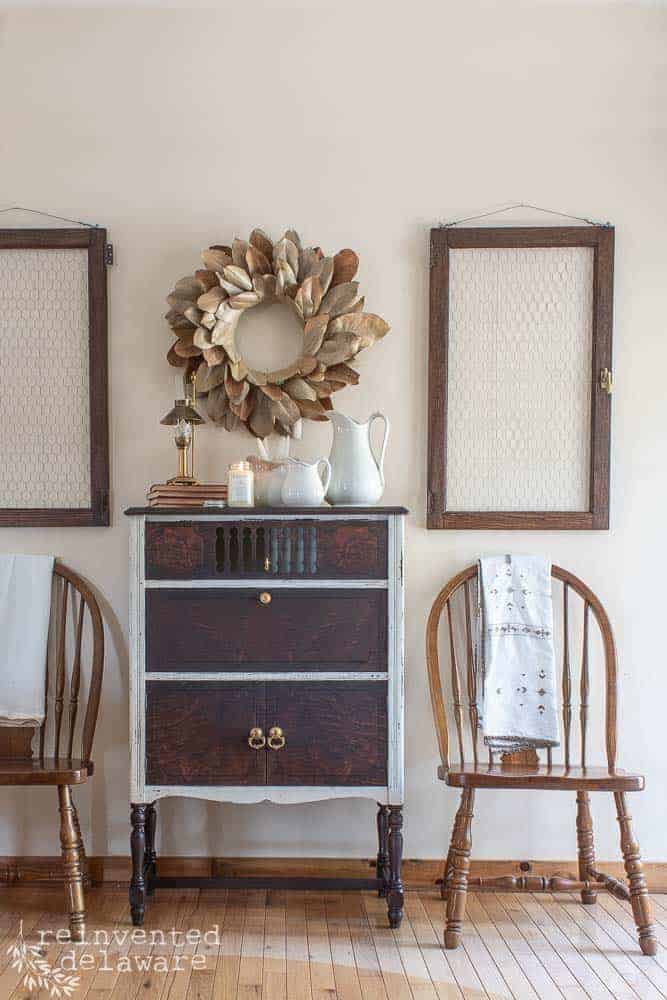 want more??
I hope you enjoyed this furniture makeover before and after! If you love this one, I am sure you will want to subscribe to see more! Just subscribe below and I will send you a new project a few times each month!
Follow along on our reinventing journey on Instagram and Facebook! We love sharing behind the scenes of many of our projects in our stories! Pop over and join the fun!
Be sure to pin any image you see on Pinterest for inspiration!