Furniture Makeover Before and After |Radio Cabinet
The last time we looked at this antique cabinet thrift store makeover, it had been prepped, sanded, painted, and sealed. Now it's time to see the furniture makeover before and after!
before and after furniture makeover
Don't we all love a good furniture makeover before and after?? And when the before and after is on such a unique piece like this radio cabinet, well that makes it all that much better. ☺️
We just don't have furniture like this in our homes anymore! So when I saw it in our local vintage resell shop for only $40, I couldn't pass it by!
a useful piece of furniture
Back in the day, each home had a radio that connected them to the outside world. That's so hard for us to imagine now in the online world we live in today.
Families would gather around in the living room or maybe in the dining room to hear the latest news reports. In some ways, this old cabinet was their entertainment center.
hiding electronics
We like to hide our electronic devices like TVs, and laptops nowadays. Back in the day, people wanted to put their radios away during the time they weren't using them.
This radio cabinet was a great way to hide the radio. They could lift the door on this old furniture piece when they wanted to listen to the latest news. Then they could close the door and still be able to hear the sound coming through the open design area on the front of the door.
original hardware vs new hardware
The original hardware on this furniture makeover was so pretty. I try to use the original hardware on most of our restorations. To me, it adds to the character and beauty of the piece.
All this hardware needed was a bit of wire brushing and some Rub-n-Buff in Antique Gold! This is such an easy way to restore old hardware.
unique details
Another unique feature of this piece is the fold-down section. I wonder if it was used for food service? Did the family sit around the radio and listen while they had snack foods like we do when we are watching TV?
Probably not. I think we consume more food nowadays than they did in the 30s and 40s. 😉
So what did they use the fold-down section for? Maybe they used it as a writing desk. Furniture has often been made with a dual purpose in mind. This depression-era radio cabinet would have made a sweet little desk space!
Regardless of what it was used for, I love the fold-down section of this piece, don't you?
chippy white paint
The white paint chipped perfectly on this antique cabinet since we used the beeswax method we talked about in the last post. Milk paint is easy to use if you want a chippy white paint finish.
This vintage radio cabinet has taken on a whole new look! This is one of my favorite furniture pieces! What do you think of it? Let me know in the comments!
wood grain love!
And what do you think about the two-tone finish? Seriously, this is one of my favorite ways to restore furniture. I love to paint. We all know that by now!
But I also love the look of wood grain too! This is a great way to give a fresh look to the entire piece without the whole thing being painted.
And take a look at that gorgeous wood grain!! Miss Mustard Seed 's Hemp Oil just made the beauty of it come out!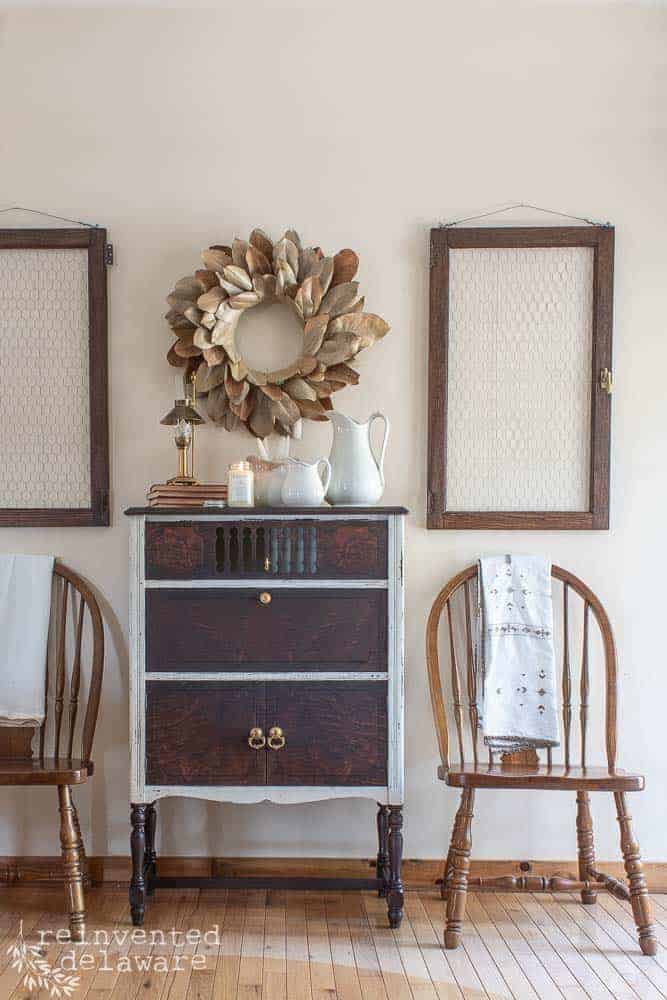 more furniture makeover ideas
dresser makeover idea
If you are looking for a way to show wood grain and still have a painted old dresser, this before and after furniture makeover is a great idea.
The best option, in my opinion, is to paint the frame and then have a wood grain finish on the dresser drawer fronts. The top of the dresser could also show the wood grain. This method uses very little paint.
side table makeover idea
The same furniture painting technique could be used on side tables in a living room. Give the base and the legs a couple of coats of paint and finish the top with a dark stain. This is a great idea for an end table and a coffee table in a living or family room.
dining tables with wood tops
If you are a bit nervous to paint the top of your heirloom dining table, no worries! A fresh coat of paint on the apron and the legs and leaving the top with its original finish will be one of your favorite furniture transformations without going overboard!
Your mom will be happy you didn't paint the piece that has been passed down for generations and you will be happy to have an easy furniture makeover completed with just a little TLC and a little bit of time!
Let me also mention that using milk paint is a great way to preserve the vintage feel that old furniture has while still giving outdated furniture a new lease on life.
update a vintage hutch
We don't often use hutches, sideboards, or china cabinets in our modern look for home decor anymore. Mostly because we have built-in kitchen cabinets and built-ins in our dining rooms.
But prior to the 1980s, most people had a piece of furniture that would store their dishes, and sometimes it was used as a pantry. We have found these pieces on several occasions and they are so much fun to makeover!
Using this idea with wood grain and painted areas on the piece, the vintage hutch could have the exterior painted and the interior shelving area in the original wood. Or vice versa! Either way, it would be a lovely DIY furniture makeover!
one final word
If you happen to be lucky enough to find an old piece of furniture at a garage sale, a flea market, or maybe on the side of the road and the piece has good bones, I encourage you to tackle it as your next furniture project. So many pieces are tossed aside yet they are in reasonably good shape. Those pieces need a little elbow grease and someone who cares 🙂
Who knows, your next piece could be one of your favorite makeovers!
want more??
I hope you enjoyed this furniture makeover before and after! If you love this one, I am sure you will want to subscribe to see more! Just subscribe below and I will send you a new project a few times each month!
Follow along on our reinventing journey on Instagram and Facebook! We love sharing many of our projects behind the scenes in our stories! Pop over and join the fun!
Be sure to pin any image you see on Pinterest for inspiration!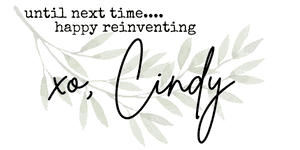 Visit my Amazon Storefront!
Click the button below and head over to our online shop on Amazon!