Repurposed Entertainment Center
Learn how we repurposed this entertainment center and gave it a fresh new look and purpose for our clients!
The following post may contain affiliate links. That means if you click and then buy something, I will make a small commission at no additional cost to you! Thank you for supporting my blog. full disclosure here.
repurposed entertainment center
Remember this piece? Our clients didn't want to just throw this solid entertainment center into the trash heap so they asked us to repurpose it.
This is how the cabinet looked when our clients dropped it off at our workshop.
And here is how it looks now! Isn't it a huge difference??
supplies used:
old tv cabinet or armoire
wood for shelving
basic woodworking tools (chop saw, drill…)
wax brush to apply wax
chip brushes (to apply paint and hemp oil)
soft lint-free cloth for buffing
old tv armoire before & after
This is just a fun way to show you the before and after of this old tv entertainment armoire. It had been dark and old-looking.
The new finish turned out so pretty! The lighter color our client chose is so lovely, don't you think?
BTW, we had another client with a similar project. She chose a lovely light blue. You can see that repurposed entertainment center makeover HERE.
repurposed entertainment unit
Miss Mustard Seed Milk Paint in Ironstone really lightened up the dark finish that this Pier One repurposed entertainment cabinet had. The dark finish along with the size of this piece made it appear heavy and bulky.
The lighter color of the paint brightens and visually lightens this piece. The cabinet will not appear as overpowering in a room as it did when it was dark.
Sometimes big, bulky, and dark furniture can weigh a room down if it is not properly balanced by another piece of furniture. That would mean that you would need another piece of furniture with the same visual weight to balance that room.
Balancing the room will be much easier just by lightening up this large repurposed entertainment center.
how to paint hardware
Initially, we were going to leave the hardware dark. But as I was painting the primer on the dark wood, I realized that the dark hardware would scream, 'hey look at me!'
I decided to silence the scream by painting over it. First with the primer as I painted the whole piece and second with the milk paint.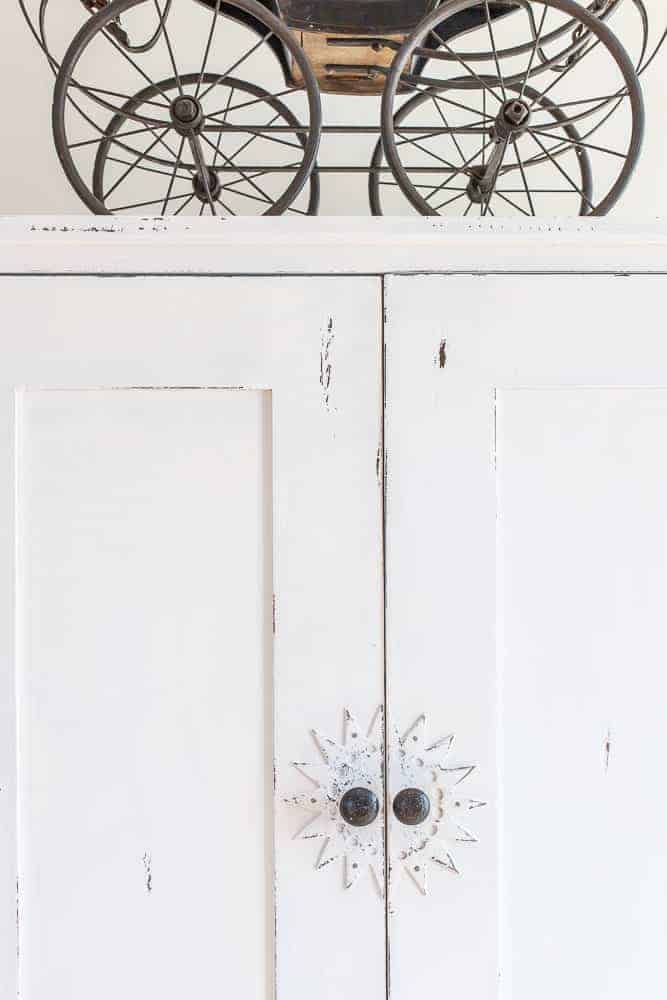 A bit of distressing worked perfectly to show the details of the hardware. Personally, I think you can see more of the details and shape of the hardware by distressing the edges. The distressing gives a nice outline.
the easy way to distress furniture
I use a knife distressing technique often. It is really effective on pieces that have been primed. The primer makes the paint adhere to the surface so well that distressing can be challenging.
My knife method worked beautifully on this Pier One upcycled entertainment center.
The legs were spray-painted with a hammered spray paint finish that I mentioned in the last post. Such an easy way to enhance metal finishes!
upcycled entertainment center
The paint and the distressing brought this early 2000 look into the current look of 2020, don't you think?
And this piece can be used in more than one room. This repurposed entertainment center isn't just for the family room anymore!
repurposed tv stand with storage
We still wanted to make this piece more practical. Our client will not be using this Pier One cabinet for their TV any longer so what could we do but add an additional shelf for storage??
The shelving adds so much practicality to this Pier One cabinet! You could use it for blanket and pillow storage. If you added some large baskets, the cabinet could be used to store smaller items as well.
And the kids would have a great place to store board games and puzzles!
how to seal milk paint
The piece was sealed with Miss Mustard Seed Hemp Oil and then Miss Mustard Seed's Milk Wax. This finish helps to add the aged look this piece has now, don't you think?
If you choose to seal a piece this way, apply the hemp oil first with a chip brush and then wipe off the excess. Allow the piece to sit overnight and then wax the piece as usual!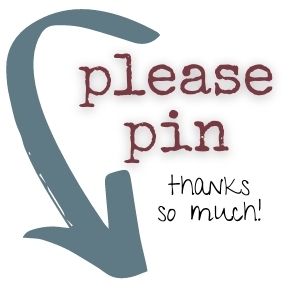 more projects painted in Ironstone
I thought you might enjoy seeing some of the other projects we have painted in Miss Mustard Seed's Milk Paint called Ironstone.
Click the image to see the post!
follow our journey!
Thanks so much for joining us for this post! Join our journey so you don't miss any of the fun projects, tutorials, and inspiration that we share with you each week! You can follow us on Instagram, Facebook, and YouTube. We share even more inspiration on Pinterest!