Vintage School Cart Upcycle
Did you have a vintage school cart that was popular in science classes back in school? Let's give them a new purpose with this upcycle!
vintage school cart
A simple Google search will show you many vintage metal school carts. The carts were used mostly in science classes – at least that how I remember them.
Our junior high and high schools had a science department. I especially remember my junior year in high school.
As with most other kids my age, I chose a class that my best friend was taking.
And it happened to be Anatomy.
Totally naive to what we might being studying and doing for the hands on learning, I signed up.
We did the usual type of hands-on assignments like dissecting a frog and even a worm! Agh!!
you won't believe our assignment!
In a way, I guess all that prepared me for the final exam science experiment.
Believe me, I was not prepared!
I'm even hesitating to say what it was so I will say it a bit 'softer.'
This little piggie went to market.
This little piggie stayed home.
This little piggie had roast beef.
This little piggie had none.
And this little piggie went, 'weee, weee, weee' all the way…..
….well, you know where I'm going with this.
reclaimed lumber
Anyway, you can see why we got rid of the metal shelves on this school cart!
Hubby has a shed full of reclaimed industrial pallet wood that we use for various projects. So he decided the reclaimed oak would be the perfect substitute for the metal shelves.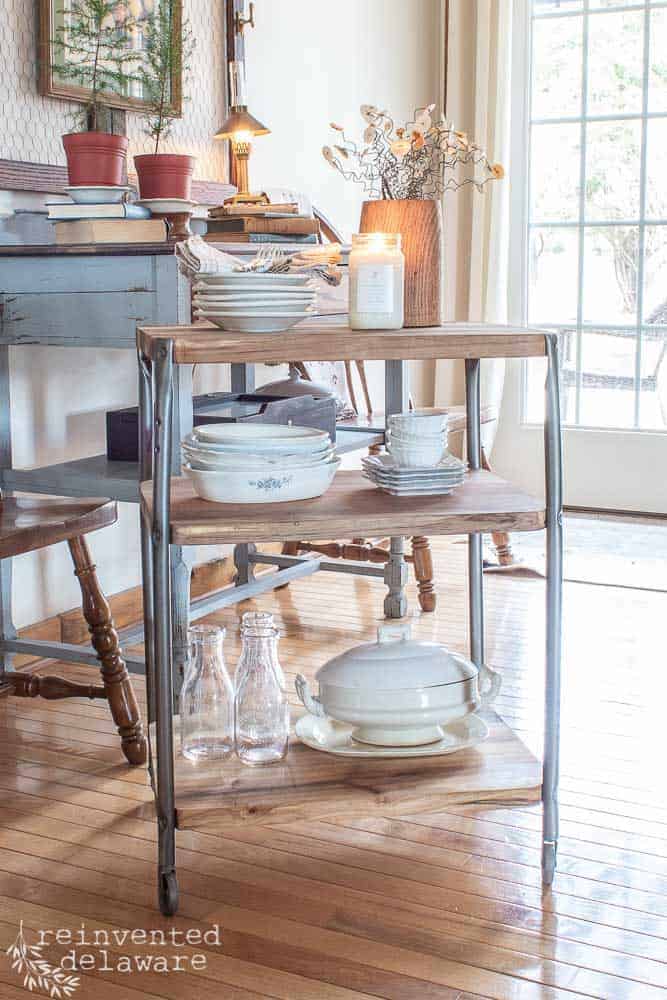 creative uses
Now this repurposed vintage school cart can be used as a small kitchen island or a bar cart.
Using it next to the grill for outdoor cooking would be a great use of this cart too!
The casters help to place this heavy and sturdy cart anywhere you need it!
your ideas??
What do you think of this repurposed vintage school cart? I am loving the practicality of it. The reclaimed oak wood and the metal legs look so good together!
How would you use this cart? Let me know your thoughts and ideas in the comments!
In the meantime, pass the bacon. 😉
join our journey
We would love you to join our journey over on Instagram and Facebook! You can also find more inspiration on our Pinterest page! We're always pinning fresh ideas!
Until next time,