Upcycled Kitchen Cart DIY
Let's take a look at this upcycled kitchen cart we finished for a client! It has some surprising details that you will love!
The following post may contain affiliate links. That means if you click and then buy something, I will make a small commission at no additional cost to you! Thank you for supporting my blog. full disclosure here.
This post is sponsored by Dixie Belle. All opinions are my own!
DIY kitchen cart on wheels
One of our customers stopped by to pick up a hand-built cabinet that she had ordered a few weeks ago and had a little peek into my workshop. Her eyes went directly to a small kitchen cart on wheels that was turned upside down and sitting on top of the huge pile of projects I have stored in the workshop.
She has an eye just like me! I can walk into a thrift store, an auction, or a yard sale and spot certain pieces that I know have potential.
This custom client is no different.
She immediately asked what my plans for this upcycled kitchen cart were and when I said I thought of painting the base of it in black, she said, "Sold!"
upcycled kitchen cart
Hubby removed the butcher block top and ran it through the planer. This machine completely removes dirt, grease, and marks that were on the top of the kitchen island. It would take me forever to sand it down to bare wood. The planner does this job in just minutes! It also corrects any warping that can occur with wood.
He also removed the casters. They had a rubber section around the wheel and most of it has dry-rotted and fallen off. New locking casters were ordered right away!
video
Here is a quick video showing and explaining the process I took to restyle the base of this kitchen island.
repurposed kitchen cart
And here is the completed project! Isn't she adorable?? Miss Mustard Seed Milk Paint in Typewriter sealed with General Finishes High Performance in Flat gives the finish a charcoal-ish gray color that will be durable because of the polyurethane topcoat. I love the visual texture it created!
rolling kitchen cart with butcher block top
See the new casters? They both have locks on them making this kitchen island so versatile! Lock it to stay put and unlock the casters to move the island to a new area.
repurposed rolling pin towel holder
Let's chat about some of the cute details we added to this upcycled kitchen cart See that rolling pin? The vintage 1950-1960s rolling pin was cleaned up and sealed with General Finishes High Performance in Flat and attached to the apron of the kitchen island.
Could there be a cuter way to hang a tea towel?? How adorable is that!! Hubby made it stationary so the towel won't spin off!
vintage garden tools on a kitchen island??
The next clever addition to the kitchen island was this garden tool handle! The original tool would have had a long pole with some sort of garden implement at the other end – may be a spade or a three-pronged digger thingy?
Who knows!! All we had in the workshop was the handle. Hubby is brilliant at adding these sorts of details to our reinvented pieces like this upcycled kitchen cart!
The handle serves as an actual handle for the kitchen island when moving it around the kitchen or maybe out to the patio near the grill.
The wood tones of the handle are perfect next to the painted surface of the island.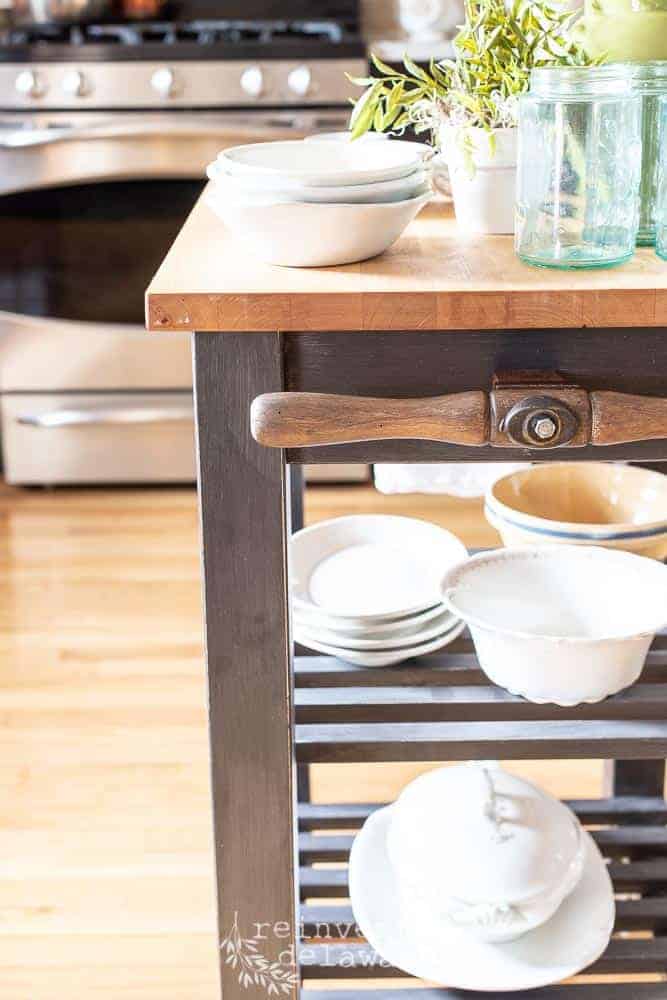 more inspiring posts
Here are some more posts that I know you will enjoy! Just click the image to see the full post 🙂
kitchen cart with butcher block top
Have I mentioned the butcher block top of the upcycled kitchen cart?? Like I said earlier, hubby removed it and ran it through the planer.
He sealed the fresh butcher block surface with Howard's Butcher Block Conditioner. Now it is clean, fresh, and ready for food prep!
rolling kitchen cart with storage
The shelving below offers great storage. Of course, ironstone looks perfect on it!!
And there you have it! An adorable upcycled kitchen cart! Our client has picked it up and is enjoying it in her home! She loved the finish and said that it had a charcoal look to it and that it would match her kitchen perfectly!
Here are some items you might be interested in after seeing this adorable wooden kitchen cart.

before and after
Thanks for stopping by for this thrift store upcycled project I hope you are encouraged to think outside of the box when you come across thrift store finds like this!
got questions?
Have a question about one of your own projects? Hop over to Instagram or Facebook and ask me! Maybe we can come up with some fun ideas for YOUR project!
You can ask questions in the comments section or just let me know your thoughts on this project!
Follow our blog updates by signing up below. We are also on Pinterest for inspiring ideas! Come join us! Feel free to pin from this post!
---
Visit my Amazon Storefront!
Click the button below and head over to our online shop on Amazon!