Why is it we talk about the weather so much?
Have you ever noticed that when we greet someone who lives far away we ask how the weather is where they are?
Or you see someone in the store you haven't seen in awhile and you talk about the weather because you aren't sure what to talk about?
We are a funny kind. But I like being a part of the human kind 🙂
So, how's the weather where you are? Here in Delaware we've had lots of rain and gray days.
The older lady I took care of for 18 years used to say that we needed the rain, the gray skies and the rest from growth in order to have a beautiful spring.
Yeah, I like being part of that kind of human. One who sees good and beauty in all kinds of weather.
Let that sink in if you are going through a difficult time in your life right now. There's a life lesson if you look deep.
in the workshop
In the last couple of weeks we've been busy in the workshop – the indoor workshop in fact! Hope you enjoy seeing these projects!
Click any image to see the full tutorial.
YouTube Video
Can you believe it can only take four easy steps to paint cabinets? Watch this video and I will take you step by step through the process!
Click subscribe while you are over there so you don't miss any of our video tutorials!
interesting podcast
Mike Rowe interviews an amazing guest on episode #138 of his podcast. Believe me, it's a good one! Click HERE to listen! You will need to scroll down to episode #138 for this fun and informative episode!
from the web
I came across some fun finds across the web this week. Check out the links below and tell them Cindy sent ya'!
one for the road
One last post for you! We'll use anything for a towel rack! Hope you enjoy this reinvented piece! Just click the image to see the whole adorable kitchen island!
---
Visit my Amazon Storefront!
Click the button below and head over to our online shop on Amazon!
Until next time…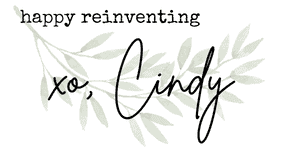 Shop for all your paint
supplies here!
Dixie Belle has what you need for your next project!
All Things Vintage #20