Along the Journey Top Sellers
July is almost over. Wow. That is all I can say!
Have you had a good summer so far? I hope so! We have a few more weeks to soak it all up and I'm here for it!
The following post may contain affiliate links. That means if you click and then buy something, I will make a small commission at no additional cost to you! Thank you for supporting my blog. full disclosure here.
our munchkins
I'm especially soaking in time with these little munchkins! Our three kids are married and are now in production mode. 🤣 🤣
Here they are in order by birth: Benjamin, Oliver, Addison, and Cameron.
They are soaking up their summers too!
We also have a teenage grandson but he's not into picture taking and Mimi sharing it with the world. 😉 Just know he is a handsome young man!

recent YouTube video
We're staying busy over on YouTube too! In fact, I have so many videos recorded that I've gotten a little mixed up about whether or not I've published them!
I also thought I deleted a bunch of videos from a thrift shopping trip in Virginia back at the beginning of June! Omgoodness, I need serious help!
Anyway, I found the long-lost videos and published them this week! You can watch by tapping the image below! I found some great things in Virginia!

recent podcast episode
Have you listened to our podcast episodes yet? We've been chatting about repurposing and our upcycling journey.
This week we talked about Pricing for Profit. If you have a vendor booth or if you sell your upcycling home decor or furniture, you will find this episode helpful.
If you don't sell pieces, you'll enjoy the behind-the-scenes discussion that Steve and I have! Tap the image below to the post and choose your favorite podcast player for listening!

recently on the web

shop with me top sellers this month
Many of you have been enjoying shopping through the shopping links I have been sharing on the weekends as well as in our blog posts and YouTube videos.
I thought you might like to see the most popular items each month! Here they are. Join the group of shoppers and grab what looks good to you! Tap the images below to shop.

It might seem weird that people are buying an electric fireplace in the summer, but I shared an amazing tutorial showing how to make your own faux fireplace from an old door. I made it for our main bedroom which gets chilly in the winter. Read the tutorial so you can make a faux fireplace for your home!
---
Visit my Amazon Storefront!
Click the button below and head over to our online shop on Amazon!
Until next time…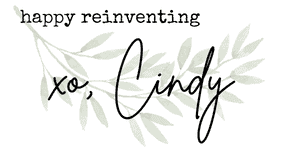 Shop for all your paint
supplies here!
Dixie Belle has what you need for your next project!