Welcome to All Things Vintage! This is where I like to share some of our recent projects, some fun projects from the web and a little bit of what we have been up to! Thanks for stopping by 😊
spring is in the air!
Can you smell spring in the air where you are? We are just starting to get hints of warmer weather, birds singing loudly in the mornings and new growth on our shrubs.
If you are like me, you are getting excited about spring!
BTW, Delaware is supposed to get a snow shower this weekend!
Here are some of our recent projects!
You won't beleive what this serving tray looked like when I brought it home from the thrift store of 50 cents! Click the image to see!
Just click the images to see the post!
Organ stools are such an easy beginner upholstery project. You will be inspired to go thrifting for one when you see these adorable stools!
See the hutch on the right? It didn't start out looking like that. In fact, it went from the original wood, to green paint, to white paint and then finally to black paint! This time we got it just right!
Facebook Live
Recently, I was asked to join the content creator team at Miss Mustard Seed's Milk Paint! I've loved this paint for years and it's so exciting to be a part of helping to spread the word about the amazing paint they offer!
This week was my first Facebook Live on the Miss Mustard Seed's Milk Paint Facebook Page! It was so much fun to share how to make this adorable spring wreath!
Can you guess what I used to make it? Click the image below to watch and find out!
fun home decor podcast
Here is a fun podcast. If you like to hear English ladies talk and laugh, you'll enjoy this podcast. Sophie and Kate discuss all sorts of things about home decor.
In this episode, they discuss whether or not gallery walls are going by the way side. The ladies share their own thoughts on gallery walls and laugh all the way through their conversation. 😊
Click the image below to listen in!
from the web
I came across some fun finds across the web this week and they are all spring related! Come on spring! Check out the links below and tell them Cindy sent ya'!
Each blogger that I just mentioned above represents a hard-working, creative and smart woman who desires to share her knowledge to inspire others. This is a special community like no other and I am blessed to be a small part of it!
---
Visit my Amazon Storefront!
Click the button below and head over to our online shop on Amazon!
Until next time…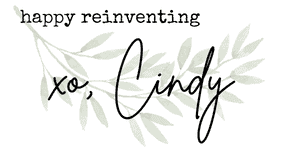 Shop for all your paint
supplies here!
Dixie Belle has what you need for your next project!