Before and After Dresser Makeover – DIY Step by Step Tutorial
This before and after dresser makeover of a vintage gentleman's dresser will have you wanting to find one of your own! The difference paint can make is remarkable!
Do you have a beautiful piece of antique furniture in need of a fresh coat of paint? This vintage dresser makeover will help you see exactly how easy it is to add a pop of color with just a good cleaning and a bit of paint. You'll be able to give your old furniture a new life with this DIY dresser makeover tutorial. Even better – no sanding required!
how to paint an antique dresser without sanding
Paint is amazing.
It is a great way to transform just about anything. Even a dull and drab old piece of furniture like this gentlemen's dresser.
A few coats of paint can transform a piece so quickly. Well, at least after you have done all of the prep work!
This is a great way to add a touch of character (and storage) to any space without splurging on a new dresser. Hunt your local thrift stores and yard sales for the perfect piece and refinish it yourself for a completely new look!
The following post may contain affiliate links. That means if you click and then buy something, I will make a small commission at no additional cost to you! Thank you for supporting my blog. full disclosure here.
supplies:
If you want to milk paint furniture, you need to gather a few simple supplies to set you up for success:
step one: prep furniture for paint
Thankfully, this antique gentlemen's dresser didn't need much prep work to bring it back to its former glory.
All he needed was a good shop vac-ing and a good cleaning with Simple Green and water.
Then he was ready to paint!
You can always take a moment here to scuff up the existing surface of your dresser to help the paint adhere to the dresser. The finish on this dresser was in good shape, so it wasn't necessary. If your dresser has a really dark color, heavy scent, or an inconsistent finish, it's also worth it to add a coat or two of a high-quality primer before adding your new color.
If your dresser has any deep scratches or gouges, take a minute to fill in those marks with wood filler and sand them smooth before painting.
step two: paint your old dresser
Once your dresser has been cleaned up, it's time to start painting. Use your paint brush to apply 2-3 coats of your favorite chalk paint or milk paint. Allow the paint to dry fully in between coats. Don't worry about the brush strokes too much; they add instant character!
If you decide to keep the natural wood look on your dresser, you can always use wood stain to make it a darker color. Just be sure to sand the wood down first to get the best results. Prefer a distressed look? Try these furniture distressing strategies to make your chest of drawers look like it's been around the block a time or two.
step three: seal the wood
Once the paint is fully dried, rub some hemp oil into the paint to give it a rich, dark black. For any sections of wood that are not painted (liked stained wood), seal it with MMS MilkCoat in Matte to give a gorgeous flat finish
The flat finish of the topcoat gives the look of a hand-rubbed wax finish with the durability of polyurethane.
I love that stuff!!
the perfect paint for an old dresser makeover
Since the dresser is a gentlemen's dresser (will talk about why it is a gentlemen's dresser later in this post), I decided on Miss Mustard Seeds Milk Paint in Typewriter.
It has a gorgeous, rich shade and is a fantastic black paint to use on antique furniture. If you prefer chalk paint, check out Caviar Chalk Mineral Paint. It's the black paint I used to update the dressers in my grandson's nursery, and it is perfect for a chalk paint dresser makeover.
what is a gentlemen's dresser?
Do you see the box sitting on top of the dresser? There are two of them – one on each side.
These two boxes were used by the gentleman for his gloves, his wallet/money clip, his loose change, and his pocket watch.
Those items could be tucked away at the end of a workday and would be ready for the next workday.
how to refresh vintage drawer pulls
The teardrop pulls add the perfect amount of detail to the carved wood backplates in this vintage wood dresser makeover. They cleaned up nicely with a tiny bit of sanding on the wood part and gilding wax on the metal part.
Drawer pull perfection! Aren't these the perfect fit?
You have so many options to give your own drawer pulls a little makeover.
Sand and buff them
Spray paint them gold or copper
Buy new hardware with a modern look
Brush them with a little paint to make your dresser (or a contrasting color)
Sometimes the best option is just to give them a bit of cleaning. If your piece doesn't have handles or pulls with a lot of character, you can check Etsy or your local hardware store for some great options.
antique gentlemen's dresser makeover before and after
Thanks for stopping by for this antique gentlemen's before and after dresser makeover.
As you can see, not all makeovers are labor-intensive.
Some just need a light sanding, a quick cleaning and then they are ready for the fun part – painting!
It's amazing to me how painted antique dressers can look amazing in literally any room of the house.
Keep it in the living room to hold your favorite trinkets and tuck away extra pillows and throws. In the bathroom, it'd be the perfect dresser to hold towels, back up TP, and lotions and balms. Personally, I think this piece is the perfect candidate for a bedroom because it has such a stunning modern look. It'd look so much fun with some fresh flowers or seasonal decor!
more dresser makeover ideas
If you loved learning how to use milk paint in this before and after dresser makeover, you'll also love these other furniture makeovers!
See all my favorite easy dresser makeover projects here!
easy lamp makeover project
See that lamp sitting on top of the gorgeous dresser? I'll show you how I gave a cheap thrift store ugly brass lamp a makeover! This is a super easy project that you will love!! Click below for the post!
Easy Lamp Makeover with Milk Paint
Isn't this antique dresser makeover so gorgeous? Although I'm sure this piece would have been great in a different color, too, I love the dark black with the warm wood tones. It's amazing how much a little bit of paint can completely transform this piece! This has to be one of my favorite furniture pieces, and you really just can't find new handles with as much detail and character. It's a fantastic piece!
PS. You might notice some differences in the tone of the milk paint color in the images of this vintage dresser makeover. I usually shoot in natural light in my studio, but for this shoot, I used some additional photography lights. I'm not a huge fan of the studio lights but it took this experiment for me to figure this out 🙂
looking for another way to paint a dresser black? Then you will love How to Paint a Dresser Black with Chalk Paint!
We would love you to join our journey over on Instagram and Facebook! You can also find more inspiration on our Pinterest page! We're always pinning fresh ideas. You can also check out our YouTube channel to see step-by-step instructions for our favorite DIY projects. You'll love it!
Before and After Dresser Makeover Step by Step Tutorial
This before and after dresser makeover of a vintage gentleman's dresser will have you wanting to find one of your own! The difference paint can make is remarkable!
Instructions
Prep the furniture by thoroughly cleaning and making any necessary repairs.
Scuff sand if the surface is shiny from the previous finish.
Paint the dresser in the desired color of milk paint in 2-3 coats of paint to cover the surfaces
Seal the painted surfaces with hemp oil and then seal the natural wood top with Milkcoat flat sealer.
Use gilding wax on the drawer pulls for a quick hardware makeover.
Notes
See the video below for instructions on mixing milk paint.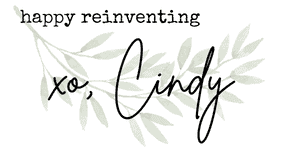 looking for more paint transformations?