Repurposed Dresser Converted to Bathroom Vanity
Are you interested in a repurposed dresser converted to bathroom vanity with a vessel sink? You're in luck! That's our tutorial today!
As an Amazon Affiliate (and other companies including Dixie Belle Paint Company), we earn a small commission on products sold through affiliate links. Your purchases through those links help support this blog at no additional cost. In purchasing the supplies we use and recommend via our links, you help to support the free tutorials we offer you and our other readers. Thank you so much! Read my full disclosure here.
can you use a dresser as a bathroom vanity?
One of our local customers asked if we could convert an antique dresser that she had into bathroom vanity for their home.
So I ran the idea by my hubby to make sure it would fit his schedule. He is a teacher and is still working full-time hours. Most of the work he does here at Reinvented Delaware is after work and on the weekends or during his summer break.
Doing the work was not a problem by any means. If you saw our laundry room makeover you would understand what I mean! He even turned a china cabinet into a laundry room sink and cabinet about 6-7 years ago!
We just had to be sure he had the time 🙂
He said yes!! Woohoo bring that dresser over to my workshop and let's get to it!!
how to remove an old finish from wood
The first step was to remove the old finish on the antique oak 3-drawer dresser. I only had to do this step on the top since the body of the dresser would be painted. The top would be natural wood.
One thick coat of Multi-Strip Advanced was all this top needed. I allowed the Multi-Strip to sit on the top for about an hour.
Then I used a 3″ putty knife to scrape it off. I kept a small Amazon box close by to put all the scrapings in.
Multi-Strip dries to a dryish, chalky consistency and it is not as messy as some of the other strippers on the market.
Once all of the stripper and old finish was removed, I pulled out my DeWalt Orbital Sander and 150-grit sanding disc and got down to business.
This step went fairly quickly. I switched out the 150-grit for 220-grit and sanded the whole piece. That helps to eliminate swirl marks that the orbital sander can create.
how to prime oak wood
After a good cleaning with my usual method, I applied one coat of primer I had on hand. It is from Ecos Paint and I had Gray on my workshop shelf.
I love this primer. It is super thick and environmentally friendly, has no fumes, and is even safe for children!
You could also use my other fave primer, Zinsser Synthetic Shellac Based White Primer.
The frame and the drawer fronts were primed in no time!
Let me mention this tip before I forget: after I have primed and painted, I used the sander to clean along the edges where the paintbrush spilled over. Look closely and you will see bits of the primer on the inside of the frame. I'll take care of that at the end of the project!
what paint to use on furniture
Our client picked out Fusion Mineral Paint in Bayberry. Two coats were all this repurposed dresser turned bathroom vanity needed!
This paint is super durable and has a top-coat built in so I knew it would be perfect for this project!
My favorite Zibra Paintbrush called the Palm Pro worked beautifully on the drawer fronts. I used the Zibra Square Brush for the framing and the sides. It is the perfect paintbrush for the narrow frame and the inset sides of this antique dresser.
how to repurpose a dresser into a bathroom vanity
It was a lovely Saturday morning when hubby was able to work on his part of this project: cutting the holes for the sink and the faucet.
We placed the sink and the faucet where we thought it looked best – centered from side to side and then a good eyeballing from front to back.
We left it that way for a while to be sure it was exactly where it looked best.
**We doubled checked ourselves when placing the faucet thinking about how the water would come out of the faucet. We placed it in a way that wouldn't create too much splashing.
Once we were sure of the placement, we marked the spots with a pencil. The image below shows the circle we drew using the drain hole in the sink.
The faucet hole is marked by a tiny pencil line towards the back.
how do you drill a big hole in wood?
He needed to replace his Carbon Hole Saw Set so he drove in town to our local Ace Hardware.
This tool for the drill is a must! The hole for the sink and faucet is fairly large and the set he purchased had a large bit.
Let me mention that these bits can dull quickly. Especially if you are using it on hardwood like 1″ thick oak.
The drill bit has a center with a pointed end. That end goes in the center of the area that was marked for the drain and the faucet. This helps to line up the large drill bit with the marked hole.
The center part of the bit also helps to steady the spinning drill bit as it enters the wood. Hubby used an electric-powered drill, not a cordless one. The extra power from the electricity comes in handy 😉
I stood and watched (and snapped a few photos!) and let me tell you, burning wood from a power drill/bit set has a weird smell!
Burning you ask??
Yes! That drill bit is spinning so fast on that oak wood that it creates friction and begins to burn! It doesn't actually reach a flaming point but I do think I saw a little smoke!
The bit itself is very hot when the drilling is finished – be careful if you use this tool!

how to modify a drawer for plumbing
The other part of the project hubby completed was modifying the drawer for the plumbing down below. He did this part after work in his workshop and I'm not allowed in there.
Haha! Just kidding! It was just too dark in his shop to set up my camera and get good shots so hubby grabbed a couple of images on his iPhone! Thanks, my sweetie!
Basically, he used the existing drawer to measure the opened section of the drawer. He used scrap luan lumber that he keeps on hand for this kind of work. He also used scraps of 1×1 as corner supports.
The existing bottom was removed and cut. New pieces for the new interior sides were cut from luan lumber. And 1″x1″ board piece was used to secure the luan. He used wood glue and screws to hold everything together. You can see in the image on the right that he added wood pieces on the bottom as additional support.
Each dresser will be a bit different but the techniques are the same.
Here is the outcome of the top drawer.
You can't see it in the images, but the center section is completely open to allow room for the under-counter plumbing.
Our client has hired a plumber to install this repurposed dresser/bathroom vanity in her guest bathroom so we did not attach the drain, sink, or faucet.
If you know how to install your own plumbing, then you understand about caulking, sealing, and attaching the plumbing parts of this project!
repurposed dresser / bathroom vanity
You might be wondering where the drawer pulls are. Our client is searching for just the right ones!
You also might notice the mirror on top of the repurposed dresser and bathroom vanity. It is from another client. She offered this vintage oak mirror to us and we said yes very quickly!
I've not seen another like it in our travels.
antique dresser mirror
This gorgeous mirror hasn't been touched yet. I only cleaned it so that I could stage it for this post. Isn't it gorgeous??
Our client is deciding if she wants it for this repurposed dresser/bathroom vanity.
What do you think? Should she have us finish the mirror in the same way we finished the top of the oak dresser?
restored wood finish
Here is a close look at the restored top. All we did was completely remove the old finish and then applied four coats of General Finishes High-Performance Top Coat in Flat. I did a light sanding between coats and allowed plenty of drying time between coats.
It looks like a buffed wax finish, doesn't it? And it's as smooth as butter!
You cannot replicate the look of old oak. The wood ages so beautifully. All it needed was protection. General Finishes High Performance will protect this piece for years.
the perfect sink and faucet
I haven't even mentioned the gorgeous vessel sink and pump-style faucet our client selected! It looks like an old-fashioned ironstone bowl and water pump!
Our next bathroom is going to have something similar, that is definite!
Even without all the hardware, this gem is a beauty! Our client's guests will make excuses just to go see it in their guest bath!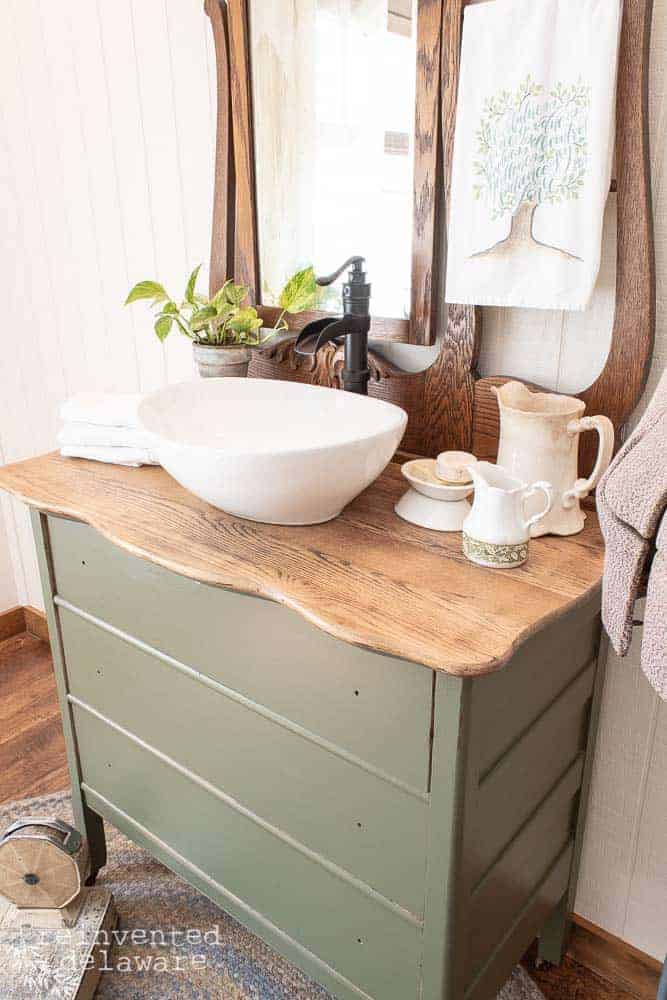 what are your thoughts?
Let me know your thoughts about this makeover! Also, what do you think our client should do about the mirror? Should she use this one or look for another?
Comment below and let's let her hear our thoughts and ideas! She'll be reading this post!

join our journey!
We would love you to join our journey over on Instagram and Facebook! You can also find more inspiration on our Pinterest page! We're always pinning fresh ideas!
Feel free to pin any of the images you see in this post to show your friends and as a reference for your own repurposed dresser/bathroom vanity project!
Thanks for joining us today for this repurposed dresser converted to a bathroom vanity tutorial! We appreciate you stopping by and hope you are inspired to repurpose something for your home!
Let me also say thanks for shopping via the links I have gathered for you. There is no additional cost to you and you help to support this blog and the free tutorials we offer here! Thanks again!!
Until next time…