How to Milk Paint Furniture
Learning how to milk paint furniture is easier than you think! This tutorial will show you how to paint this table with milk paint!
The following post may contain affiliate links. That means if you click and then buy something, I will make a small commission at no additional cost to you! Thank you for supporting my blog. full disclosure here.
milk paint furniture
milk paint furniture before and after
You are never going to believe what my hubby paid for this table!
Two buck-a-roonies! Yep, two dollars! $2!!!
When he came home with it from the auction, he said that he thought I would love it because it's my style.
That's what 39 years of marriage will get you! You know what the other loves!
how to prep furniture for milk paint
A couple of weeks ago, I shared the step-by-step process to prepare a piece of furniture for the chippy and crackly finish that we love so much here at Reinvented Delaware.
You can read the full tutorial on Miss Mustard Seed's Milk Paint blog. They have kindly invited me to share projects over there periodically. Be sure to subscribe to their email so you don't miss any of the tutorials that guest bloggers share! You can sign up for their email on the home page – CLICK HERE and then scroll down just a bit to sign up!
The prep post also has a YouTube video to show you the whole project that I filmed in my kitchen!
Let's go over the supplies you will need for this project.
list of supplies:

how to mix milk paint
Mixing Miss Mustard Seed's milk paint is so easy! It is mixed at a 1:1 ratio of dry milk paint to water. Meaning, that if you use 1/4 cup of dry milk paint powder you use 1/4 cup of water.
The dry milk paint powder has been re-formulated and it mixes easier than ever. Add the water to a container first, then add the powdered milk paint. Then give the mixture a good stir. You can also add MilkMix EZ if the paint gets foamy. The foam doesn't bother me but I must admit, the MilkMix EZ helps the paint to mix a bit faster.
Completely mix the paint and then allow it to sit still for a few minutes to give the dry milk paint and water time to thoroughly combine. This only takes 10-15 minutes.
Here is a video I recorded about mixing milk paint a couple of years ago. The milk paint formula was a little different then but the concept of mixing the paint is just about the same.
You will notice that I added the dry milk paint powder first and then the water. The paint still mixed up just fine!
how to milk paint furniture
Once the milk paint has sat and absorbed the water completely, it's time to paint! Let me mention that milk paint is much thinner than conventional furniture paints like chalk mineral paints.
It is more of the consistency of milk. And since it is thinner paint, you won't have to worry about brush strokes. Seriously, no brush strokes at all!
It's crazy how this thinner consistency paint adheres to surfaces so well!
See how the surface of the communion table is shiny? You'll understand why after you read my post over on Miss Mustard Seed's blog. Click the button below to see the post!
how long between coats of milk paint?
Milk paint is a fast-drying paint. On a warm day, it will dry really fast. On a cooler day, the dry time lengthens.
Generally, a 30-minute dry time can be expected. Usually, by the time I apply the first coat, it's time to start on the second coat.
Painting with milk paint is fast and that's another reason I love it!
Can you see the crackle appearance happening in the images above? That's the result you will get using the method I describe over on Miss Mustard Seed's blog,
When it's time for the second coat, just paint right over the crackling and chipping like normal. The crackling and chipping will continue to work their magic!
Handy tip: Knife Distressing
Knife distressing has been the method I have used to create this gorgeous vintage farmhouse look on furniture for years. I keep a couple of old knives in my workshop that I use just for distressing. You can find these knives at thrift stores very easily!
distress milk paint
Distressing milk paint with this method is scary and fun all at the same time! Knife distressing is simple and easy on milk paint. I just gently scrape the paint away in the areas that would naturally be worn like around the feet of this communion table.
A quick motion with the knife around the high places on the piece will create an authentic chippy finish that compliments the crackle finish.
top coat for milk paint
There are several ways to seal milk paint. For this communion table, I thought it best to seal it with Miss Mustard Seed's MilkCoat. It provides a durable finish for pieces that will have heavy use. This communion table is acting as a kitchen island in our home so I wanted the finish to be durable.
MilkCoat has a thick consistency – think of room temperature butter. It goes on smoothly with a chip brush for areas with details like the legs and apron on the communion table.
To apply the Milk Coat on the flat top surface, I used a blue applicator sponge. I wiped the sealer in one direction on the table and then when it was dry, I applied it in the opposite direction. The cross-hatching adds just a bit of texture to the flat surface.
You can watch the video linked above to see how I applied the top coat.
chippy and crackle finish with milk paint
Omgoodness, this finish makes my heart go pitter-patter! Don't you love this old-world finish on furniture?
To me, this is a timeless look. The vintage and antique styles will always be in fashion!
painting with milk paint
Wasn't that easy?? You can find an old piece of furniture that might not be antique, and create a piece like this for under $50!
I encourage you to go out to auctions, estate sales, yard sales, and thrift stores and find these pieces! All they need is a little attention and love and wa-la, you have a beautiful piece that you helped to create!
more inspiring posts using milk paint!
Milk paint is one of my favorite paints to use so I gathered up a couple of posts that you might be interested in!
Click the images below to be inspired!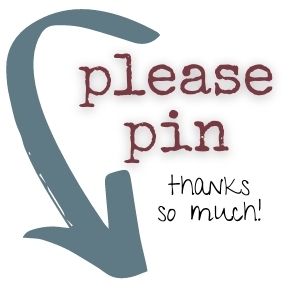 Pin the image below to your home decor and furniture boards! Just click the pin button at the top left corner!
Thanks for joining our journey!
Thanks so much for joining us for this post! Join our journey so you don't miss any of the fun projects, tutorials, and inspiration that we share with you each week! You can follow us on Instagram, Facebook, and YouTube. We share even more inspiration on Pinterest!
Visit my Amazon Storefront!
Click the button below and head over to our online shop on Amazon!