Easy Lamp Makeover with MMS Milk Paint
Today's project is a fun one! Promise! If you love thrifting and an easy lamp makeover that's fast and fun, then this tutorial is for you! Let's get to it!
easy lamp makeover
One of my favorite projects to make-over is a lamp. New lamps are so expensive and when you consider how fast they go out of style, those dollars can add up!
I have an easy solution! Paint, of course. Not just any paint, but Miss Mustard Seed Milk Paint!
First, let's talk about the lamp. Head out to your thrift store or a local yard sale and you are bound to find some brass lamps with wire shades that someone is sick of looking at. In fact, they probably spent big bucks on the new lamps that replaced the ones they donated to the thrift store!
I find shiny, glaring, brassy lamps all the time at yard sales and while I am out thrifting.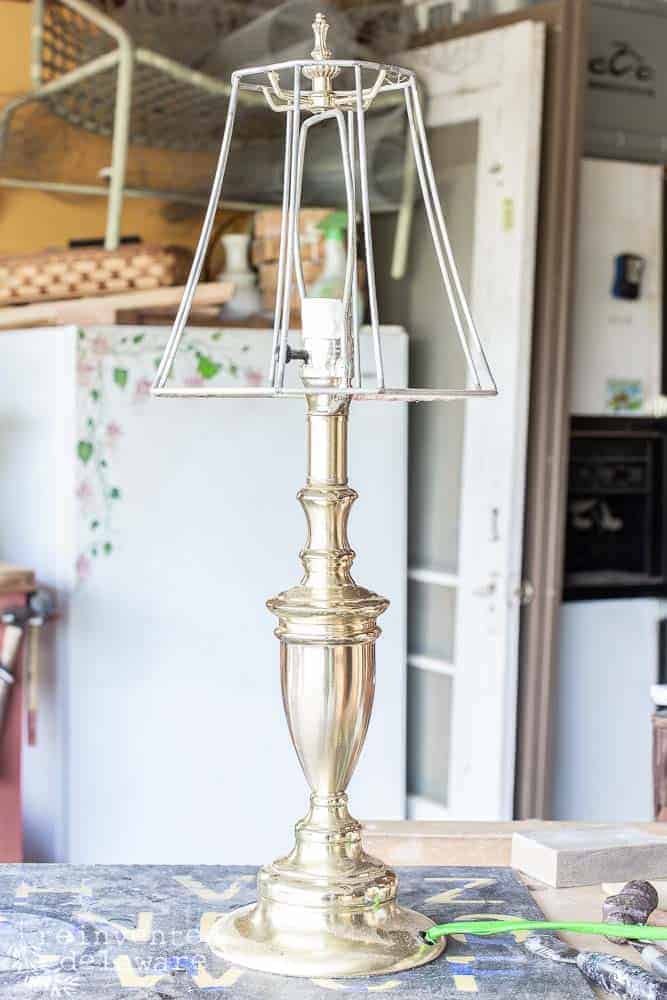 shady transformation
Let's talk lamp shades, ok? I really like to find lamp shades that have a frame to them like the one below. They are the easiest to transform and when you add an Edison bulb to them, it just breathes a fresh vintage look to the lamp.
I start by ripping off the fabric. The fabric can be glued down pretty good, so grab some pliers and pull! Use a pair of scissors to clip around the joints on the frame.
I used an Exacto knife to scrape off the excess glue on the metal. Then I used a sponge-type piece of fine-grit sandpaper on all of the framing. SurfPrep makes some of these flexible foam sanding pads and they are phenomenal!
There were a few spots that I used a wire brush too. The wire brush can get into the corners of the frame.
scuff and clean
Next, I scuffed and cleaned the lamp with a heavy-duty Scotch Brite pad. These pads are super abrasive and they scuffed and cleaned the brass at the same time.
After that, I wiped down the lamp base with a very damp micro fiber cloth.
1st attempt
My first thought when deciding how to restyle this lamp was to spray paint it. Rust-oleum makes amazing spray paint that I use in my workshop all the time. I hadn't used the Pure Gold yet and I thought it might make this shiny, glaring brass a bit more updated.
2nd attempt
I didn't get the result I thought I would so I chose to paint the lamp base in Miss Mustard Seed Milk Paint in Typewriter. I have had lots of success with this milk paint on lamp bases and I knew I could expect great results!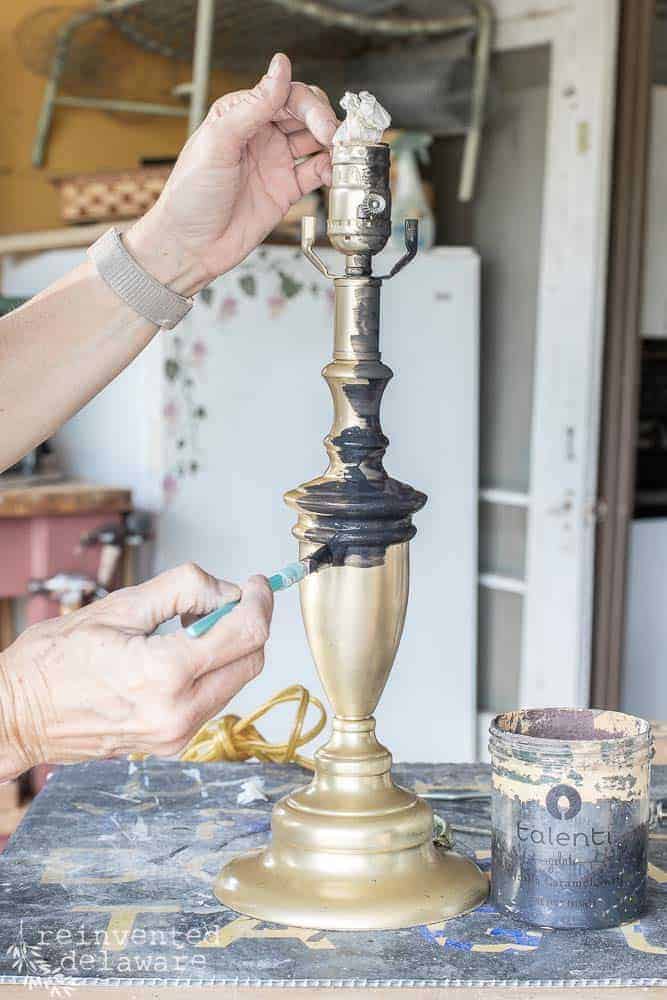 Don't be alarmed at the scary first coat! This is so normal with milk paint!
While the first coat of milk paint was drying on the lamp base, I pulled out my old stand by Rust-oleum Metallic Paint and Primer in Soft Black Iron.
LOVE THIS COLOR!!
This is an easy way to paint the skinny wire frame. A couple of coats later and boom, vintage style lamp shade!
You'll notice I sprayed the harps and the finials too!
smoothing the surface
Just like on furniture, the lamp base needed a bit of smoothing. Milk Paint leaves chalky, gritty finish and it is easy to smooth that out. I used the same sanding sponge I mentioned earlier. I also did a very light distressing while doing this step.
Next up was to seal the milk paint. I used Miss Mustard Seed Furniture Wax in Natural. It's as easy as applying with a chip brush and then buffing lightly with a soft lint-free cloth like a blue shop towel.
Start at the base and work your way up so your other hand can steady the lamp!
I also pulled out a couple of other lamps to paint and found this resin style candlestick lamp and shade. After cleaning and scuffing, I painted it the same as I did the first lamp. I did do something different with the shade but that sounds like another post!
so easy, right?
And here is the lamp all finished! Isn't this such a transformation?? Scroll back and look at that first image and then come back here and look at this beauty! Such a difference, right??
BTW, did you notice the backwards writing on the chalkboard? Keep reading and you'll see that I hosted a Miss Mustard Seed Milk Paint Live on their Instagram account. The letters were readable to the viewers!!
Milk paint can be unpredictable and that is one of the things I love about it! Take a look at the crackling effect that happened! Doesn't it just add to the vintage feel of this lamp??
An Edison bulb seals the deal on this vintage makeover! I found this shape of bulb on Amazon (where else, right??)
lamps galore
This is another lamp makeover. This shade was easy too. Now I know I will have to write another tutorial dedicated to lamp shade makeovers!!
See the lamp in the background? That one is in for a makeover too. Don't worry, it's not an antiuqe even though it looks like one. It is a reproduction 🙂
MMS Live
If you want to see more about transforming lamps, I hosted a Live on the Miss Mustard Seed Milk Paint Instagram account! I was so excited at this amazing opportunity!
Here it is so you can watch!
Here are a few more easy projects that I know you will love and want to try yourself!
Easy Beginner Painting Project
Boxspring Button Christmas Trees
follow along!
Thanks so much for stopping by for this easy lamp makeover! I hope it inspires you to restyle your own lamp or one you find while out thrifting! Tag me on social media with your project! I would love to see it 🙂
Pin any of the images in this post so you can share this idea with all of your Pinterest friends!
You can also follow our reinventing journey by subscribing to our blog. I will give you this fun freebie filled with reinventing ideas just for joining!
Follow us on Instagram, Facebook, and YouTube for more inspiration and tutorials!