Easy Thrift Store Projects to Upcycle for Home Decor
Upcycling thrift store finds is a great way to add new life to your vintage-inspired home decor. The next time you are at a local thrift store look for upcycle projects!
Thrift Store Decor Team
It's that time again – thrift store decor team time! Each month a group of us upcycling junkies get a little creativity going in our minds and create a fun project just for you!
We shop at our local thrift stores, yard sales and garage sales, and even auctions to find thrift store DIY projects to upcycle for our home decor. And we love to share these ideas with you!
​Be sure to scroll down to see everyone's projects for this month!
The following post may contain affiliate links. That means if you click and then buy something, I will make a small commission at no additional cost to you! Thank you for supporting my blog. full disclosure here.
Supplies are listed at the bottom of the post!
upcycling thrift store finds
This month, I have several thrift store items that I repurposed for our home. In this post, I'm sharing what a little imagination can do with a broken silver-plated pitcher. You are going to love this great idea!
BTW, I am also sharing more thrift store upcycles in the YouTube video that goes with this post. Be sure to watch – you are going to enjoy the video!
Do you love silver? Do you prefer the real deal or are you ok with silver-plated pieces? I like both but admittedly, silver-plated pieces are usually easier to find and less expensive.
My sister and I were out thrifting a couple of months ago and I found a pretty silver-plated pitcher for only $4. This style of pitcher can be found at an antique store but expect to spend more money on it.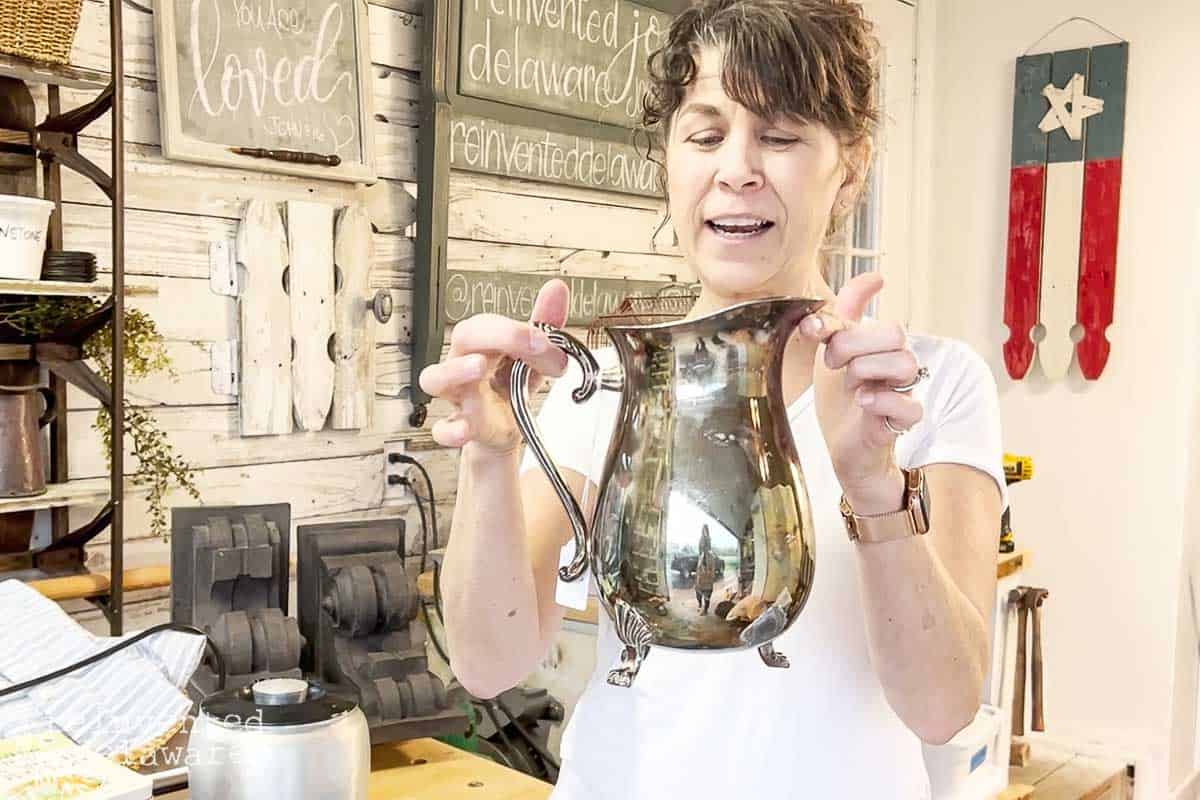 5 easy steps
step one: fix the broken foot
The first attempt to give this piece a little makeover was an epic fail. But I didn't let that discourage me! So I pulled this vintage piece out of my "think about it later" pile (or what some might call a person's trash pile!) and decided to give it a new look. I wasn't sure how but I was determined!
First, I pulled out some extra pieces like drawer pulls, a silver bowl, and a glass furniture coaster to see if I could use any of those pieces to help this silver pitcher stand upright. The pitcher was missing a foot – maybe I forgot to mention that little problem!
I held the Wallace silver bowl under the base of the pitcher and thought that might work. I could attach the two pieces with E6000 and then use chalk paint to give this a new look. BTW, I wasn't crazy about applying a little paint to it, but it was a starting point! I had even considered using hammered metal spray paint on this silver-plated pitcher. Sometimes you just have to take the first step to get a bit of creativity going in your mind!
step two: remove the feet
The next step was to remove the three feet. The bowl needed the room so the silver feet had to go. I used my rubber mallet and gently tapped on each one. The good news is, they popped right off! The bad news is they left a raised mark where they had been attached.
But I'm the persistent type. Just ask my hubby! But it usually pays off and it did with this piece – it is a favorite project of mine!
step three: smooth the rough edges
Seeing the raised area, I thought, "What if I used my orbital sander to smooth out the ridges?" I've used this sander on other metal projects, so why not give it a try? It's important to keep an open mind when you are upcycling flea market finds. The great thing about trying to smooth it out with the orbital sander is that the piece only cost me $4. So it would be the perfect piece to try this method on!
I used 220-grit sandpaper on my orbital sander thinking that would give a smooth finish. I think I could have even used a finer grade like 320-400. Also, I only had sandpaper meant for furniture makeovers. We do plenty of those around here with all of the free tutorials we offer, so I always have a good supply on hand.
And it worked! I could hardly believe it! The ridge that was created by the feet being welded or soldered came off with very little effort! One of the best things that came out of this experiment is that it opened my mind to what can be done with a broken silver plate. Just because a little foot is missing doesn't mean you can't give a piece new life!
Yay for repurposed thrift store makeovers! This opens a world of possibilities! haha! Calm down, Cindy!
Back to the DIY thrift store project. After I sanded the exterior of the silver pitcher with 220-grit sandpaper, I noticed a new finish that was emerging. The orbital sander makes swirl marks on an old piece of furniture that are not desirable but those swirl marks on this silver pitcher looked amazing!
The new surface would have been perfect except that the underlayer of brass was exposed area where the feet had been attached. It's possible that I could have sanded it down to expose all of the brass but I opted not to give that a try. Maybe the next time I come across an inexpensive piece of silver plate I will give that a try!
step four: level the pitcher
Before going on to the final finish for this silver-plated pitcher, I had to make this thing stand upright and level! The more I thought about attaching the silver bowl to the bottom to act as a base, the less I liked the idea. It certainly would have been one of the easy ways to make this pitcher useable. But I just wasn't doing backflips over the idea!
Then I remembered that copper is really pretty when hammered. Maybe I could hammer the bottom of this silver-plated pitcher to make it flat!
I used a cloth over the bottom so I didn't scratch it, then used my ball-peen hammer to flatten out the curve on the bottom of the pitcher. After a couple of hammerings, I flipped it upright to see if it would stand level on its own. It took several attempts but I got-er-done! Since this piece is for our own personal use, I wasn't too concerned about the unevenness of the dents. Besides, it's on the bottom and no one will even know about the dents!
step five: wax the metal pitcher
On to the next step. I grabbed several different colors of gilding wax that I thought might look nice together. Dixie Belle offers several colors of gilding wax including Zinc, Silver, and Gold. The gold would help to conceal the exposed brass and the other two silver-toned waxes would add depth and texture to the silver plate.
Using a small artist's brush, I smeared blotches of the gilding wax all over the piece. Then I went back with a crumpled paper towel and dabbed out the brush marks. It took several passes to complete. I just kept going around the silver pitcher until I had the look I wanted.
The gilding wax will take a full 30 days to cure and it will dry to a hard surface. This easy project will only be used as a decorative piece in our home. I think it makes a great addition to our dining table, don't you? I filled it with faux peonies, willow, and wildflowers from Hobby Lobby but I plan on adding fresh flowers from our cutting garden this summer. Can't you imagine it filled with fresh zinnias??
creative ideas for damaged silver-plated pieces
Let's talk about some painted ideas you could do to a damaged piece of silver plate that has missing pieces you find on your thrifting journey:
give the piece a fresh coat of paint to create a boho vase.
add a layer of white paint for a cottage or farmhouse aesthetic.
spray paint the whole piece in your color choice of hammered spray paint.
sand all of the silver plate off with 220-grit (or finer) so that only the underlayer of metal shows then seal with clear wax.
Handy tip:
don't overlook a broken silver-plated pitcher! there is always a way to repurpose it into a gorgeous vase like this one!
gilding wax on thrift store items
Here are some other old items that could use a little gilding wax:
a picture frame. This one is obvious! use the gilding wax on the high points of ornate vintage frames to bring out the detail.
handles and the locking system on vintage suitcases. This is a great tip to give an old suitcase a subtle update.
hardware on an old dresser. Gilding wax is a miracle worker on old furniture hardware!
old lamps. Ok, lamps are my weakness. Especially little ones. Use any color of gilding wax to give these thrifted items a fresh new look.
Here are a few other amazing thrift store makeovers I am sure you will enjoy. You can see the full tutorial for each project in the YouTube video for this post!
YouTube video
Tap the image to watch the video over on YouTube. Go ahead a subscribe so you don't miss any of our free tutorials and vintage home decor inspiration!
more awesome thrift store makeovers
Each month I join several other bloggers who love to do fun projects, simple thrift store makeovers, and their great ideas for upcycled projects.
I'm sure you will find so much creative inspiration as you go through each of their posts! Just click the links below and be ready to get creative!
Our monthly edition
Thrift Store Decor Team
more from the thrift store decor team
list of supplies:
Use the links below to purchase some of the supplies for this project! You are helping to support this blog and all the free tutorials we offer here! Thanks so much!😊
vintage silver pitcher (search your local thrift shops!)
gilding waxes (I used Silver, Gold, and Zinc but there are lots of colors to choose from!)
small artists brushes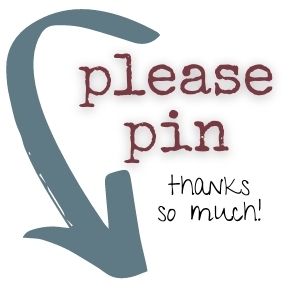 Pin the image below to your home decor and furniture boards! Just click the pin button at the top left corner!
thanks for joining our journey!
Thanks so much for joining us for this post! Join our journey so you don't miss any of the fun projects, tutorials, and inspiration that we share with you each week! You can follow us on Instagram, Facebook, and YouTube. We share even more inspiration on Pinterest!
click below to purchase supplies!
Visit my Amazon Storefront!
Click the button below and head over to our online shop on Amazon!