How to Upcycle an Old Desk
This easy upcycled desk project will be one of your favorite repurposed desk project ideas! A fresh coat of paint and a stencil will be an easy fix to an old desk!
BTW, be sure to read the post to the end and watch our recent thrift haul on YouTube!
where to find an old desk
This old desk has been in my inventory for quite some time.
In fact, I don't even remember where I bought it! If I dig deep enough in my memory bank, I think we picked it up at a yard sale last year. Or maybe it was a thrift store??
Who knows! This I do remember: I only paid $2 for it!
This old desk is super heavy and I think it is handmade by the looks of it. It is definitely well built!
This writing desk is pretty dirty and it is missing the back piece behind the shelf. Both of those problems are easy to fix with a little bit of elbow grease!
list of supplies:
The following post may contain affiliate links. That means if you click and then buy something, I will make a small commission at no additional cost to you! Thank you for supporting my blog. full disclosure here.
step-by-step tutorial
We'll go over each step in this upcycled desk project in detail but here is a summary of what we will be doing to give this piece a whole new look:
vacuum and wash the piece
replace the missing back piece
apply paint
use a stencil to create the design
seal the piece
prep the piece of furniture for paint
The first step with most DIY projects is to clean the piece of furniture well. They are always dirty and grimey so I like to use a TSP alternative cleaner like White Lightning.
Give the piece of furniture a good vacuum with a shop vac (this is seriously one of the most used power tools in my workshop!)
Once the piece of furniture is free from loose dirt and dust, spray it with a garden hose, if the outdoor temperature is warm! If not, spray the piece down with a solution of White Lightning and water according to the instructions on the container.
Then wipe the desk with a microfiber cloth to remove the dirt. Go back over the piece with clear water and a clean cloth to remove any residue from the TSP alternative cleaner. If you are using a garden hose outdoors, just rinse it off and allow it to dry completely in the sun!
Now that the piece is completely clean, it is time to use 220 grit sandpaper to rough up the surface a little bit. You can use an orbital sander with 220 grit sandpaper discs, a sanding sponge in super fine or good old-fashioned sheet sandpaper, and your hand!
The idea here is to give the piece some 'tooth' for the paint to adhere to. Some furniture makeover enthusiasts say that scuff sanding isn't necessary if you are using chalk paint.
My preference is to scuff sand because it is a great way to achieve excellent adhesion!
apply mineral chalk paint
Now for the fun part! O golly, who am I kidding – I like all of the parts of DIY projects, furniture makeovers, and upcycle projects! There is nothing like working with your hands to feel productive!
Before moving on to this next step, stir the paint well. The contents in the jar of mineral chalk paint need to be stirred and completely mixed. Don't skip this step!
Apply the first coat of paint using a good quality paintbrush with nice, even strokes. If you prefer to have a perfectly smooth finish, it's a good idea to use a water misting bottle to spray a light mist of water on the paintbrush or the surface of the furniture. The water helps to level the paint into a beautifully smooth finish without brush strokes.
The next step is to apply the second coat of paint. Let me mention that I used a beautiful black paint color by Dixie Belle called Caviar. It is a true black that will go with any home decor color scheme!
Allow the paint to dry completely between coats before moving to the next step. Waiting is the hardest part!
easy DIY stencil idea
Let's give this old desk a new life by stenciling the top of the desk. The stencil that I chose for this piece of furniture has a modern look, which is out of my comfort zone! My hubby will be using it in his classroom so I thought it would be the right look for this desk.
The first step is to do a dry run to see how to stencil will fit on the top surface of the desk. Even though it is an all-over design, I didn't want the design to fall off of the edges in a weird way.
After the dry run, I decided it would be best to center the design. So I marked the center of the desktop on the front and the back lightly with a pencil. Then I found the center of the stencil, lined the marks up, and used masking tape to hold the stencil down. I worked from the center out towards the edges.
I dipped a large applicator sponge into the paint and then off-loaded most of the paint before pouncing the sponge on the stencil. It's a good idea to apply light coats of paint when stenciling to prevent the mineral chalk paint from bleeding under the stencil.
The paint dries quickly so once I was finished stenciling and before moving the stencil to the next section, I applied a very light second coat.
To tidy up the outer edges of the desk, I used a small artist's brush and painted over the white stenciled areas that 'fell off' of the edge. This gave the edges a clean look!
seal the piece of furniture
You can seal the new desk (well at least it looks new!) with your choice of sealers. I decided that wax would be a great option for this desk since the top won't be used often. Hubby will be using it to set supplies for his classroom of high school students.
Waxing is easy, apply it with a wax brush in circular motions and then buff back with a soft cloth or a blue shop paper towel The shop towels are disposable so I don't have to worry about cleaning them.
practically a new desk!
Wasn't that one of the easiest furniture makeovers you've ever seen? Dixie Belle makes it so easy. The paint is such a high quality and it is easy to use. Even for a beginner!
This desk would work so well in a small space like the corner of a living room or dining room, especially if you work from home! Do your work for the day and then put your laptop away on the shelf below when your workday ends! Or maybe you have a larger area to create a home office space. This desk would be perfect!
Have you used Dixie Belle products before? Tell me about the next upcycled projects you have planned! I would love to hear about them!
more old furniture ideas!
This easy furniture makeover method doesn't have to be used only on a desk. Let's think of some other furniture pieces that could use a little love using this technique:
a new desk from the big box store – you could stencil over an existing surface with mineral chalk paint and a pretty design!
an antique writing desk that sits on your lap and stores writing supplies
a dressing table painted in feminine colors and stenciled with this Fairies stencil in a contrasting color for a little girls' room
a thrift store dresser painted in blue and then stenciled with a safari design for a little boys' room
console tables painted in a light color and then stenciled in a dark color using a damask design for a french country look
a dresser painted and only the drawer fronts stenciled
an entryway table painted in a white color with black paint used with a buffalo check stencil to create a farmhouse look on the top piece of the table
other DIY projects
There are so many ideas popping into my head! Stencils are a great way to give an old piece a new lease on life! The next time you are out, you will probably be on the lookout at thrift stores, yard sales, or maybe even the side of the road to find just the right piece to use this technique on!
Here are some of the stencils that could be used in the DIY painted projects mentioned above. You will love the designs!
more inspiring posts!
Stenciling is an excellent way to give just about anything a fresh new look! A tote bag, the sides of drawers, a hanging lampshade, and even a journal!
Click any of the images below to see each DIY project!
Oops, I almost forgot to tell you that my hubby cut a new piece of luan wood to fit the back area behind the shelf! I painted it black to match and he attached it with small nails.
Hope you enjoyed this project! Thanks for stopping by today!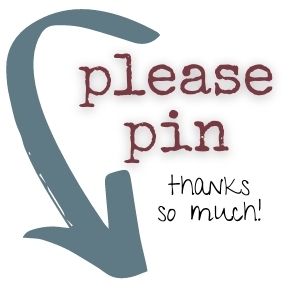 Pin the image below to your home decor and furniture boards! Just click the pin button at the top left corner!
Thanks for joining our journey!
Thanks so much for joining us for this post! Join our journey so you don't miss any of the fun projects, tutorials, and inspiration that we share with you each week! You can follow us on Instagram, Facebook, and YouTube. We share even more inspiration on Pinterest!
want to see our latest thrift haul?
Just click below to see the goodies we found while on vacation this summer! Thanks for watching!