Tuesday Turn About #149 In the Garden
Each week as I look over the link party and I see all of the creativity the blogging community has to offer, I am amazed! There are so many talented and inspiring writers and content creators in this community! And that makes it challenging to just pick three posts to feature!
You'll see my choices later in this post!
Tuesday Turn About #149 In the Garden
This post may contain affiliate links, at no additional cost to you. For more information, see my complete disclosure HERE.
Weekly Photography Tip
Today let's continue our chat about composition in photography. Our images help to tell the story of our post, project, or tutorial. It's important to think about what you are including in the scene in order to tell your story.
Here is an example. I share a lot of tutorials of upcycled and repurposed vintage farmhouse furniture and home decor here at Reinvented Delaware. Some of those projects are completed in my outdoor workshop, a.k.a. my garage, and some are created in my indoor workshop.
When I am photographing the steps for my projects, I like to include some of the background of my workshop. It's super messy but, I want to convey that the projects I do can be done in anyone's garage. I want my readers to feel as though they can tackle the project in their own garages. For my blog posts, showing the background of my workshop is important.
But when I get to the final staged shots of the project, I want a clean background. The completed project needs to be the subject of my image without distracting items in the photograph.
Keep this in mind when using your camera to tell the story of your post. Does the background enhance the story you are trying to tell or does it distract from the story? Look past your subject and scan the background. Remove any background elements that are distracting. Depending on the subject and the story you want to convey, you can use your aperture settings to blur the background. That's a great way to reduce background distractions!
Now, let the party begin!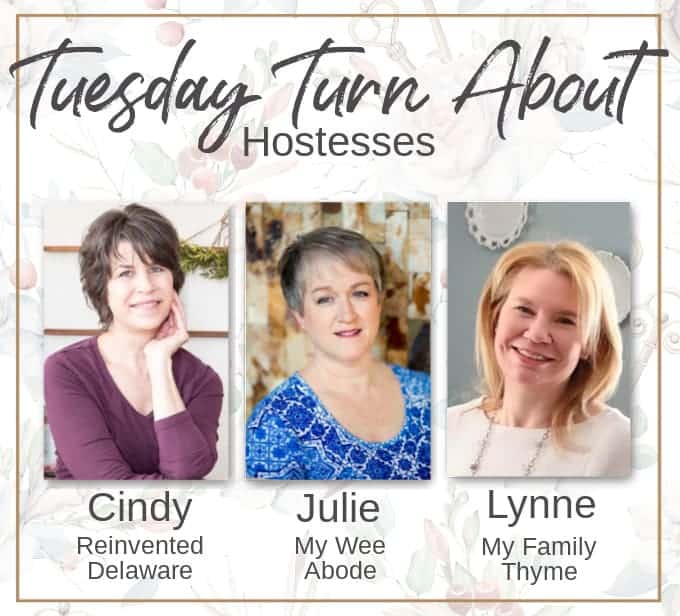 Join us on the socials!
Though not a requirement, we would love for you to join us on other platforms. Feel free to subscribe to our email lists, our Facebook pages, our Instagram accounts, and our Pinterest boards!
Let's create community!
Cindy at Reinvented Delaware
Julie at My Wee Abode
Lynne at My Family Thyme
Be sure to hop on over to Julie's blog at My Wee Abode and Lynne's blog at My Family Thyme to check out SIX additional features from Tuesday Turnabout! If you haven't been featured on Reinvented Delaware this week, you just might be featured on one of the other hosts' blog!
Repurposed Antique Chair Spindle Wind Chime
Are those chair spindles?? Be still my spindle-lovin' heart!
Projects like this one that Marie from Interior Frugalista shared just make my heart go pitter-patter! She'll show you step by step how she made this adorable wind chime in her post!
Repurposed Garden Basket Lights
Do you need additional lighting for your outdoor dining area? Wendy from WM Design House will show you how to make this beautiful hanging light from garden baskets!
Thanks for the lovely idea, Wendy!
DIY Planters from Repurposed Materials
Isn't this planter adorable?? Meagan from Decorative Inspirations used some repurposed pieces to create it! We all love a good repurpose project, don't we?
You won't believe what she used to make this DIY planter for her coffee table!
---
Let's start sharing! Because this is a party, we encourage all who link up to visit several other bloggers who have linked as well – comments and pins are a great way to spread the love!
Before you get started, take a look at our guidelines:
This party is for home decor and home-related posts only (recipes, organizing, DIY, crafts, etc.). Link up to 3 related posts. Please do not link up informational posts that do not relate to the topic.
If you would please not link up shops, advertising, round-ups, other link parties, or any posts promoting sales, we would appreciate it.
DO NOT PIN FROM IMAGES ON THIS PAGE (it just won't work right on Pinterest). However, please visit the original post/source and pin from there. That works perfectly!
Please make sure that your images are in a jpeg or png format. If we can't save your image, we may not be able to feature you. So sad!
By linking to the party, you give us permission to share your projects on our blogs and social media. We will always give proper credit with a no-pin image.
We're looking forward to all of your fun posts this week! Give us your best!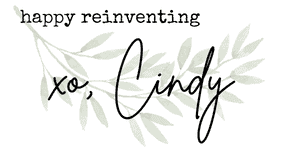 Whoa nelly – before you link up, did you read my photography tip for this week? Scroll back up and read it – You'll thank me later!