Tuesday Turn About #148 Enjoying Spring
Are you enjoying spring in your neck of the woods? We are here in Delaware! My first cutting garden is sprouting and each day I see new growth!
There is so much hope to be found in spring and I for one am grateful!
Tuesday Turn About #148 Enjoying Spring
This post may contain affiliate links, at no additional cost to you. For more information, see my complete disclosure HERE.
Weekly Photography Tip
Whew, haven't we gone over a lot in this series?? I hope you are learning, practicing, and enjoying these tips to improve your photography skills! If you have any questions, feel free to ask in the comments or send me an email via my contact page! I would love to help you with your photography problems!
You will start to notice that the tips section here on Tuesday Turn About will begin to be shorter. We had some ground to cover in the first few posts and I didn't want to miss any details about shooting in manual mode and learning how to expose your images correctly.
Let's continue to chat about composition. After covering the basics of composition like the rule of thirds, perspective, and leading lines, it's a good idea to think about balance in an image.
Just as in decorating a room, balance in an image is important. Balance can be created by using color, texture, light/shadow, subject matter, and visual weight.
The same concepts apply to decorating, don't you think? You wouldn't want to place all of the furniture and home decor on one side of the room because it would look unbalanced.
The same with an image. When moving around the room and changing your perspectives, look through the viewfinder and make sure the scene appears balanced.
Here are a couple of questions to ask when viewing the scene through the viewfinder:
is one side of the image heavy with a color? or with a piece of furniture? or with shadow?
does the scene have empty spaces that throw the scene off balance? or does the empty space add balance?
is the visual weight evenly distributed in the scene?
Here is an excellent article to help you create visual balance in your images! Yay for continuing to learn and grow in our blogging adventure!
Now, let the party begin!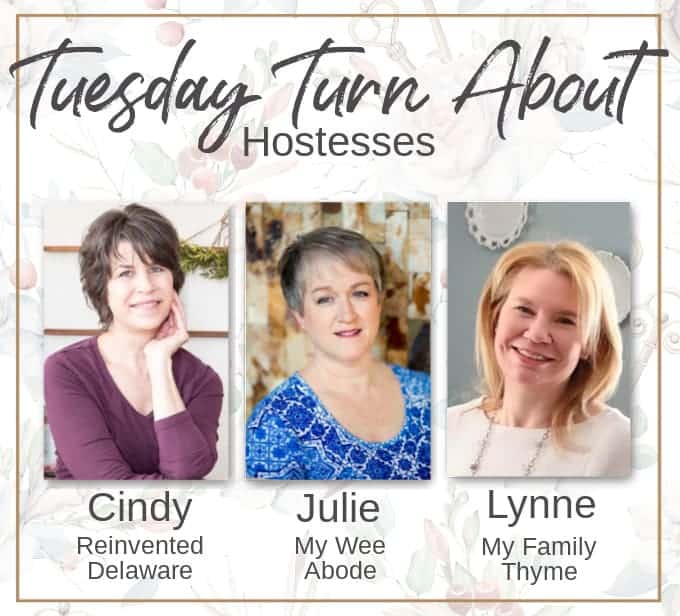 Join us on the socials!
Though not a requirement, we would love for you to join us on other platforms. Feel free to subscribe to our email lists, our Facebook pages, our Instagram accounts, and our Pinterest boards!
Let's create community!
Cindy at Reinvented Delaware
Julie at My Wee Abode
Lynne at My Family Thyme
Be sure to hop on over to Julie's blog at My Wee Abode and Lynne's blog at My Family Thyme to check out SIX additional features from Tuesday Turnabout! If you haven't been featured on Reinvented Delaware this week, you just might be featured on one of the other hosts' blog!
Seventeen Inviting Spring Porch Ideas
Carol from Bluesky at Home shares her dreams for a lovely front porch. She shares so many beautiful images and ideas to create a beautiful spring porch for your home!
Thanks, Carol, for the inspiration! I'm heading out to give my porch an update and dream up fresh ideas!
Concrete Rabbit Statue
Speaking of front porch decorating ideas, Diane from South House Designs shares this easy and fun tutorial to create a concrete rabbit from a thrift store find.
Even though Easter has passed, bunnies are just coming to life outside! This sweet little bunny would be welcome on my porch any day. Thanks, Diane!
Planning Your Garden
Melissa from Little Frugal Homestead has her garden planted and ready to grow! She shares some great tips about planning for your garden like how to get your soil tested!
Don't you love the raised beds she shows in the background?? What a great way to keep everything neat and tidy! Thanks, Melissa for sharing your tips!
---
Let's start sharing! Because this is a party, we encourage all who link up to visit several other bloggers who have linked as well – comments and pins are a great way to spread the love!
Before you get started, take a look at our guidelines:
This party is for home decor and home-related posts only (recipes, organizing, DIY, crafts, etc.). Link up to 3 related posts. Please do not link up informational posts that do not relate to the topic.
If you would please not link up shops, advertising, round-ups, other link parties, or any posts promoting sales, we would appreciate it.
DO NOT PIN FROM IMAGES ON THIS PAGE (it just won't work right on Pinterest). However, please visit the original post/source and pin from there. That works perfectly!
Please make sure that your images are in a jpeg or png format. If we can't save your image, we may not be able to feature you. So sad!
By linking to the party, you give us permission to share your projects on our blogs and social media. We will always give proper credit with a no-pin image.
We're looking forward to all of your fun posts this week! Give us your best!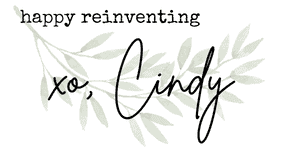 Whoa nelly – before you link up, did you read my photography tip for this week? Scroll back up and read it – You'll thank me later!