It's January 7th already! In a blink of an eye, we left 2021 and entered 2022.
Seriously, the older I get, the faster time moves!
Anyway, I thought it would be fun to look back over the last year to see some of our most popular posts and projects.
Click the images below to see the full post!
numbers 9 & 10
The toy fire truck was a custom piece we did for one of our clients. This toy fire truck was covered in rust and our client didn't want the rust completely removed. She loved the finished piece so much that we did another project for her, an antique fire extinguisher that she wanted to be turned into a table. Are you seeing a theme??
A couple of times each month we share a post called All Things Vintage. It's a round-up of what we have worked on lately and we also like to share some fun finds from the web. In this post, I shared an adorable handmade snowman that I know you will love!
number 8
This Shrimp Bisque was a big hit! It's an easy soup to make and tasty enough to serve to guests.
And it only takes minutes to make in the Instant Pot. You're going to love this delicious belly warmer!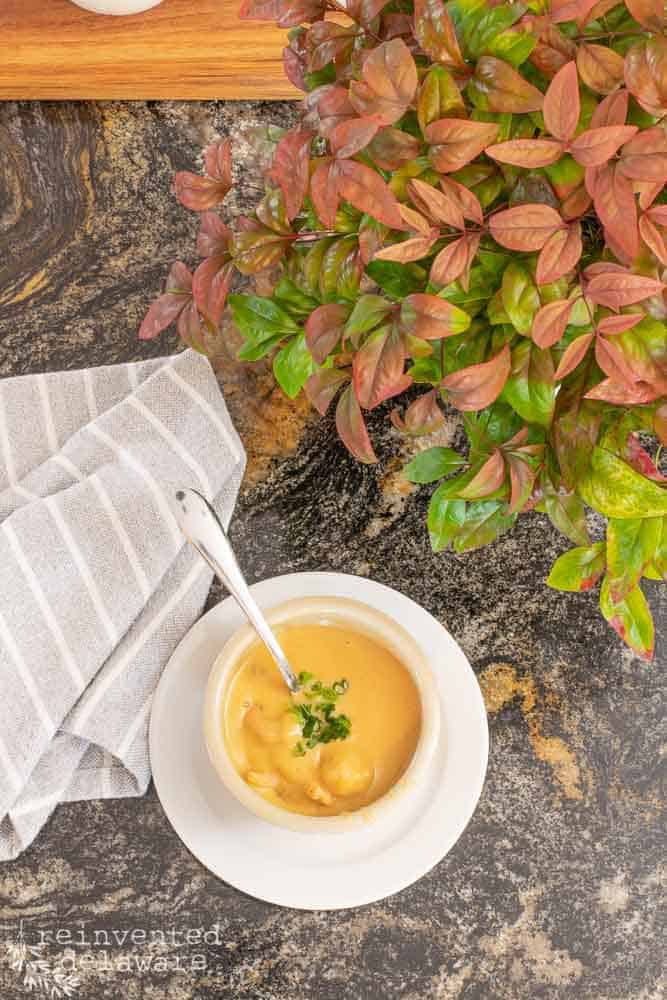 number 7
Our Vintage Christmas Home Tour was a fun post to share! We shared many of the projects that we made for Christmas and how we used them in our home.
Look close in the background and you can see our recent handmade snowman.
number 6
This post had a lot of traffic! People wanted to know how to lighten dark wood tones and we showed you how! It's so easy to do – you'll be looking for dark wood furniture just to give this technique a try!
Barkly is a bit blurry because he doesn't understand you need to be still for a photo!
number 5
Upholstery is my love language. We have reupholstered and recovered many projects over the years and as much as I love it, it's a breath of fresh air to recover a small project like this footstool.
I'm thrilled that this is one of our most popular posts for 2021!
number 4
This project is a show stopper, don't you think? Our client had an antique solid oak dresser that she wanted to be converted to a bathroom vanity. Like I said earlier, we aim to please!
This project was a pure joy to work on. Oak is one of our favorite woods and especially when that oak is old!
BTW, our custom client purchased the mirror to go with the dresser vanity and we think it looks da-gone amazing!
number 3
This snowman made from sweaters was actually made a couple of years ago. It was such a popular post that I decided to add a video to the post.
Creating the video just made this post even more popular! Plus, I got to make another adorable snowman!
Be sure to pin this to your Christmas boards over on Pinterest for next year! And grab a sweater at your local thrift store!
---
---
number 2
Repurposing is at the heart of what we do here at Reinvented Delaware. Keeping things out of the trash heap and turning it into something useful makes my heart go pitter-patter.
This shutter light is such a useful piece to have. You will be at your next local auction to grab as many shutters as you can when you see how easy this project is!
number 1
This post is a no-brainer as far as popularity is concerned! I mean, who doesn't want 100 repurposed thrift store makeovers?? Ten bloggers, including me, got together and shared our best of the best thrift store makeovers for a total of 100 makeover ideas for you!!
You're going to want to pin this post to your thrift store boards so you can refer back to it for inspiration!
top YouTube videos
We had a great year over on YouTube also! Here are two of our most popular videos for 2021.
an easy way to plan your year
The first video will help you stay on task this year. Even if you are not a business owner, this bullet journal method of planning will keep you organized and help you to complete your projects!
lampshade makeover
In this video, I will show you how easy it is to give a tired lampshade a breath of fresh air! So easy and so fast! Enjoy the makeover 🙂
join our reinventing journey
Thanks for stopping by for this best of 2021 post! I appreciate the support you offer by showing up, commenting, and following along on our reinventing journey.
Be sure to subscribe so you don't miss any of the reinventing fun in 2022!
---
Visit my Amazon Storefront!
Click the button below and head over to our online shop on Amazon!
---