Free Fall Printables to Decorate Your Home for Autumn
Welcome the fall season with these free fall printables! Frame them for wall art, use them as gift tags, or create your own festive home decor.
Happy Fall to ya! Who loves this time of year? I know I do!
free printables for fall
I'm excited to bring you the free autumn printables in our free printable library! Creating these sweet seasonal decor pieces is such a fun way for me to welcome a new season.
Sharing them with you is a great way to show my grateful heart towards you for joining our journey here on the blog.
The following post may contain affiliate links. That means if you click and then buy something, I will make a small commission at no additional cost to you! Thank you for supporting my blog. full disclosure here.
​access the free printable library
Let's talk about how to access the free printable art.
The easy way to access the library is to click the red button at the top of my blog that says, "Get My Freebies" You can also click the button below.
You will be directed to give your email and your first name. Then you will receive a confirmation email that includes the password and all the info you need to access the printable library.
Once you have access to the library, you will see that it is filled with seasonal art including the new fall printables for the autumn season!
Download the files to your computer then send them to your home printer and enjoy! It's that easy! The best part about this freebie library, other than they are all free 😉 is that you can come back to this library anytime and use the free printables.
Print the artwork on watercolor paper for best results. Print only one sheet at a time so that your home printer won't get jammed. Check the settings on your printer to be sure you are not cutting off any of the designs.
Use card stock to print the greeting cards and gift tags for a sturdy card.
autumn printables
In the library, I've included farmhouse style art for your personal use such as phone & watch wallpapers, greeting cards, gift tags, a digital calendar for your computer, and of course, printable art!
Please do not share the password to this private library! If your friends want access, encourage them to join for access just like you did! Thanks so much!
The free fall watercolor printables include the following designs that are perfect for your autumn decorations as well as a couple of easy gift ideas:
white pumpkins
candles and pumpkin spice lattes
a stack of cozy blankets
a jack-o-lantern
fall leaves and pumpkins
wreath for the fall season
a basket of sunflowers
front doors decked out in a fall mood
an adorable home with gorgeous fall trees
and so many more!
printable fall decor for your home
I can't wait for you to see all of the beautiful free fall printables I have for you! They will be the perfect addition to your home decor and are one of the easiest ways to change up your holiday decor without spending a ton of money!
Here are some of my favorite ways to use these sweet printables.
budget friendly fall decorating
Our dining room, living room, and kitchen are one big space. I love to decorate when the seasons change but I don't want to go overboard and overwhelm the large room.
Adding wall decor like this gorgeous home with trees in the fall colors is a quick way to add a touch of autumn to our dining room. I simply printed the printable watercolor art on watercolor paper.
Then I cut out the shape of the vintage oval frame I found at one of the thrift stores I frequent. A little bit of packing tape on the back to hold it in place and wa-la, instant wall art!
printable fall decor for easy seasonal change
Another idea for instant wall art is to use a magnetic poster hanger. This is the perfect way to hang art that you want to change often like seasonal designs.
Simply place the printed art between the wood slats that have strong magnets in them and hang the fall wall art! The magnetic poster hangers come in several sizes and stain colors.
I chose the 9″ for this piece. You could also choose a larger size if the design is oriented in landscape rather than portrait like this watercolor fall wreath.
Another idea for displaying the free printable wall art is to use an easel. I found this easel on one of my many thrift shopping trips and it is the perfect size to hold a printable like this sweet little grouping of watercolor pumpkins, autumn leaves, and sunflowers.
By the way, for all of the wall art, I am using watercolor paper to print the artwork. The paper is heavy and will give you the best results to create an authentic watercolor art look for your piece.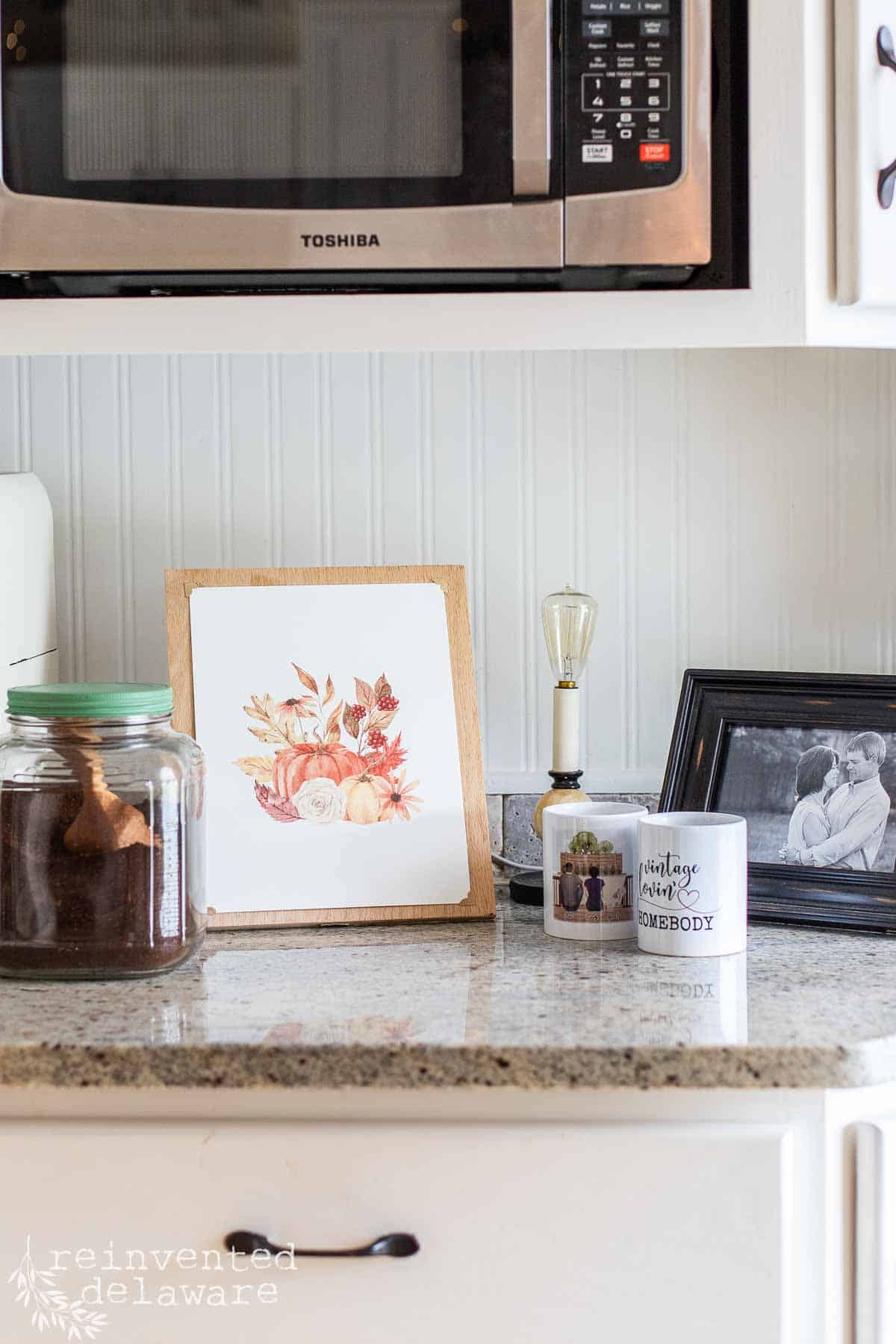 free downloadable greeting cards for fall
Let's look at the gift ideas I have for you with these adorable fall printables. Yes, I said gifts! Who says we have to wait for Christmas to bless someone? Let's start now!
Of course, you could give the watercolor prints framed in the way I described as a gift. You could also give the recipient a sweet little card to go with that gift. The greeting cards come in two on each sheet.
Cut them in half and use a folding tool to give a nice crease. If you are not sure what sentiment to write on the card, check the freebie library – I have phrases for greeting cards within the same folder as you downloaded the greeting cards.
If you are worried about your handwriting, here is a tip I use all of the time: print in all caps! Try it on a scrap piece of paper first. For some reason, words look amazing in all caps! The one you give the card to will appreciate that you took the time to 'write' to them especially in this day and age of texting and DM messages!
Handy tip: Prepare Ahead!
Print extra greeting cards so you are prepared for any occasion!
free printable gift tags for fall
You could also give a little gift of food! Here are a few ideas for you:
mini pumpkin loaves wrapped in parchment paper
Aren't these the sweetest? I made a whole batch of this pumpkin bread and have already gifted them to several people. The rest are in a ziploc bag ready for giving anytime someone needs a little love. 🙂
cookie mix in a jar
The supplies for German chocolate cake mix cookies are so easy to have on hand. I made one batch into two pint jars. I poured half of the cake mix into each jar then layered the rolled oats and the chocolate chips on top. Then I added these simple instructions for making these cookies on the back of the gift tag.
German Chocolate Cake Mix Cookies. Add 1/4 cup oil, and one egg and mix well. Form the cookies and bake at 350* 8-10 minutes. And that's it!
Click the button below for the full recipe.
melt and pour homemade soap
​Here is one last gift idea using these adorable fall printable gift tags. Make a batch of melt and pour goat's milk soap. Scent the soap with whatever you prefer. I used lilac fragrance oil because it's my favorite but you can use any scent you like!
Wrap up the bar of soap in cellophane, tie it up with some twine, and add a sweet little gift tag!
Can't you imagine how special someone would feel if they received this? It's a great way to show you appreciate them!
fall phrases for printables
Here are some fall quotes you could add to any of your printables. Remember to use all caps when printing if you don't like your own handwriting!
give thanks
hello fall
autumn leaves
pumpkin patch
happy fall
fall vibes
Before I go, Be sure to check out the phone wallpapers and the digital art for your computer screens. They are so cute to see on your phone and watch!
Stay tuned for the coming Christmas and winter seasons for more designs!
I hope you enjoy the free printable library all year! Happy Fall, my friend! I'm so glad you have joined our journey!
supplies
Here are some of the supplies I used to print the watercolor art and cards. Tap the images to shop!

Thanks for joining our journey!
Thanks so much for joining us for this post! Join our journey so you don't miss any of the fun projects, tutorials, and inspiration that we share with you each week! You can follow us on Instagram, Facebook, and YouTube. We share even more inspiration on Pinterest!
use code: 10OFFRD at checkout and save 10%!
click below to purchase supplies!
Visit my Amazon Storefront!
Click the button below and head over to our online shop on Amazon!