39 Budget Fall Themed Decor Ideas
Fall is just around the corner and many of us are looking for fall-themed decor ideas for our homes. So I've gathered some of my fall and autumn-themed decor posts as well as some from my blogging friends to inspire you!
The following post may contain affiliate links. That means if you click and then buy something, I will make a small commission at no additional cost to you! Thank you for supporting my blog. full disclosure here.
fall home decor ideas
If you are like me then you love fall crafts that you can make. Especially when they are easy fall decorations, right?
Handmade wreaths usually are one of the first things I think of when making fall decorations for our home.
So I've gathered some of the wreaths we've made over the years for you! Click any of the titles in this post and you can head over to the tutorials. Many of them also have YouTube videos to go along with them!
This handmade fall wreath was so simple! And it was super cheap – I'll tell you all about it in the post. You're going to love the fabric!
The method I used for this wreath could be used with any color combination so it's not just for fall-themed decor.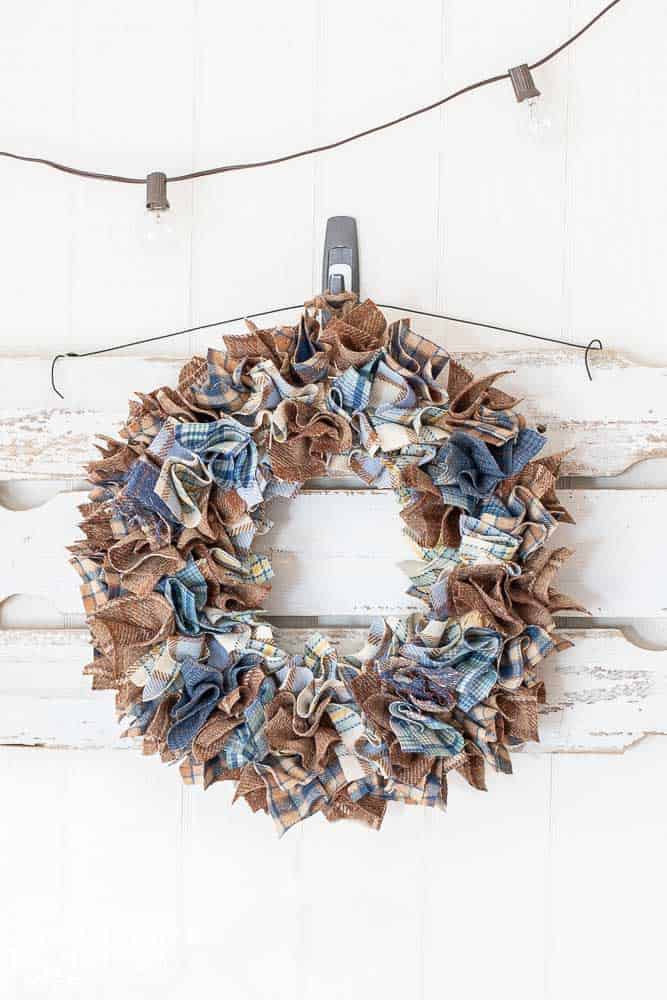 This DIY magnolia leaf wreath can be made in the fall and used throughout Christmas. The colors of this fall-themed wreath lend themselves to the autumn season but orange slices can also be used for Christmas decor.
I say make it and enjoy it throughout the entire holiday season!
Morning walks in the fall season are one of my favorite things to do. Especially on the morning after the local farmer cuts down the corn in the field near our home!
With all of those corn husks laying on the side of the country road we live on, I knew I had to do something creative with them!
You're going to love making this wreath especially if you can get the corn husks for free!
DIY Pine Cone Wreath
My friend Anna (SkylarkHouse.com) and I got together one year and made these wreaths 'together' online. It was a fun collaboration that our followers enjoyed as much as we did!
We even made a fun Instagram reel of this project.
It's so easy to make! Grab a friend this fall and make one for each of your homes together!
Have you ever tried to copper leaf something? This copper leaf pumpkin project was a first for me and now I'm hooked!
I'm really looking forward to decorating our dining table or maybe the new table in our kitchen with these gorgeous copper pumpkins.
In fact, I have more copper leaf left over from this fall-themed decor project so I wonder what I can put it on?? Comment below with any ideas you think I should copper leaf!
Thrifted Sweater Pumpkins
Do you see the orange pumpkins in the background in the image below? They're made of a special fabric.
The color was perfect for the pumpkins I wanted to make but then when I read the label, I could hardly believe my eyes!
Let's just say these are some pretty fancy-schmancy pumpkins!
You'll have to check out the post to see what the fabric content is in these adorable handmade pumpkins!
even more fall-themed decor ideas
I've also gathered some of my blogging friend's fall-themed decor ideas. Bloggers have the best ideas and we love to share them with you.
Click any of the titles in the list below to see some of the most creative ideas for fall decorating out there in the interwebs!
---
fall themed food ideas
You're going to need something to eat while you are busy making all (or as many as you can!) fall projects I've shared with you today so I thought I would give you some ideas of what to cook.
These are recipes that I have made many, many times over the years. Comfort food you can cook in a pot on the back burner of your stove and just enjoy the smell throughout your home!
Click any image below to see all the fall food goodness!
fall inspiration at Target!
Here are some of the gorgeous fall home decor including linens, wreaths, and pillows to freshen your home for the fall season!
Click any of the images to shop for your home!

Visit my Amazon Storefront!
Click the button below and head over to our online shop on Amazon!
---
thanks for stopping by today!
We want you to join our journey over on Instagram and Facebook! You can also find more inspiration on our Pinterest page! We're always pinning fresh ideas!