Vintage Market Pennsylvania 2019
Do you ever wonder what it is like to have a vendor booth at a vintage market? Today, I am sharing some of my experiences at a vintage market in Pennsylvania called Witches Fly North Antiques and Artisans Show!
Some links in this article are affiliate links and if you click on them, we will received a small commission at no additional cost to you! Clicking and purchasing helps to support this blog and all of the home decor tutorials we bring to you! Click to read my full disclosure.
social media friendships
It all started with a friendship built through Instagram. I 'met' Jenn from Eight Hundred Furniture a little over a year ago through our common interest in a blogging conference. Then in July of that year, we met in person at the Haven Blogging Conference.
Over the next few months, Jenn and I developed a friendship and we both admired each others work.
Then in late spring of this year, she asked if I was interested in joining her at the vintage market in Pennsylvania that she would be attending.
Of course, I said yes!
I mean what an opportunity!! Next step? Secure a U-Haul for the vintage goodies I would be bringing to the vintage market in the fall!
my responsibilities
She wanted me to help out with her large booth especially while she was giving demonstrations on the stage for the over 5000 customers that would be coming through the event!
Let me explain a bit more. Jenn is a Miss Mustard Seed Milk Paint Retailer in her area of Pennsylvania. She is also the Instagram Account Manager for the brand.
She gave demos on Friday and Saturday and had alot of people in the audience learning all of the techniques when using Miss Mustard Seed Milk Paint and other products like Hemp Oil.
But my responsibilities didn't stop at manning the booth while she did the demos. I was also chief spindle labeler!
Jenn had painted these spindles in each of the 25 colors of the Milk Paint for her paint display. She wanted them clearly labeled so customers would know exactly what the color was on each spindle.
I have said it many times, the colors of Miss Mustard Seed Milk Paint is what drew me in! I mean, look at those gorgeous vintage colors!
meshing at the vintage market
Jenn had been setting up her section all week so when I arrived on Thursday, we just had to mix our items in with hers.
We both said it many times during the show, that our offerings blended so well together. It didn't even seem that there were two vendors sharing the same space!
The space that Jenn had secured was directly across the stage where she would be giving the demos (and event announcements I might add!) . It was a fairly large area……
…..plus we had space around the stage.
chalk boards and the recipe
I brought lots of small chalkboards so we wrote the milk paint recipe for the customers to see. Jenn also gave a demo showing how to make a chalk board on a vintage window. We'll have to do that same project here on the blog in the future!
Check our her cute children's blocks that spell out her biz name! Isn't that the cutest??
"good morning!"
Saturday morning was an early one for sure! The early shoppers would begin arriving at 7am so we had to arrive super early!
I do a 'good morning' story for my Instagram followers but not usually this early in the morning. That's my excuse for a wonky 'd' on the word 'good'!!
non-stop shoppers!
Once customers started coming, my camera was put away. So many shoppers kept us on our toes both days! It was literally non-stop talking, helping, answering questions, moving sold items, re-staging the space……
We would have a slow time while Jenn and another vendor gave their paint demos. But as soon as they finished, the customers came to buy!
a few of our pieces
The shoppers had so much to see in our space and they lingered and oooo'd and aaaa'd over our offerings!
….a pair of upholstered chairs with sit-upons (I'll write a tutorial on these soon!), an adorable footstool……
….picket signs, picket crates, upholstered pieces…..
….vintage blanket chest, dish drying rack, spindle bed frame……
…reinvented sewing cabinet drawers, natural bristle brushes and linens and washstands……
…a wood tool box reinvented into a storage coffee table with spindle details and more washstands….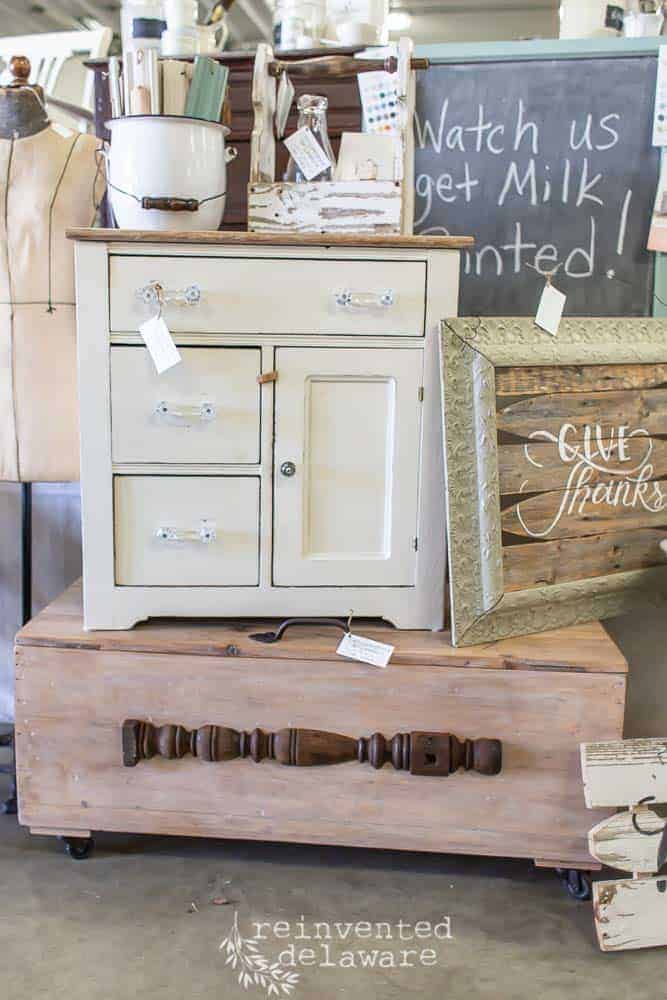 …and more washstands…..
Between the two of us, we had plenty for our shoppers to choose from!
instagram blooper!
During one of the demos, Jenn had asked if I could do an Instagram Live on the MMSMilkpaint account. I said sure, even though I have NEVER done a Live on my own account! I mean, how hard could it be, right?
Well, what we didn't realize was that the little Square unit that we used for processing customers payments can't be connected to the phone you are using for the IG Live!! Agh!! There was now sound for the people tuning in other than an annoying humming sound!!
Watchers were chiming in commenting "No sound!" and I had no idea how to fix the problem or even answer them back!
Lesson learned – remove the Square unit and learn how to respond to comments during a Live!
BTW, isn't this Annie Sloan Chalk Paint display so clever?? Our church pew fit right into this spot!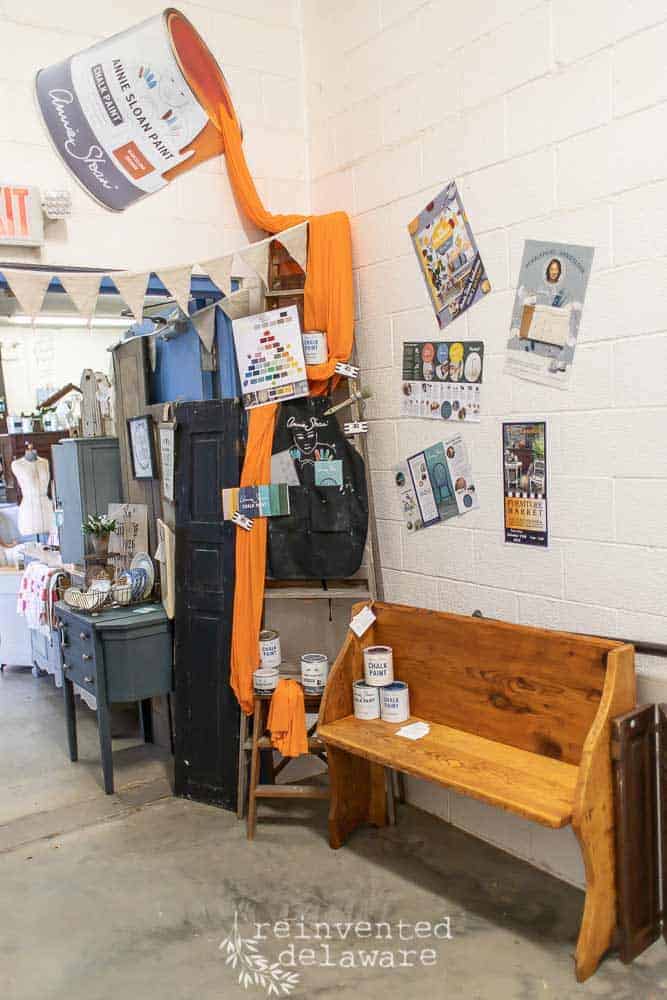 The whole event was so much fun — a ton of work leading up to it as well as at the event itself. But I must say, the best part was meeting the people! We had so many sweet customers come by our spot and comment on the lovely pieces they saw in our space.
new friendships
We also made new friends who were also vendors selling their vintage goodies. Like Jennie and Chip from Ohio. Jennie runs Found Our Haven a vintage goods shop located in Toledo, Ohio with her hubby. They are both just the sweetest and my hubby and I are so blessed having met them!
Isn't it amazing that the three generations represented here – one in her 30's, one in her 40's and one in her 50's — can share common ground through their love of vintage home decor?? I love being a part of this vintage market community!!
that's a wrap for this vintage market!
Well, that about wraps it up! I learned so much during my first ever vintage market! Let me run over some of those lesons with you:
start preparing the items I want to take at least 6 weeks in advance, maybe even earlier!
rent a U-haul with enough space to carry those goodies
bring a jacket if the vintage market is north of Delaware (I completely forgot mine and had to make a Kohl's run!)
bring water bottles and snacks because there is no time for meals during the event
have all the items priced and labeled before the market
don't try new technology at the event — practice ahead of time!
wear my camera with a lightweight 50mm lens all day so I don't miss a shot
Thanks for stopping by for this little vintage market recap! If you have any questions about the event or my experience there, please feel free to ask in the comments below! You can also hop over to Instagram or Facebook and ask your questions there!
Just for fun – have you ever attended a vintage market like this one? If so where was the market? Or maybe you have been a vendor at a market! I would love to hear about your experience!
Blessings to you!