Tuesday Turn About #184 New Year Inspiration
Hi friend! Welcome to Tuesday Turn About Link Party! This post is a great place to find all sorts of inspiration including:
DIY projects
thrifting and upcycling ideas
home decor inspiration
recipes
gardening tips
This post is basically an All Things Home weekly magazine! Take time to click through some of the posts that interest you. Hover your mouse over the little images at the bottom of this post and click for the ideas!

Are your Christmas decorations down? I'm sure you are breathing a sigh of relief to have them all put away!
This is the time of year we all like to get organized. Having all of the Christmas decor in our homes is so festive, but when we are done, we are DONE!
In today's Tuesday Turn About Link Party, you'll find all sorts of inspiration for organizing and refreshing your home for winter.
I've featured three amazing bloggers to get you started!

Check out last week's party for more ideas and inspiration!
Weekly Tip
Maybe you have been reading this post for a while now and know that I share a weekly photography tip. If that is something that interests you, can you let me know in the comments?
In the meantime, I'll be sharing tips for thrift and antique shopping, and upcycling tips so that you can be inspired!
When you are out thrifting, keep your eyes open for faux greenery. Many people use brand-new greenery for just a year or two. You can still get many years of use out of it if you look beyond a little dust.
Use your hand-held dust buster vacuum to remove the dust. If the faux greenery is durable and has a plastic feel, you can probably give it a good dunking into hot soapy water. Move it around in the water then rinse. It will come out looking new!

Now for the Inspiration!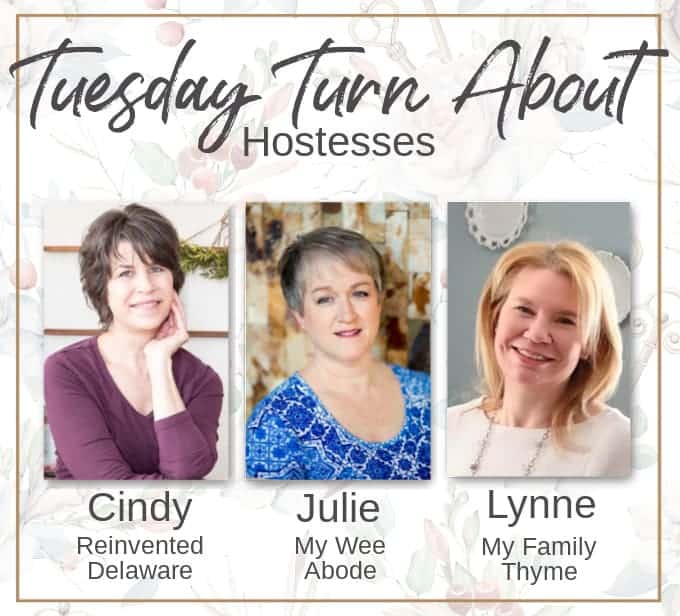 Join us on the socials!
Though not a requirement, we would love for you to join us on other platforms. Feel free to subscribe to our email lists, our Facebook pages, our Instagram accounts, and our Pinterest boards!
Let's create community!
Cindy at Reinvented Delaware
China Cabinet Makeover | DIY Guide to Distressing Furniture for a Vintage Look
Lynn at My Family Thyme
Favorite Valentine's Finds From Target | How to Make Reverse Canvas Valentine Art
Julie at My Wee Abode
Winter Valentine's Decor in a Small Kitchen // Easy Valentine Cloche Vignette
Be sure to hop on over to Julie's blog at My Wee Abode and Lynne's blog at My Family Thyme to check out SIX additional features from Tuesday Turnabout! If you haven't been featured on Reinvented Delaware this week, you just might be featured on one of the other hosts' blog!
County Road 407
Cindy shares her ideas for Pretty Winter Decorating Ideas.
Karin's Kottage
Karin has the best tips for DIY Dropcloth Curtains for Dining and Living Rooms!
An Organized Season
Donna can help you get your home in order with her Home Organization Challenge.
Let's start sharing! Because this is a party, we encourage all who link up to visit several other bloggers who have linked as well – comments and pins are a great way to spread the love!
Before you get started, take a look at our guidelines:
This party is for home decor and home-related posts only (recipes, organizing, DIY, crafts, etc.). Link up to 3 related posts. Please do not link up informational posts that do not relate to the topic.
If you would please not link up shops, advertising, round-ups, other link parties, or any posts promoting sales, we would appreciate it.
DO NOT PIN FROM IMAGES ON THIS PAGE (it just won't work right on Pinterest). However, please visit the original post/source and pin from there. That works perfectly!
Please make sure that your images are in a jpeg or png format. If we can't save your image, we may not be able to feature you. So sad!
By linking to the party, you give us permission to share your projects on our blogs and social media. We will always give proper credit with a no-pin image.
We're looking forward to all of your fun posts this week! Give us your best!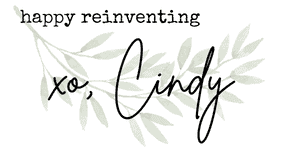 Tuesday Turn About Link Party runs from Tuesday 6 pm EST to Saturday 1 am EST. Join us during those times each week!
Before you link up, did you catch my thrifting tip for the week? Scroll up and read the tip! Then scoot down here to link up your amazing posts!