Tuesday Turn About #197 Just Eat Cake
Did you have a nice Easter this past weekend? I hope you had time to spend with your family. Maybe you had a wonderful Easter egg hunt and a delicious meal!
Our Easter celebrations included my hubby being able to meet our newest grandbaby who lives 4 1/2 hours away with her mommy and daddy and brother.
We enjoyed our time there and we also celebrated our 40th wedding anniversary on Easter Sunday.
We were able to enjoy a delicious Nothing Bundt Cake with one of our daughter's family including the new baby and our daughter-in-law and grandson. Our other children were not able to join us.
I tell ya, it's hard when your children grow up and live away from you and each other!
But we make the best of the blessed life God has given us together. We are grateful.
200th Link Party Giveaway
Julie, Lynne, and I are coming up on our 200th Tuesday Turn About Link Party! To celebrate, we are having a giveaway.
And it's not for bloggers ONLY! My readers are also going to be included in the chance to win the giveaway!
The girls and I are still ironing out the details but we promise next week we will share ALL of the details so you can have a chance to win!

Weekly Thrifting Tip
My tip this week is:
Leave your town.
Yep, venture out to neighboring towns and scope out their thrift stores. Go as far out from your own town as you have time for, and work your way back to your town. I sort of did this recently.
I was coming home from visiting our Virginia-living kids and stopped in a town about 45 minutes away from our home. The little town had three shops including one where I found so many gorgeous dishes!
It's worth it to take a few hours if you have time and see what kind of vintage goodies other towns have to offer.
If you want to see my latest thrift shopping trip from that town, you can click HERE!
My Camera Gear
You might be interested in the gear I use to photograph all of the tutorials we offer here at Reinvented Delaware. If you have any questions about any of the camera equipment, just let me know!

My Photography Ebook has been Discounted!
If you need help with your DSLR skills, this book is for you! It is packed full of tips to help you improve your photography skills. Your readers want to see lovely images that tell the story of your blog post and this guide will help you to do just that!
If you are not a blogger, no worries, this ebook can still help you! This guide includes:
how to shoot in manual mode for full control of your final images
how to read and understand the exposure triangle
tips for lighting and composition
how to organize your images
Learn to tell your story through images for only $9.97!
Now for the Inspiration!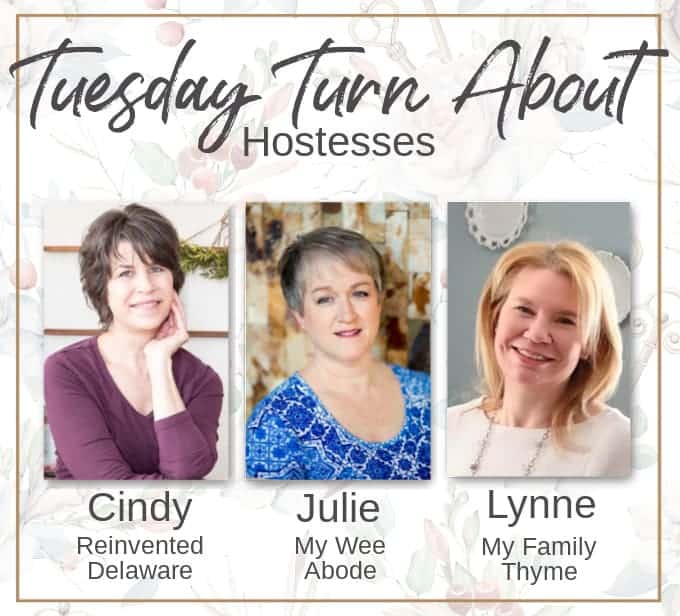 Join us on the socials!
Though not a requirement, we would love for you to join us on other platforms. Feel free to subscribe to our email lists, our Facebook pages, our Instagram accounts, and our Pinterest boards!
Let's create community!
Cindy at Reinvented Delaware
Lynne at My Family Thyme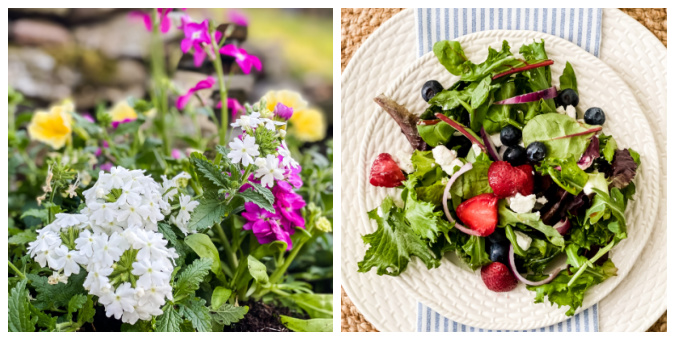 A Simply Sensational Flower Garden Container | The Most Delicious Red, White, and Blue Berry Salad
Julie at My Wee Abode
Family Friendly DIY Spring Placecard Holders // How to Refresh Your Tiny Patio for Spring
Be sure to hop on over to Julie's blog at My Wee Abode and Lynne's blog at My Family Thyme to check out SIX additional features from Tuesday Turnabout! If you haven't been featured on Reinvented Delaware this week, you just might be featured on one of the other hosts' blog!
The Happy Mustard Seed
Karla created a lovely Yellow Sourdough Cake recipe that looks delicious!
What the Fork
Shay came up with this amazing Gluten Free Coconut Cake that you will want to save!
Thistle Key Lane
We love sweets but upcycling can be sweet too! Michelle gave a basket a Spring Makeover that is adorable!
Let's start sharing! Because this is a party, we encourage all who link up to visit several other bloggers who have linked as well – comments and pins are a great way to spread the love!
Before you get started, take a look at our guidelines:
This party is for home decor and home-related posts only (recipes, organizing, DIY, crafts, etc.). Link up to 3 related posts. Please do not link up informational posts that do not relate to the topic.
If you would please not link up shops, advertising, round-ups, other link parties, or any posts promoting sales, we would appreciate it.
DO NOT PIN FROM IMAGES ON THIS PAGE (it just won't work right on Pinterest). However, please visit the original post/source and pin from there. That works perfectly!
Please make sure that your images are in a jpeg or png format. If we can't save your image, we may not be able to feature you. So sad!
By linking to the party, you give us permission to share your projects on our blogs and social media. We will always give proper credit with a no-pin image.
We're looking forward to all of your fun posts this week! Give us your best!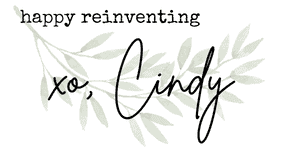 Tuesday Turn About Link Party runs from Tuesday 6 pm EST to Saturday 1 am EST. Join us during those times each week!
Before you link up, did you catch my thrifting tip for the week? Scroll up and read the tip! Then scoot down here to link up your amazing posts!