Easy Rotisserie Cornish Hen in an Air Fryer
Cornish game hens are usually saved for a special occasion with a group of people. But if you want a whole chicken dinner for two, then this rotisserie cornish hen in an air fryer is just the ticket!


Virtual Book Club
Welcome to this edition of the Virtual Book Club. Three of my blogging friends and I will share our interpretation of a different book on the fourth week of each month! You will see their ideas and inspiration at the bottom of this post.
Here are some of the books we will be using as inspiration. Click the arrows to scroll through our book choices. Tap to get your own copy 🙂
The following post may contain affiliate links. That means if you click and then buy something, I will make a small commission at no additional cost to you! Thank you for supporting my blog. full disclosure here.
ADD LTK CODE

Maybe you would rather listen to the audio version of these books! Join Audible and you can enjoy books on the go from your phone! This is a great way to read lots of books!
Or maybe you are a movie watcher, like me! Join Amazon Prime and get access to thousands of movies!
On the last Thursday of each month, we will share something home decor-related, and a culinary treat on the following Saturday inspired by our book of the month.
We hope you join us in this reading adventure and grab a copy of the books so you can be inspired along with us!

cornish game hens for dinner
When I was reading our book, Emma by Jane Austen, for our virtual book club, it struck me that a cornish chicken would fit the storyline perfectly! It would be enough meat for the two of us for dinner, the name 'cornish' comes from England, and it is thought of as a fancy food!
Emma is based in England during the early 1800s and is about a wealthy young woman who considers herself a matchmaker. They often had fancy dinners and it just seems appropriate that they would have had cornish hens.
The size of a cornish hen is the perfect size for two people especially if you like mini rotisserie chickens. Hubby and I often buy a whole rotisserie chicken from the grocery store. But often they are just too large for the two of us.
Even though a cornish hen sounds fancy, I wanted our meal to be more like the kind of food that hubby and I eat. That's when the idea of using our air fryer to take a small regular chicken and turn it into an air fryer cornish hen! Cornish hens are just small chickens after all!

air fryer used as a rotisserie
Our air fryer is an oven-style model. Some air fryers have a drawer or basket with a handle. Our air fryer is more like a toaster oven. But it also came with the option to cook using a removable basket. This wasn't my first time using the basket. We've made frozen french fries in it but nothing else up to this point.
Many air fryers have a rotisserie attachment. Ours does not but I figured the basket would work just fine.
The model we have came with a little book filled with air fryer recipes but unfortunately, I couldn't find it. The air fryer has several pre-sets, one being a chicken leg that would cook at 370* for 30 minutes. So I decided that would be my starting point.
cooking temperature for cornish hen
I knew I would have to roast the chicken long enough to get its internal temperature to 180* and that the cooking time might have to be adjusted. Fortunately, I have a meat thermometer handy!
After the frozen hens were completely defrosted (BTW, the package came with two hens. I saved one in the freezer for another time after I had prepared it), I dried them off with several paper towels. If you want to have crispy skin, the hen needs to be dried completely.
how to get a crispy rotisserie chicken
The next step for crispy skin is to add fat. The fat will sizzle in the air fryer and get the outer part of the hen tasty and crispy. And the tender meat of the little birds will be juicy and delicious.
You could use several types of fat like olive oil or canola oil. I decided to use butter. Hubby and I are butter fans. Eating low carb means that we can have more fat in our diet. Don't ask me how it works but it does! Hubby's lab numbers have improved since we have cut out grains and sugars. It's similar to the keto diet without artificial sweeteners.
Anyway, I lifted the skin from the breast side of the game bird and spread dollops of butter under the skin. Then I picked up the whole bird and gave it a good butter massage on the outside of the hen.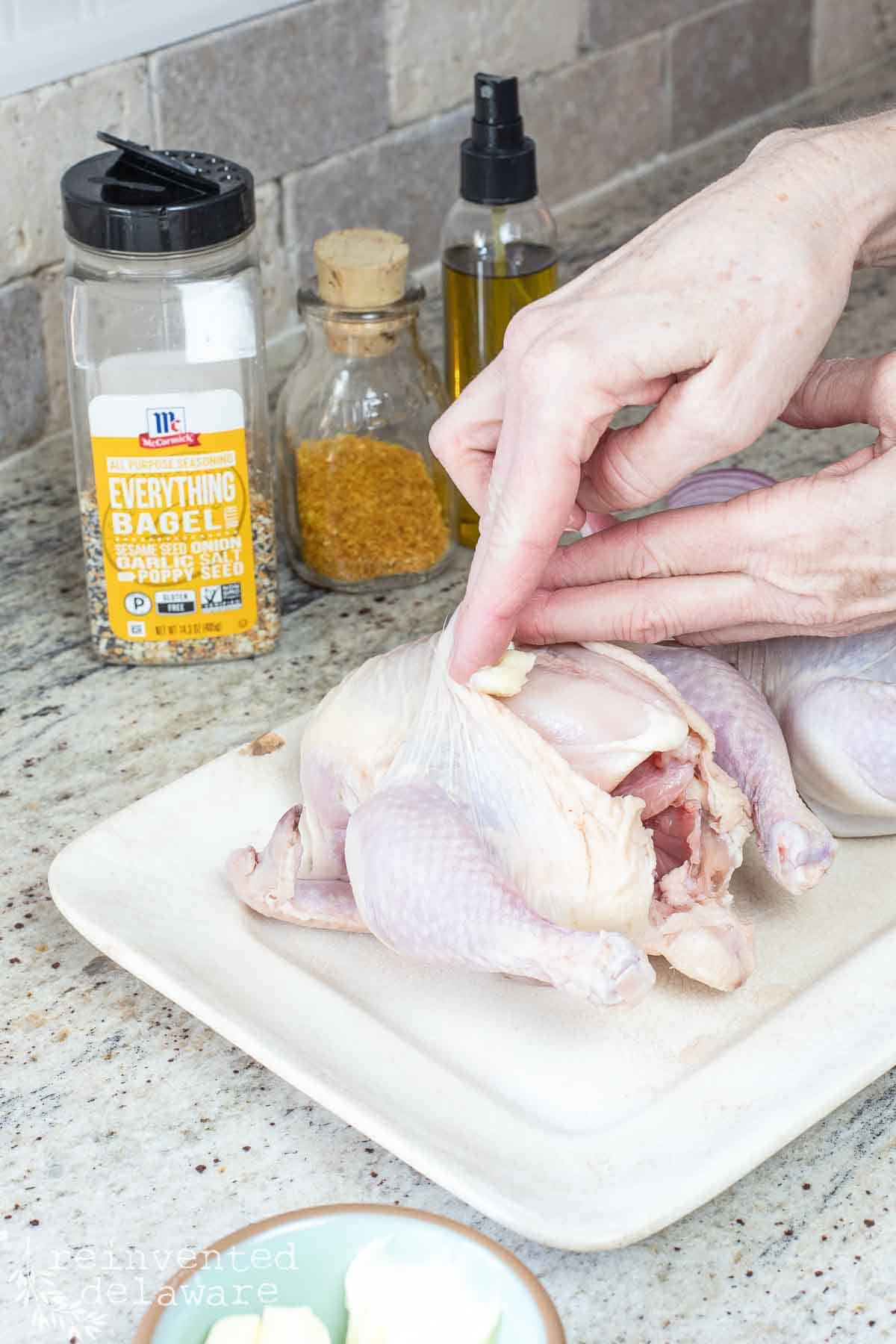 season the cornish hen
I stuffed the little cornish hen with a quarter of an onion. Hindsight, I wouldn't do that again because the onion slices fell out while the hen was rotating in the air fryer.
Let's add one of my favorite seasonings – Everything Bagel. Have you tried this seasoning blend? It's seriously good on everything! Garlic powder and onion powder are included in the combination and you can't go wrong with those spices.
Next, I sprinkled a fair amount of Everything Bagel over the whole cornish hen, the top, the sides, and the back. The whole thing! Also, I sprinkled a bit of sea salt and black pepper over the whole bird.
Then I got a little fancy for this cornish game hen recipe: I added my own orange zest! Let me explain. Back at Christmas, I had purchased clementines to make dried orange slices for our Christmas tree. I made them but I didn't use the whole bag. So they sat on the counter on a pretty ironstone dish
Before I knew it, they were completely dried up and hard as a rock! But I don't like to waste things so I decided to use my fine Microplane grater and harvest my own grated orange zest. It turned out perfect and smelled amazing! Who knew you could even do that??
The orange zest sprinkled on top of the cornish hens made this easy dinner a little more special and it added a delicious flavor too!
roasted chicken in the air fryer
Next, I placed the little cornish hen in the air fryer basket that came with the unit. Then I put it in the air fryer oven. The basket sits in grooves that will also rotate the basket. It's perfect for this easy air fryer recipe. In fact, I'm thinking of using this basket more often!
The cornish hen roasted for 30 minutes at 370* while rotating in the basket. I checked the internal temperature and it was only at 150*. It went back into the air fryer and I let it cook for another 15 minutes. The size of the cornish hen can be between 1-2 pounds so you have to adjust the time accordingly.
By the way, if you do not have a rotating basket or the rotisserie attachments, this cornish hen could be roasted in the air fryer. I'm not sure you will get the golden brown color on the whole bird but it's worth the try!
side dishes for cornish hens
In the meantime, I roasted baby carrots and onions. I also had some pre-made stuffed mushrooms I bought at Aldi so they went into the regular oven with the carrots for the last ten minutes.
The cornish hen came out of the air fryer golden brown and had so much flavor. This made the perfect main dish for our weeknight dinner. This easy recipe couldn't have been any simpler and was such an easy meal to prepare.
This delicious air-fryer cornish hen looked so appetizing next to the roasted veggies and mushrooms. It would have looked even better with fresh herbs like chopped sage, thyme, and fresh rosemary sprigs on the serving plate. Until my herb garden starts growing again, I guess I'll just have to wait!
easy rotisserie cornish hen recipe
Doesn't that cornish hen recipe sound and look so good? This small size bird is perfect for two people or if you are single, treat yourself to a whole roasted hen!
We had a little bit of the roast chicken leftover plus we had the whole chicken carcass so I decided to make stock. It's the best way to use up any leftover chicken including leftover cornish hens. Tonight, we are having chicken soup!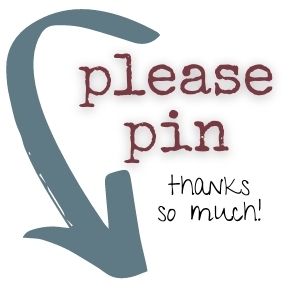 Print Recipe
Rotisserie Cornish Hen in an Air Fryer
A delicious and juicy rotisserie cornish hen for any weeknight dinner for two.
Equipment
1 Air Fryer Oven with Rotisserie and or Rotating Basket
Ingredients
1

cornish hen

1/4

small onion

1-2

tbsp

Everything Bagel Seasoning

3

tbsp

butter

salt and pepper to taste
Instructions
Dry the defrosted cornish hen with a paper towel.

Lift the skin from the breast using a knife and your fingers.

Spread the butter under the skin.

Give the bird a good butter massage all over!

Sprinkle Everything Bagel seasoning over the bird.

Stuff the bird with 1/4 of the onion.

Place cornish hen in the rotisserie basket (or use rotisserie attachment) and roast in 370* air fryer oven for 45-60+ minutes until the bird reaches an internal temperature of 180*

Allow the bird to rest for 10 minutes then slice as desired.
Notes
Cornish Hens usually come in packs of two. Prepare the second hen in the same way and freeze for another time. Or cook the second chicken after the first is done and save it for another meal!
Some air fryer ovens have preset temperatures and settings. Check your manual and use it according to the instructions.
The leftover carcass can be used to create homemade chicken stock with this chicken stock recipe

I hope you enjoyed this post and the inspiration from the book (linked title of the book) Be sure to read the posts my blogging friends were inspired to write.
Lynn from Living Large in a Small House
Crystal from Sweet Valley Acres

Thanks for joining our journey!
Thanks so much for joining us for this post! Join our journey so you don't miss any of the fun projects, tutorials, and inspiration that we share with you each week! You can follow us on Instagram, Facebook, and YouTube. We share even more inspiration on Pinterest!
Visit my Amazon Storefront!
Click the button below and head over to our online shop on Amazon!