Welcome to All Things Vintage! It thrills me to the core that you are joining me here as I review the last couple of projects, share a podcast I have been listening to and tell you about some of the fun articles I found on the web this week!
Grab a cup of coffee and enjoy All Things Vintage!
---
good morning story
For the last several years, I have walked out of my door first thing in the morning and looked for something of beauty. Some mornings it is harder to find, other mornings, it's staring right at me!
This particular morning, our Redbud was calling my name 🙂
I snapped a quick shot and shared it in my good morning story on Instagram and on Facebook.
our latest projects
The last few weeks have been filled with small projects. Easter and spring have been on my mind and I wanted to make a couple of home decorations.
So I grabbed some pine cones and turned them into flowers and of course, I painted some eggs! These eggs are wooden and can be used year after year. The flowers will last for years too! In fact, I plan on making these flowers for each season – can't you just see the flowers in fall colors? Or maybe in all white for Christmas??
Our air fryer really needed a makeover especially after we painted our kitchen cabinets! Now it looks like a fancy Smeg Appliance! And it was sooooo easy to do!
After all of that crafting, my craft table needed a little love. So we fixed her up and added the most brilliant thing ever! Be sure to check out that post!
Click on any of the images to head over to the post! You can always come back here to click through to the other fun projects 🙂
YouTube video
If you would rather watch the video for the pine cone flowers, click below to head over to YouTube. While you are there, be sure to subscribe so you don't miss any of our projects!
another pine cone project for spring!
Speaking of pine cones, Miss Mustard Seed's Milk Paint Company asked me to share a pine cone project with their followers! Of course, I jumped at the chance! You can see the blog post HERE!
currently listening
Typically, I have a podcast on throughout the day when I am working on projects. It helps me to just focus on the task at hand without my mind wandering. The same with audiobooks.
Lately, I have been binge-listening to the Simple Farmhouse Life podcast. Lisa shares all sorts of interesting topics including thrift shopping, decorating with thrifted and vintage items, old-fashioned cooking, and homemaking.
She is so refreshing to listen to! Click on the image below and enjoy any of the episodes!
more Easter eggs!
Since I recently painted some wooden eggs for Easter, I thought you might be interested in some more ideas for decorating Easter eggs! I have some really creative blogging friends who share the most inspiring ideas!
Click any image below to see the full post!
one for the road
A couple of years ago, we came across an adorable seed spreader at a yard sale. I think we got it for about $1.
So of course, I turned it into a planter! The plants are small in the image below, but believe me, the petunias filled this unique planter to overflowing!
Click the image to see how I made this adorable planter from a seed spreader! Maybe you can find one at a yard sale this spring and summer!
---
Visit my Amazon Storefront!
Click the button below and head over to our online shop on Amazon!
thanks for joining me!
Thanks so much for joining me here today! I appreciate every time you visit, every comment you leave, and each time you pin my posts! It encourages me to continue our tutorials, ideas, and inspiration!
Until next time…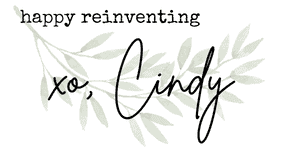 Shop for all your paint
supplies here!
Dixie Belle has what you need for your next project!