Concrete Front Porch Makeover
If you need a concrete front porch makeover that is easy and won't break the bank, this tutorial is for you! Come on over to my front porch!
As an Amazon Affiliate (and other companies including Dixie Belle Paint Company), we earn a small commission on products sold through affiliate links. Your purchases through those links help support this blog at no additional cost. In purchasing the supplies we use and recommend via our links, you help to support the free tutorials we offer you and our other readers. Thank you so much! Read my full disclosure here.
this post is sponsored by Wagner SprayTech
how can I make my front porch more attractive?
This is our 23rd year in our home. We had this home built and we were able to make a lot of custom changes before the builders started.
Like the width of our front porch. Most front porches are about four feet wide. We asked our builder to increase the depth to six feet and it really made a huge difference in the way we can enjoy this space.
One of the first things we did was to remove the railing. There really wasn't a safety issue without the railing because the distance to the ground is only around 12″.
So we took it off! I love the openness of our front porch. The crepe myrtle shrubs act as a buffer and help to soften the hard edge of the concrete.
So let's talk about the concrete floor on this front porch.
It's dull. That's really all I have to say about it. It's boring, it's blah, it's tired.
Let's fix that!
list of supplies:
Porch and Floor Paint in your desired color

The first step for this concrete front porch makeover was to remove all of the furniture. The two largest pieces are the Adirondack chairs my hubby built a couple of years ago. I love these chairs and we spend a fair amount of time in them.
The side table made from a milk can came down from the front porch too along with all the small pieces like the rusty wagon and small child's chair.
I cleaned the porch by sweeping and then giving it a good scrubbing using a broom and some Dawn dish soap.
patio furniture makeover
Hubby built these chairs about 8-10 years ago and they really needed to be repainted.
Wagner SprayTech was kind enough to offer their Wagner Flexio 2000 sprayer to do this project.
It would have taken forever to paint the underside and the topside of these chairs without the Wagner sprayer! Plus, I would have had runs all over the place because there are so many edges!
This is my first time ever using a paint sprayer! And it was so easy to use.
I must admit, I sprayed the underside of the chairs first (the chairs were turned upside down) and well before I got the camera out! When I realized how easy the paint sprayer was to use, I ran into the house and got the camera set up!
Hubby snapped pics of me spraying the topside of the chairs.
The paint comes out of the sprayer so smooth and evenly so I didn't have any problems with it. I moved the sprayer evenly across the surfaces, starting the sprayer off of the surface, continuing across the surface, and then spraying off of the surface on the other side. I moved from left to right. One, even motion, and then I started again on the next section.
The sprayer is super lightweight and it really only feels like you are holding a can of paint.
ranch front porch makeover
After the chairs had one coat (that's all they needed!) I headed over to our front porch.
You can see I hung painter's plastic all around the walls to cover and protect the siding. The sprayer doesn't have a lot of overspray but the area still needed to be protected.
Did you notice the black trash bags around our posts? I didn't think to cover them and at the last minute grabbed trash bags and covered them!
Wagner Flexio 2000 paint sprayer
The sprayer has options to spray upright like I did for the chairs or tilted downward like I am doing for this concrete front porch floor.
Again, slow and even motion across the surface. This sprayer spead up the process of painting. And it covered the surface so well that I only had a couple of touch-ups to do the next day.
concrete front porch makeover
Look at the difference the paint made on this concrete floor! I seriously don't know why I haven't done this before. Even if I didn't do anything else, the painted floor makes a huge difference!
But of course….. I'm not going to stop here!
how to stencil concrete porch
One of our daughters stenciled her front stoop at their home and I fell in love! It's such an easy and inexpensive way to add texture to a concrete floor.
The stencil was only about $20 and the quart of light-colored porch and floor paint was under $20. I already had the foam roller so I was in business!
Here are a couple of tips when stenciling a concrete porch floor:
start in the corner that is the most noticeable and place the stencil to make sure it will fit
envision where the other placements will be to make sure it will look nice.
use a small tray and pour a small amount of paint into it
roll the foam roller in the paint, getting very little paint on the roller
use a stack of folded paper towels to offload some of the paint – the roller needs to be dryish
roll over the stencil and keep it steady with your hand – if you need to, you can use repositionable spray adhesive on the backside of the stencil
don't press down on the foam roller – you want to avoid the paint from bleeding under the stencil
avoid the opaque look with the paint – it will look nice if you don't aim for complete coverage 🙂
carefully lift the stencil, let it dry for a minute or so and reposition the stencil in the next area lining up the registration marks
If you look closely, you will see that I didn't line up the registration marks correctly! I didn't notice until I was completely finished stenciling the ENTIRE concrete floor!!😊
It's a good thing I like the handmade look! I'm not worried one bit about that area. Instead, I will relish the fact that I did this project and that I enjoyed doing this project! 😊
how to clean a large stencil
The paint can build up on the stencil pretty quickly. I found that it was best to clean the stencil every 3-4 rows of stenciling.
We have a kiddy pool for our dog, Barkly and it seemed like the best way for the large stencil to lie flat and stay covered in water. I added a bit of ammonia to the water.
Once it sat for a couple of minutes, I used a putty knife to scrape off the majority of the paint and then finished cleaning it with a Scotch Brite pad. Wear gloves and protect your eyes if you clean them with ammonia!
furniture for front porch
And here is the finished concrete front porch makeover!
Don't the chairs look so good with a fresh coat of paint? I plan on painting the milk can side table soon. I will let you know when I get that done!
In fact, tell me your thoughts – should I whitewash the wood top or leave it natural with a protective clear coat? What about the milk can base – a dark charcoal color or milky white?
Let me know your thoughts in the comments!
front porch decor
You know I am a vintage lovin' kinda girl. And my front porch decor really shows it!
A rusty wagon holds a potted hosta.
A chippy paint child's chair holds another potted plant.
A galvanized tub is a great place for freshly picked zinnias. BTW, we had to replace the sink in our laundry room this summer and the tub you see with the zinnias is the old 'sink.' I have plans for that tub!
You can see my laundry room makeover by clicking the button below.
We also have a fence picket sign with our address painted on it. You can see another fence picket project by clicking the button below. I think you're going to like it!
front porch without railing
What do you think of the front porch without the railing? I love it!
Especially now that the concrete floor is stenciled and so pretty! You can really see the pattern on the floor!
more porch decor
The chairs turned out so fresh-looking. Painting them while they were off of the front porch helped to make this job easier. I added a torn and tattered vintage quilt for those chilly mornings when I sit out and have my coffee.
Did you notice the 'cushion' for the seat? Those are actually thick terry cloth bathroom rugs! They provide cushioning and also curve around the shape of the Adirondack chair. And they are so easy to wash!
The rugs started out as a deep black. Over the couple of years I have had them, they have faded to the perfect charcoal gray that you see here.
Remember the wool plaid wreath we made a couple of weeks ago? It looks perfect on the front door that I painted in tomato red.
If you missed that super easy, super cheap wreath tutorial, here is a link for you – just click the button!
Most of my decor is old and many of the pieces I have used over and over in different ways. I love to repurpose and reuse decor around our home. Nothing stays the same and I love to change things around. Just ask my hubby!!
open porch
I also don't go all out with decor. Simple is best for us and the way we live. Just a couple of small pumpkins that my hubby grew in his garden and the plants that we have enjoyed all summer are enough for us.
We will continue to spend many hours on our front porch, watching the cars (well maybe only one car!) go by, watching the rainfall in our yard, and eating dinner right here in this very spot.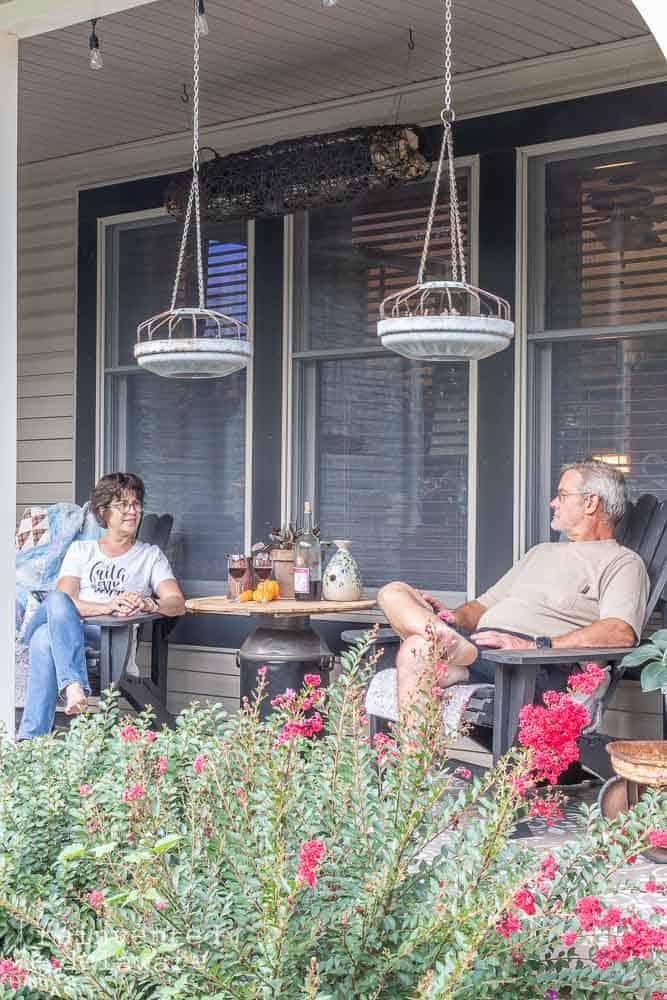 concrete front porch makeover
I hope you enjoyed this concrete front porch makeover! And I hope that you will see that making a few small changes to your home doesn't have to break the bank or take much time. In just a few hours you can have a space that feels fresh and new!
Thanks so much for stopping by! You show your support for the free tutorials we offer by reading, subscribing, commenting, and sharing our posts! We appreciate that so much!!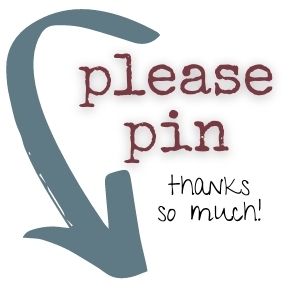 Pin the images below to your home decor and room makeover boards! Just click the pin button at the top left corner!
Thanks for joining our journey!
Thanks so much for joining us for this post! Join our journey so you don't miss any fun projects, tutorials, and inspiration we share with you each week! You can follow us on Instagram, Facebook, and YouTube. We share even more inspiration on Pinterest!
Until next time…