Bullet Journaling seems to be taking over the world of planners and I for one am thrilled about it! Today I will share with you my BuJo Set-up for April 2019! Let's dive in!
Reinvented Planning
I know you might be thinking, "I thought this was a blog about repurposing and reinventing?? Why are you talking about Bullet Journals??"
The truth is, running my small reinventing business would be more difficult without my bullet journal! I have used it consistently for the last two & a half years to:
organize my task list
manage my inventory
track my business miles
keep my head on straight while I tackle all of our reinvented projects!
Plus, I really feel like that the Bullet Journal system has reinvented the planner! So of course, I am all in! 😉
Simple BuJo Layouts
This year, I have been keeping my BuJo fairly simple – a bit of brush lettering and space for doodling as time allows.
Monthly Page
I have also started using the list option for the monthly calendar this year. At first, I wasn't sure I would like it but as the months have passed by, I find I actually like this layout. I do add a traditional style calendar in the upper right corner so that I can see the month the traditional way.
You can see that I also leave plenty of space for my Reinvented Delaware projects for the month!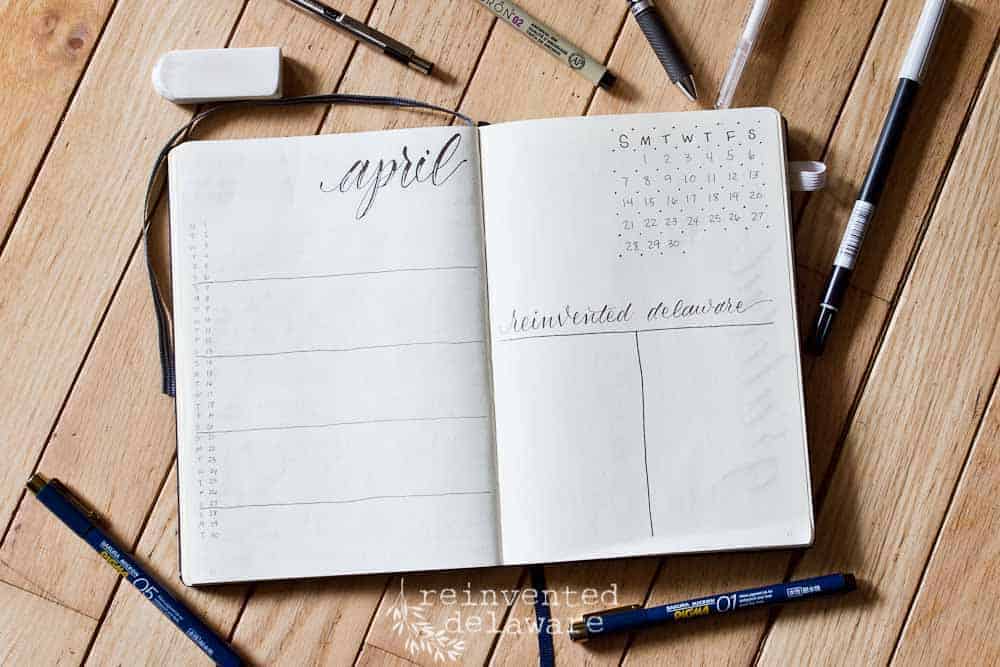 Gratitude Page
Last year, I tried and tried to develop the practice of writing down something or someone that I was grateful for at the end of each day. I am not sure why, but I really struggled with remembering to write this down each day.
But for some reason this year I have had more success. I haven't managed to remember each day but many of the days I do remember! I count that as success!! Keep reading and you will see last months gratitude pages 🙂

Editorial Calendar
Last month, I decided to add an editorial calendar for my blog. It seemed to help me to post more consistently and even more often. I have goals for this little blog of mine and this is one way that will help me meet those goals!
Further in this post, I will share last months blogging calendar. I didn't start the month of March with an editorial calendar but I did end up adding one. BTW, that is one of the greatest aspects of the BuJo planning system — you can add any layout that you need for any task as is comes up in your life! Just turn to the next blank page!
Well, that is my BuJo Set up for April 2019! The layouts are pretty straightforward and simple. This April set up only took about 20 minutes while I was watching TV 🙂
Last Month's Layouts
I thought you might be interested to see some of my March pages with the day to day workings of the bullet journal system. You can read the full post for the March layout here. Here we go!
One Style Two Ways
I used two different looks of the same basic style for my weekly plans. The square spaces allowed plenty of room to transfer any appointments and tasks that were previously scheduled.
The layout above had space for doodles at the top, and the layout below had space for doodles on the bottom section.
Just a note about doodles: you might be thinking you can't doodle. Or maybe you just don't want to doodle. Or maybe you think if you do doodle, it will have to perfect, or look like someone else's doodles.
To Doodle or Not to Doodle?
Not so my friend! If you are not interested in doodling or anything 'artsy' then just don't do it! Don't let what anyone else is doing in the BuJo world put pressure on you! You do you in your own BuJo! This is your journal, no one else's. It's purpose is to help you get your tasks completed, whatever they may be! Just enjoy it, my friend!
My own style of doodling is mostly leaves and florals. I consider it a place to practice the drawings, usually during my evening planning time while I watch a TV program. 🙂
The drawings start off in pencil at the beginning of the week. Towards the end of the week, I ink them. You can see here, I don't always finish! Look closely and you will see that sometimes the pencil markings don't get erased either!
Zoom in Closer
Here is a peak at a typical daily layout for me. You might only need to do a weekly layout, but for me, the dailies are like a magnifying glass or like zooming in closer. The yearly layout, the monthly layout, the weekly layout and then the daily layout each zoom in closer and closer.
Weird thinking I know. Think of it like this – when you use Google Maps, you can see the whole United States. As you zoom in, you can see your state. More zooming brings you to your town. And even more zooming you can see your home!
The BuJo allows you to see the full year view as well as the close up view that the dailies provide.
Gratitude
Let's zip this up with some gratitude! This is my monthly gratitude page. There are only about fifteen entries and March has thirty-one days! But recording fifteen things to be grateful for is better than none! Can you spot some of the things I am grateful for:
big pot of chili
small talk
blooming crocus
glimmers of hope
redi-strip
So Glad You Stopped By!
Thanks for popping in today for this post on my BuJo set up for April 2019! I hope you found it helpful. If you have any questions, feel free to ask!
Just wondering, what planning system do you use? Share with me in the comments!
Be sure and follow along our reinventing journey on Instagram, Facebook and Pinterest! Feel free to pin this image for your own bullet journal inspiration!