Do you want to learn how to make easy beaded ornaments for your Christmas tree? I've got you! Let's see how easy this project is!
handmade ornaments
Every year around this time, I start to look for an easy ornament to make for our Christmas tree. Angels, small trees, pinecones, and stars are just some of the ornaments that are on our tree each year. Some years I made extra ornaments that were also used as a replacement for bows on gifts.
Onward to Pinterest! So many ideas! One idea that kept popping up was beaded ornaments. That was it! Beaded Christmas tree ornaments would be our newest ornament!
The idea of an icicle came to mind so I ordered this graduated-size bead package from Amazon along with some other supplies.
supplies list
Here is a list of the supplies needed for this DIY beaded Christmas tree ornaments:
large eye needle
scissors
glue gun and glue sticks (optional)
As a side note, the beads came separated by size and I wanted to keep it that way. Little cubbies in this handmade tool caddy plus a couple of bowls helped me to do that.
watch a movie
While watching "Heidi" on Amazon Prime movies, I started beading. This isn't a DIY project that I have tackled in the past and I wanted to get the hang of it before I shared this tutorial.
most challenging
Threading the needle proved to be the most challenging. The cord needs to be strong enough to hold the beads which mean, the cord is a bit thick.
My floor lamp/magnifying glass combo was a huge help! Having the large eye needle is a help too. Here is a video of my Sweater Pumpkins showing how I thread a large eye needle with a thick cord.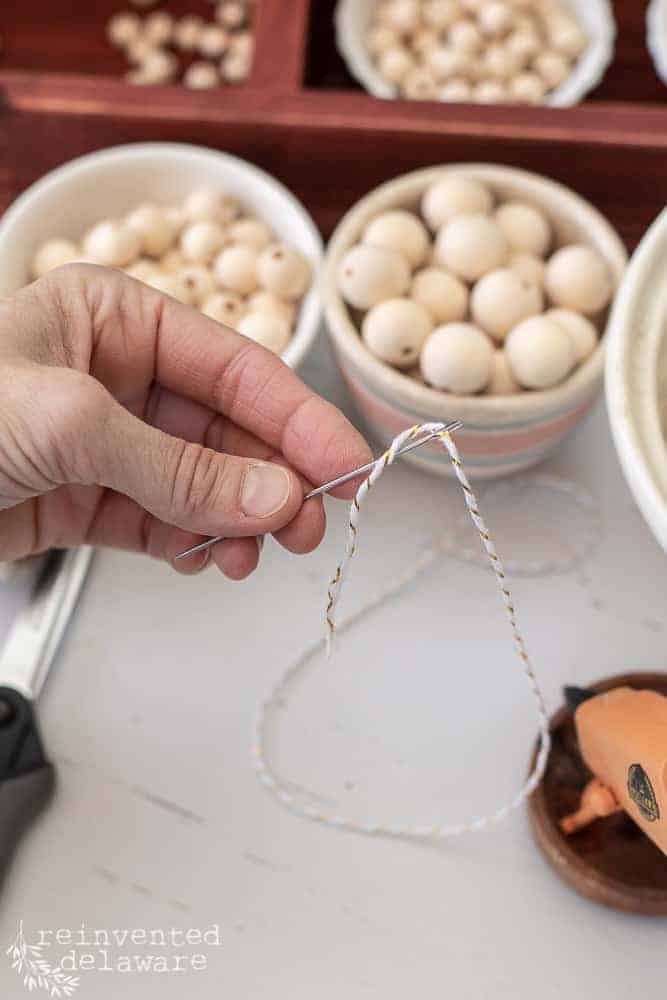 beaded ornaments pattern
The first bead you add for the beaded ornament will ultimately be on the top. With that in mind, I added a bead from a stash I already had on hand. That bead has a bit of color and is smaller than the largest bead in the Amazon package.
Then I added the next two largest beads….
….then the next three sizes of beads…..
….and finally, the smallest two beads for a total of seven beads plus the extra colored bead from my own stash. This is an easy beaded ornaments pattern to follow and they remind me of icicles!
BTW, even though I am not a beader, I happened to find packages of beads while out thrifting last year. I knew I would use them for something! And this is just the beginning of my beading!!
anchor the beaded ornament
See that little bead I am pointing at in the image below? That is the smallest bead and I placed it in the middle of the cord.
The smallest bead acts as an anchor or a turning point. The next step is to go back through the beads skipping the smallest bead and picking up the next smallest bead. Picking up two at a time is fine.
This will make a loop near the smallest bead.
Grab the two lengths of cord and pull the beads slowly downwards toward the smallest bead. Be sure to hold both sections of the cording so that it doesn't twist. I did that a few times and it made a knotty mess. It's best to slide those beads toward the smallest bead slowly.
Do the same with the remaining beads. At first, I only picked up 1-2 beads at a time, but as my fingers became used to this process, I picked up as many beads as my needle would hold.
Practice first so that you can get used to sliding the beads downward without the cord twisting.
Remember that first bead I added to the cord? That is the last bead and the top of the ornament! You can skip this extra bead at the top. My bead stash just wanted to be part of the fun!
handmade beaded ornaments
Here's an example of what happens when you don't hold both ends of the cord tightly as you slide the beads downward. The cord will loop and ultimately tangle.
There were a few ornaments that I had to cut the cord and start all over. It's best to slow down and enjoy the process!!
tie a knot to secure
Next, tie a knot by looping the cord around and going through the hole – O goodness, you know how to tie a knot!
Let me give you a tip for this, keep the loop loose while you slide it towards the first bead. The knot should be snug against that first bead.
tie a knot for the hanger
Tie another knot allowing enough of a looped section to hang the beaded ornament.
Clip the excess and go on to the next beaded Christmas tree ornament!
decorate your beaded ornaments
Oh wait, let's dress it up a bit with this adorable decorative buffalo check ribbon!
You'll notice that I used my scissors to steady the beaded ornament.
After tying the knot on the ribbon, it can look a bit katty-wumpus. If you don't like that look, use a dot of hot glue near the knot to hold it in place.
Some of my beaded ornaments needed the glue and some did not! Must be the way I tied it or maybe how tightly I pulled it.
beaded Christmas tree ornaments
Aren't they the cutest beaded ornaments for your Christmas tree?? And I think they do look like icicles! What do you think?
to paint or not to paint
The light-colored wood is perfect for the look I am going for but I might try painting a few in white and adding some glitter just for that special touch.
sweet size
Each ornament measures about 3″ from the first bead down to the smallest bead. That doesn't include the loop I allowed for hanging.
more beading to do!
Well, I'm off to do some more beading! These sweet beaded Christmas tree ornaments are so much fun to make! I like keeping my hands busy while I am watching a show or listening to an audiobook and this easy DIY project is just the ticket.
You could also do this project with the young people in your life! They would have a blast. Let them initial and date the ornaments they make as a special memento!
Put on some Christmas music and let the beading begin!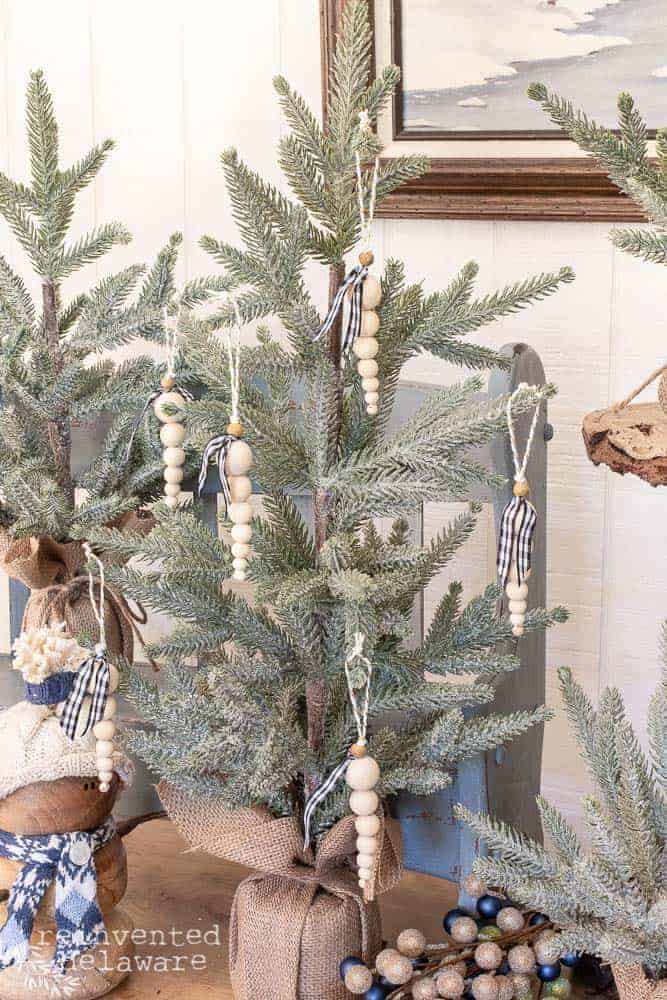 Interested in some more Christmas inspiration? Here are a couple of other posts for you!:
your ideas??
Share with us your thoughts on painting the beaded ornaments. Would you paint some? What colors would you use? Would you add glitter?
Let's inspire each other!
Thanks for stopping by for this easy beaded Christmas tree ornament tutorial! I would love to see the ornaments you make – share on the socials and tag me so I can see your creations!
join our journey
Follow along on our reinventing journey on Instagram, Facebook, Pinterest, and here on the blog. Sign up below and I will send you this fun freebie along with the tutorials blog posts right to your inbox!
Feel free to pin any of the images to your Christmas inspiration boards!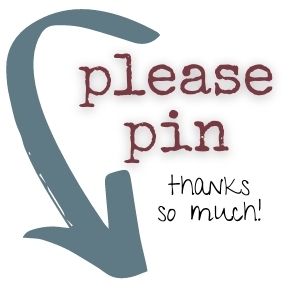 Thanks again for stopping by today!