My kitchen cabinets are slowly but surely getting painted.
All 30 doors and 15 drawers.
And the face frames for each of those doors and drawers.
And the open shelving.
With removable shelves. 🤪
Now listen, I'm not complaining by any means. But you know how you start a project full of optimism and then you start the project before taking into consideration just how much work it will take??
Yeah, that's exactly what I did with this kitchen mini-makeover.
It's a good thing I like to paint!
local ice storm and hot soup
Delaware had a bit of an ice storm this week. It's really beautiful to see the ice settle on tree branches – the branches look crystalized.
But not so much on power lines. We were fortunate that our power stayed on throughout the whole thing.
I roasted a chicken and then made a huge pot of homemade chicken soup from the homemade stock that we love. It kept us warm and toasty by the fireplace. 😊
in the workshop
We worked on a couple of projects this week but I had to keep it simple. So when I say project, I actually mean a blog post, or two. The kitchen cabinets have been taking up my time!
I'll be posting about the mini-kitchen makeover in the coming week, fingers crossed!
In the meantime, here are two posts that you can enjoy. Just click the image to head over to the post!
unboxing video for you😊
In the middle of painting the kitchen cabinets this week, our mailman delivered my order from Dixie Belle Paint Company.
I thought you might be interested so I put my paintbrush down and recorded a video for you! You are going to love the colors that came in the package!
Affliate link below which means if you shop using my link, I earn a small commission at no additional cost to you! This is a great way to support this blog and all of the free tutorials we offer here! Thank you!
Shop for all your paint
supplies here!
Dixie Belle has what you need for your next project!
a new adventure
This week in blogging has been an exciting one for Reinvented Delaware! I was asked by one of my blogging friends, Julie from My Wee Abode, to join her in co-hosting a blog link party! Julie asked another friend to join. Her name is Lynn from My Family Thyme.
I won't go into here since I wrote about it this week. This is a new adventure and an opportunity to grow our blog! More people will be able to find our blog and the fun projects we share. 😊
If you are a blogger, I encourage you to join this link party each week. Joining link parties is a great way to grow your own blog. And it is my pleasure to co-host this party each week so that bloggers can link up!
If you are not a blogger, you will still love the Tuesday Turn About Link Party! It is full of inspiration, DIYs, recipes, crafts, home decor and tutorials! It's like a weekly magazine – minus the newstand price!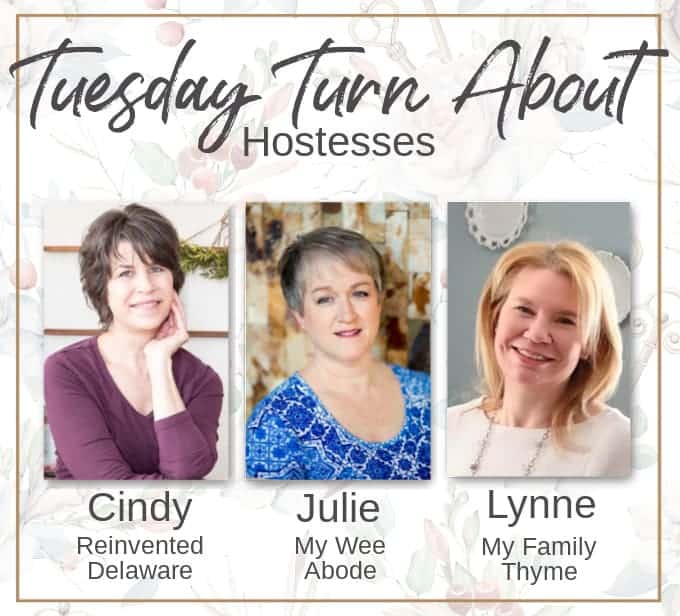 on the web
I came across some fun finds across the web this week. Check out the links below and tell them Cindy sent ya'!
one for the road
If you are looking to lighten up dark wood, you need this post! It's so easy to do and you will love the results. Just click the image to see this easy DIY!
---
Visit my Amazon Storefront!
Click the button below and head over to our online shop on Amazon!
Until next time…