Along the Journey Prep for Thanksgiving!
Thanks for joining me here today! I like to share the projects we've been working on lately and a little bit of what's going on in our everyday lives with you.
I appreciate you being here my friend!
Thanksgiving plans
Thanksgiving is right around the corner! Are you hosting this year? How are your plans coming along?
We are still finalizing our plans as far as the food is concerned. But we are hosting the meal at our house so I'm pretty excited about that!
We will get a fresh turkey from a local farmer. And we will probably have the usual, mashed potatoes, cornbread dressing, gravy, pumpkin pie, and all the other goodies.
I'm getting hungry thinking about it!
hostess gifts
If you're attending Thanksgiving at someone else's home this year, consider bringing a small gift to show your appreciation for their hospitality. It's always nice to show up with a gift in hand, right?
I've gathered some hostess ideas for you later in this post. They are all from Walmart and are reasonably priced. Many are on Walmart's Early Black Friday sale! Some of them would be great Christmas gifts as well.
Giving a little token of gratitude to others is a good idea too. The mailman or Amazon delivery person, the neighbor who watches over your house if you are gone for a couple of days or a friend who is always there for you.
You can find some very inexpensive ways to show your gratitude to these special people using my free fall printables.
shop with me
The following post may contain affiliate links. That means if you click and then buy something, I will make a small commission at no additional cost to you! Thank you for supporting my blog. full disclosure here.
Here are the hostes gifts I've gathered for you! Tap the links below or the images to purchase.
BTW, I am so thankful for you using my links to make your purchases through out the year! You have no idea how it encourages me to continue sharing the projects, ideas and step by step tutorial here on our blog and over on YouTube!
Thanks so much!


recent YouTube video
Remember a couple of weeks ago I shared a picture of the house my dad grew up in in his home state of Texas?
I was able to see that house because one of my sisters and I took my mom back to Texas so she could see her hometown of Beaumont! When my parents were first married, they lived in that house!
I shared the adventure over on YouTube this week.
Tap the image below to watch – I'm sure you will enjoy watching!

Visit my Amazon Storefront!
Click the button below and head over to our online shop on Amazon!
Until next time…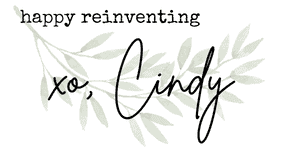 Cindy has been decorating her home with thrift store finds for 40 years. She is an avid thrift store shopper who loves to makeover the items she finds into vintage-inspired home decor and furniture. When she isn't thrift shopping or painting a piece of furniture, you can find her making homemade butter, working in her garden, or painting with watercolors.

Shop for all your paint
supplies here!
Dixie Belle has what you need for your next project!
use code: 10OFFRD at checkout and save 10%!