Tuesday Turn About #200 Giveaway Announcement!
I'm so glad you are here! This post is packed full of home decor ideas, DIY projects, thrifting tips, recipes, crafts, and gardening inspiration just for you!
In celebration of our 200th link party, we have chosen five features for each of our blogs for a total of 15 features in all! I hope you enjoy the features that my co-hosts, Julie and Lynne, and I have chosen this week.
Be sure to scroll all the way to the bottom so that you can see all of the ideas and inspiration that our community of bloggers shares each week.
Thanks for stopping by today!

Weekly Thrifting Tip
This week's tip is a quickie so we can get on with announcing the winner!
Use your notes app to keep measurements of the furniture pieces you are looking for. That way, when you are out thrifting and you see a piece that might work for your space, you have the measurement handy!
Bonus Tip: Purchase a small tape measure that fits on your key chain. They are small and out of the way but there when you need it!
This week we had the privilege of so many of you joining us for our 200th-party celebration! We received so many entries! Thank you so much for participating. It really does mean a lot to Julie, Lynn, and me!
And the Winner Is…
Last week, our giveaway was opened for people to enter to win a $100 gift card to Amazon! We had over 500 entries!
Drumroll, please!
THE WINNER OF
OUR 200th PARTY CELEBRATION IS:
SANDY R.
Congratulations, Sandy! And thank you for your entries!
Thank you ALL for entering! We hope you had fun!
My Camera Gear
You might be interested in the gear I use to photograph all of the tutorials we offer here at Reinvented Delaware. If you have any questions about any of the camera equipment, just let me know!

If you are a blogger and need some serious SEO help in writing your blog posts so that Google searchers can find them, take a look at the tool I use for my own blog posts. Rank IQ has made a world of difference in my traffic!
My Photography Ebook
If you need help with your DSLR skills, this book is for you! It is packed full of tips to help you improve your photography skills. Your readers want to see lovely images that tell the story of your blog post and this guide will help you to do just that!
If you are not a blogger, no worries, this ebook can still help you! This guide includes:
how to shoot in manual mode for full control of your final images
how to read and understand the exposure triangle
tips for lighting and composition
how to organize your images
Learn to tell your story through images for only $9.97!
DSLR Photography Guide for Bloggers
Now for the Inspiration!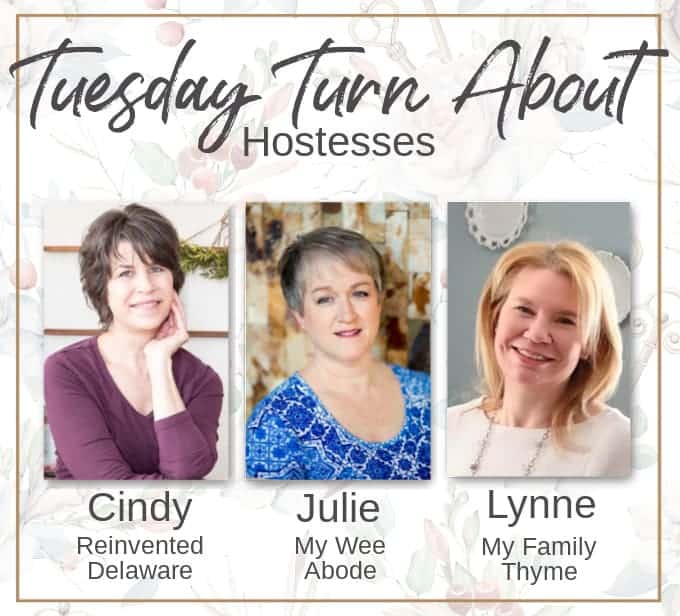 Join us on the socials!
Though not a requirement, we would love for you to join us on other platforms. Feel free to subscribe to our email lists, our Facebook pages, our Instagram accounts, and our Pinterest boards!
Let's create community!
Cindy at Reinvented Delaware
Lynne at My Family Thyme
How to Make the Most Delicious Guacamole | How to Make the Most Amazing Margaritas
Julie at My Wee Abode
Compact DVD/CD/BlueRay Storage Solution // How to Make a Window Pane Sign
Be sure to hop on over to Julie's blog at My Wee Abode and Lynne's blog at My Family Thyme to check out SIX additional features from Tuesday Turnabout! If you haven't been featured on Reinvented Delaware this week, you just might be featured on one of the other hosts' blog!
Hilda – Fit to Serve Group
Kim – From Farmhouse to Florida
Springthyme Garden Style Entryway
Marie – This Dear Casa
How to Choose the Best Lighting with Vintage Vibes
Lee Ann – Creative Moments
Antique Folding Table Refinished
Anna – SkyLark House
Reusing Architectural Salvage Balusters
Let's start sharing! Because this is a party, we encourage all who link up to visit several other bloggers who have linked as well – comments and pins are a great way to spread the love!
Before you get started, take a look at our guidelines:
This party is for home decor and home-related posts only (recipes, organizing, DIY, crafts, etc.). Link up to 3 related posts. Please do not link up informational posts that do not relate to the topic.
If you would please not link up shops, advertising, round-ups, other link parties, or any posts promoting sales, we would appreciate it.
DO NOT PIN FROM IMAGES ON THIS PAGE (it just won't work right on Pinterest). However, please visit the original post/source and pin from there. That works perfectly!
Please make sure that your images are in a jpeg or png format. If we can't save your image, we may not be able to feature you. So sad!
By linking to the party, you give us permission to share your projects on our blogs and social media. We will always give proper credit with a no-pin image.
We're looking forward to all of your fun posts this week! Give us your best!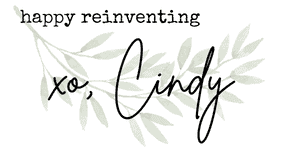 Before you link up, did you catch my thrifting tip for the week? Scroll up and read the tip! Then scoot down here to link up your amazing posts!