Bullet Journal Set-Up 2021
My bullet journal set-up for 2021 is perfect for any small business owner! This system is the most important tool to keep my business organized and efficient. Not to mention it's a great place to doodle when I have time!
Stay tuned to the end of this post – I have a video discussing my method of using the bullet journal in my business!
the need for organization!
After just a month or so of starting our business back in 2016, I realized I needed some sort of system or planner to keep our projects organized. We were purchasing items at yard sales, auctions, and thrift shops to reinvent and the stack was getting a bit overwhelming.
And then there was the issue of social media and posting about the projects we were working on and then ultimately putting in our vendor spot at Wilderlove Handmade & Vintage.
Pinterest to the rescue!
How on earth was I going to keep track of all of the tasks that I needed to accomplish in order to help our business run smoothly??
The Pinterest search began! I looked for ways other small business owners were managing their inventory and the tasks they were doing for their businesses.
create my own planner
The truth is, I didn't find a perfect method for managing all of this biz stuff!! So I decided to search for a planner.
I've been a planner for several years now. Before that, I was a Post-It note addict. Post-Its were EVERYWHERE in my life!!
But Post-It notes were not going to work in managing all the things that needed to be accomplished.
And the search began for that perfect planner.
Bullet Journal system
The Bullet Journal system kept appearing in my searches. I was so interested and read every blog post article I could get my eyeballs on!
The idea that I could customize this planner for my needs????? How amazing is that!!
No longer was I committed to whatever the printed planner said I needed! This Bullet Journal system could be personalized for my needs and for the needs of my business!! Woohoo!!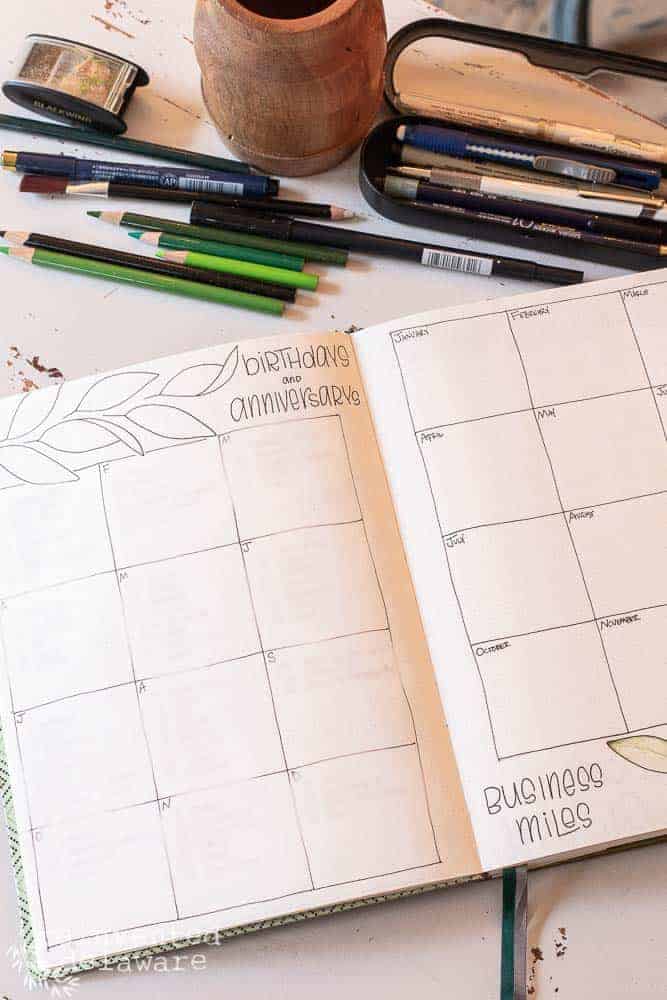 no regrets
Since then, I have used this system every year. I've never looked back!
business tracking
There is a page in my Bullet Journal set up to track anything I need for my personal life and for my business life.
And if I forget to add a place to organize something at the beginning of the year?? No worries, just add it to the next page!!
reading more
The books I read throughout the year have a place. It will feel so good to add to this list throughout the year and then see the completed list at the end of the year.
Business books are high on my list for 2021. Several are on their way, thanks to Amazon!
If a friend recommends a book I can jot it down here and not forget where I laid that Post-It note!!
inventory management
Our project inventory pages are some of the most important pages the bullet journal set-up has. This is where I track all of the items we purchase at yard sales, thrift stores, and auctions.
Knowing the cost of the item and the purchase date will help when the finished item is priced. It also helps to keep the inventory fresh. Well sorta, if you look closely, you will see I still have a few projects from 2018 to finish!
change of plans
Last year the Workshop Ideas and Calender was filled. In January 2020, I came up with all sorts of workshop ideas and plans for the rest of the year. Each month had something.
Then Covid.
We'll see about this year. The plans and ideas are still in my 2020 journal waiting for me when I am (or when 2021) is ready!
blogging goals
Blogging is another important part of my business. As ideas for new posts come up, I have a place to jot them down. There is also space to set goals for my blog and my business.
creative outlet
Each month gives me an opportunity to get a little creative. Sometimes with simple artwork and other times just with the name of the month.
For January 2021, I drew wonky block letters and then colored them in with Prisma Colored Pencils in varying shades of blue. Blue seems cold to me so that's why I chose blues for January! I plan on adding some snowflakes to this monthly spread too.
art is optional!
Let me mention, there is no need to be artsy in any way. Maybe that's just not your thing and that is certainly OK!
Some months I don't have the time to do anything artsy. That is the flexibility of the Bullet Journal setup. You set it up how you think is best.
Part of blogging is planning what I will blog about. For the most part, I blog about the current project I am working on. We offer step-by-step tutorials of many of the projects we offer in both of our vendor spots.
Knowing that I will be blogging about that project helps me to stay accountable to the project itself and to the tutorial I will write about that project.
My Bullet Journal is set up to be an accountability partner and my office assistant!
weekly layout
Each week, I am able to take a closer look at the tasks that need to be accomplished. The spaces for each day are about the size of a Post-It note and give me plenty of space to jot down each task.
Just for fun I also track the weather and the sunrise/sunset times for the day. It's been fun to watch the days get longer and longer, minute by minute!
planning time
My planning times are in the evenings. Usually, I am watching TV and this is the perfect time for me to make sure I finished each task for that day.
It is also the time I use to plan the next day. If something wasn't completed on that day, it gets carried over to the next.
Well, for the most part, that is 😉
simple supplies
My supplies are pretty simple:
Recently, I had the fun opportunity to join in an Instagram Live with my friend Kate from Chasing Wonderment to talk all things Bullet Journal! We saved it to IGTV on both of our accounts. Pop over and join in our fun discussion.
Kate also wrote an amazing blog post about how her Bullet Journal helped to get her life together! Be sure to tell her I sent ya'!
Thanks for stopping by!
Thanks for stopping by today to see my Bullet Journal setup for small businesses! I hope it was helpful to you!
You can see more about how I use the Bullet Journal system in my personal and business life in these posts:
You can check out more Bullet Journal Set-up posts in the menu above — look under the "Tid-Bits of Life" tab.
And as promised, here is a video showing how I use the Bullet Journal system in my small business!
Join us on Instagram and Facebook to see some of the fun farmhouse-style tutorials! We love sharing behind the scenes of many of our projects!
Pin any image you see to your Pinterest Organization boards! Follow us while you are there!
Join our email and I will send you tutorials straight to your inbox! No worries about your email being sold – pinky promise, it's between you and me! Sign up below!