Annual Eastern Shore Threshermen and Collectors Event | Old-Time Wheat Threshing |
We love scouting out local events that include vintage finds and farm equipment. For several years, we have attended the Annual Eastern Short Threshermens event held in Federalsburg, Maryland in August of each year. We have lovingly called it The Wheat Threshing.
It is a big event that includes antique tractors and steam engines of various kinds, lots of good food and of course my favorite, antique and vintage vendors selling their goods. We have found so many goodies over the years such as vintage galvanized buckets and pails, small furniture pieces and my favorite, ironstone. There are also vendors with antique farm tools and agricultural pieces.
Demonstrations run throughout the day including a steam engine-powered saw mill like they used in The Waltons (for those of you who do not know the show, it centered around a depression era family who made their living by producing lumber with a steam engine powered saw mill. It was one of my favorite shows as a child and probably the reason I love the 1930-1940's style of furniture so much today. 🙂 )
Local craftsmen and women come prepared to give demonstrations of their craft. They include a blacksmith and furniture repair such as seat caning. These are timeless arts that seem to be fading in our world "throw away and buy new." I am thankful of the recent interest in vintage finds that we have seen over the years especially with the popularity of the restoration of homes and furniture. Flea Market Flip has been such an inspiration as well.
Time honored traditions are also in abundance such as baby chicks hatching before your very eyes! Chicks can be purchased as well. Are these cute little ones??
And of course, we find tons and tons of vintage goodness! Check out this adorable wooden wagon! Control is a tough thing when you see so many awesome goodies!
What do you think of this wooden wheelchair? Amazing isn't it?!
Can you even imagine hand washing your clothes and then running it through this ringer?? That gives a whole new meaning to 'stay at home mom!'
The tools are on endless tables! So many types of tools. We love using pieces like this as handles on the tool boxes we love so much around here 🙂
Now this is too funny in my opinion – I actually learned how to cut grass on a mower just like this one! I thought I was high class on a riding mower 🙂
And of course we always find lots of vendors with all the farmhouse style goodness we love so much! Check out this table full of vintage kitchen items!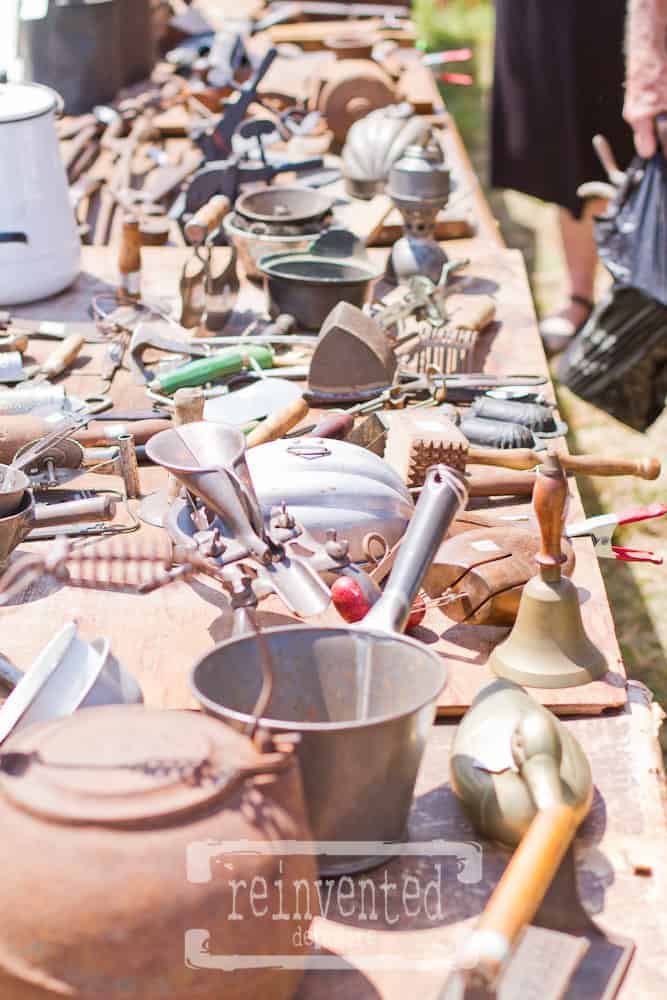 We use a wagon to go around to the vendor tables, fill it up and usually hubby takes it back to the truck and empties it for us. Then we fill it up again :). See our blue cooler? We come stocked with a lot of water – this event is in the hottest part of the summer and believe me. It. Is. HOT!
Here is the plunder for the day! Well, not really, we dealt very politely with each vendor we purchased from ;). Wooden soda crates, wood boxes, copper tea pot, galvanized goodness, vintage chair on casters, 125 yr old doors, vintage wood transom windows, and yes plenty of ironstone! It is safely packed in the front of the truck 😉
We can't wait for this years Wheat Threshing Event! It will be held the weekend of August 3, 2018 in Federalsburg, Maryland. Let me know if you plan on going! I would love to meet you!
Thanks for stopping by! If you have any questions about the event, please feel free to ask in the comments below!