Tribute to our Little Fella
Today I am sharing a little tidbit of our lives here at Reinvented Delaware. It is a bittersweet tidbit and it is one better written by my hubby. Pardon me while I step out and shed a few more tears.
Harry Truman is credited with saying, "If you want a friend (in Washington), get a dog." More accurately, one might say, "If you want a friend who is unconditionally committed, get a dog."
This post is a tribute to a late friend who demonstrated just such a commitment, Elmo Wayne Rust. Elmo came to us through a series of events, mostly bad for him. After a short period of adjustment on both our parts, Elmo became more than a pet, he was a fixture in our lives.
In 2007, a police officer friend of mine (I'll call him Tom) was engaged to the "love of his life". Making plans for marriage, they had purchased a Shih-Tzu puppy. Tom was a K9 Officer working 12-hour shifts, mostly at night. I was a supervisor and SWAT officer who interacted with Tom and his police dog, a German Shepard, frequently.
I was always impressed at the relationship between the officer and the dog. Each willing to take a bullet for the other, both knowing it was true and never having to say it. Police K9 Officers are a special breed of officer. Unfortunately, I was bitten pretty badly by a German Shepard in my youth and I never aspired to become a K9 Officer due to that fear of dogs.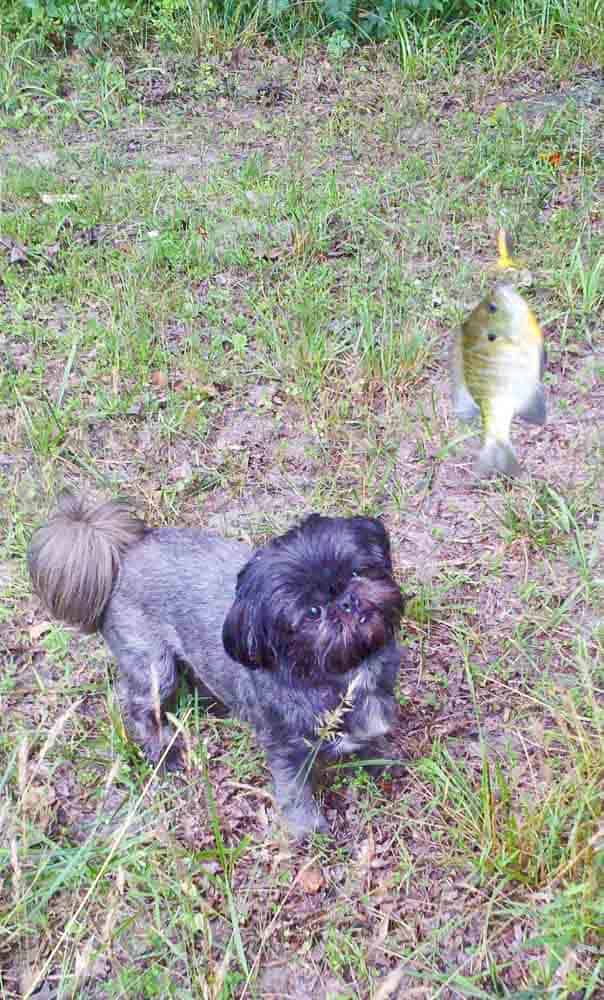 Tom came to me one day and told me that he and his girl had broken up. She moved out agreeing to take the Shih-Tzu shortly after her exodus but she soon told Tom that she couldn't take him. Tom told me that he had to get rid of the Shih-Tzu because of the long work hours and training with the police dog. He told me the Shih-Tzu was spending 14-16 hours in a crate, being taken out long enough to do his business, play for a few minutes, and sleep at the foot of Tom's bed.
Somewhat reluctantly, I told Tom we would take him. On the day Tom dropped him off, he literally handed him to me and had to leave because he was in anguish over giving him up. The Shih-Tzu met the approval of Cindy and went on to be named Elmo Wayne Rust, 4th (and only furry) child of Steve & Cindy.
At first, Elmo was confused. Who were these strange people? Where was Tom, where was the police car, the other dog, the familiar smells and sights? After about two weeks, many treats, roast beef, ham, turkey, and eggs, Elmo settled into his new life. He met his brothers and sisters and quickly realized that he was the favored child (if only in HIS mind).
From the start, Elmo had quite a personality, and a friendship between he and I quickly deepened. Wherever I went, he went. When I was awake, he was awake. Whenever I slept, he slept. We became like Batman and Robin and Cindy was our "Bat-Girl".
I was often called in for police duties in the middle of the night. Elmo was quickly awake and ready to go. He travelled in the police car quite frequently, riding on the center console and being at the ready if dad needed help. On the rare occasions when Cindy traveled, Elmo spent evenings at work in dad's office. If dad had to leave, Elmo resided at the 911 Center where dispatchers took really great care of him!
When dad was off, Elmo learned to ride the 4-wheeler, standing on the fuel tank and looking out over the handlebars. He was a fixture whenever the 4-wheeler was taken out for chores such as firewood cutting, lawn maintenance, chores, or sometimes just a relaxing ride shared by best friends. Elmo also enjoyed riding in the truck, the car, the Massey Ferguson Tractor, and the lawn tractor (although the lawn tractor was not his favorite.) He once took a short ride on dad's Honda Gold Wing, but once mom found out, motorcycle rides were prohibited! Imagine if Robin's mother refused to allow him ride on the Bat-Cycle!!!!!
At one point, Elmo taught himself to put the window down in the truck. He could hang his head out as we went down the road. If dad (Batman) forgot to hit the window lock button, Elmo (Robin) would pat it with his paw until the window went down and he could catch the wind, sneezing and sniffing for miles and miles.
For winter activities, Dad bought him a Carhartt Jacket just like his. Elmo hated the jacket and would lay down as though paralyzed every time it was placed on him. Tough guys weather the storm no matter how bad, even if they only weigh 13 pounds! Remember, Robin wore tights no matter what the weather!!!
Winter turned to spring, spring to summer and summer to fall and there was always something for Elmo and dad to do. Every weekend a new adventure awaited the dynamic (and at least one-half, furry) duo.
For over 12 years, Dad (Batman) and Elmo (Robin) grew a friendship unparalleled between humans. Hauling trash, doing chores, cleaning up cars, construction projects, and trips to Ace Hardware, Tractor Supply & Southern States. Most of the cashiers and staff at these places got to know Elmo and would stop whatever they were doing to greet him with a rub.
During summer, when it was too hot for him to travel in town to do errands, Elmo (Robin) was left with mom (Batgirl) in the air-conditioned house (Bat Cave). The staff at the stores would always ask for him and many sent treats home for him. Elmo was well known around town!
In 2017, Elmo (Robin) developed a limp and dad (Batman) thought it was arthritis. A trip to the vet revealed he had Lymphoma. He was given 2-4 months to live. The vet offered treatment but due to his age, the anxiety he would have to endure, and common sense, we decided to just enjoy him until the end and make him comfortable.
Four months came and went, Elmo thrived. Month after month, he fought on, getting up every day and doing whatever mom and dad were doing. For almost 2 years, this little guy fought cancer. Although he deteriorated from his once active self, he was determined to be with us whenever he could.
Since spring of this year, Elmo's sight diminished to the point he was blind, he lost his hearing, and developed dementia-like symptoms. More and more, he was confused and seemed disoriented, relaxing only when he was certain mom (Batgirl) and dad (Batman) were in the same room. He was unsteady when standing and he became unable to negotiate stairs of any number.
Last month, I came to the conclusion, along with Cindy, that the humane thing to do was to end his suffering and confusion. We called the vet, who assured us that there was not to be much, if any recuperation. Hesitantly, I made the appointment and for four days, dreaded the hour that I knew was coming.
That hour came on July 16th at 2:30 PM and we watched our little guy comfortably pass into eternity. And while we know it was the best thing, our hearts are broken and a void in our lives created. I can't help to look for him when I come in and then I remember.
Taking my thoughts captive, I quickly reference a happier time, when Batman & Robin were inseparable, and health was a forgone conclusion.
Although I know the passage of time will cease aching hearts, I also know what Batman would feel without Robin. Even though Batman loves Batgirl, Robin (Elmo) was a special someone who was a loyal and committed friend.
Rest in peace Elmo, your work on earth is done.