Haven Conference 2018 | DIY Designers, Lifestylers & Bloggers
What a privilege it was to attend Haven Conference, one of the biggest DIY conferences for DIYer's, Designers, Lifestylers and Bloggers!
When I started this business two years ago I never dreamed that it could send me to such an informative and exciting event! It all started at the gorgeous Charleston, South Carolina Marriott Hotel. Spacious and beautiful rooms, hallways, conference rooms, bathrooms and courtyard made our stay so luxurious. Unfortunately, in the busyness I failed to get images of our room. Trust me, it was beautiful!
Charleston, South Carolina is a lovely city!
We enjoyed touring the city of Charleston the first night we were there. Streets lined with historic buildings and lush gardens that only the south can produce.
During our stay, we visited the South Carolina Aquarium. Touring the exhibits was both educational and entertaining. The large fish tank had divers the day we were there. They seemed to be checking out the fish, maybe a surprise inspection 😉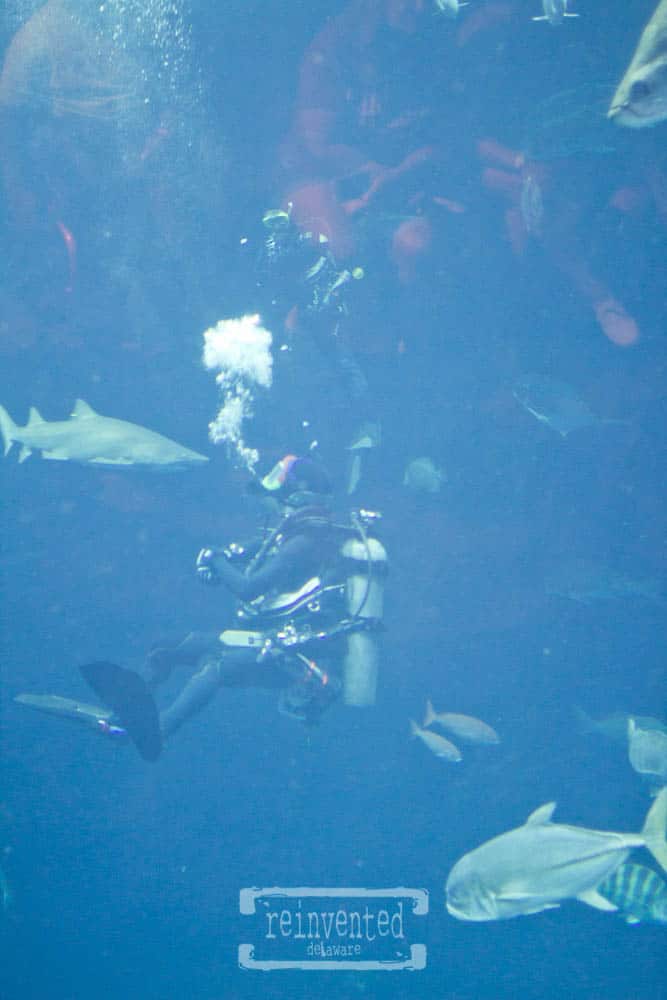 Charleston is surround by water, so you can imagine there were several beautiful bridges. One of them was in full view of the aquarium. We also saw a gorgeous sailboat.
The conference began Thursday evening.
All the 'newbies' attended a special meeting just so we could get the lay of the land so to speak. I met several new friends and managed to get picture with one of them. My new friend, Jaimee, blogs at All Mimsy Home. We were fast friends as we compared notes of what stage of life we were in, our blogging interests and our shared faith.
You will probably think I am crazy,
but even though I was a family and event photographer for six years, I am terrible at taking photos of my own events and friends. Weird I know 😉 So this is the only shot I have of those that I met!
The key note speakers were HGTV personalities, Chris & Peyton Lambton.
They have been on a couple of shows including Yard Crashers and Going Yard. Their story was amazing – individually working in their careers and living regular lives and then being entered by friends and co-workers to win a spot on the Bachelor and The Bachelorette (at separate times.). They both ended up loosing the winning spot on the shows and as they said it, they were dumped. A producer who worked on both shows introduced them knowing they were perfect match for each other and nine months later, he proposed!
Because of their notoriety, they were asked by HGTV to send in a pilot show and their TV shows were born! The whole message of their story for the purpose of Haven attendees was to share that you just never know how one opportunity can lead to the next. They encouraged us to take the opportunities that we come across as bloggers and pursue them . We were encouraged to reach out within our own blogging industry.

The conference was filled with similar opportunities such as the businesses that sponsored the event.
Home Depot, Frog Tape, Gorilla Glue and Dremel just to name a few. One of my favorite displays was Behr Paint. They had a large paintable bear that looked like a big coloring book! We were given paint samples and brushes and away we painted!
My little spot is the turquoise and orange flower 🙂
The color display wall for Behr Paint was gorgeous too. Painted terra cotta pots lined the wall showing off a beautiful color palette! This looks like a future project for our own home. I can see it outside on a patio with herbs or flowers planted in the pots. It could even be a small vegetable garden!

Many of the vendors brought their new products.
Gorilla Glue has a new glue gun that is a must have. It is small and has a great little built in stand that prevents the glue gun from falling over. I used it to make a little cork and succulent fridge magnet.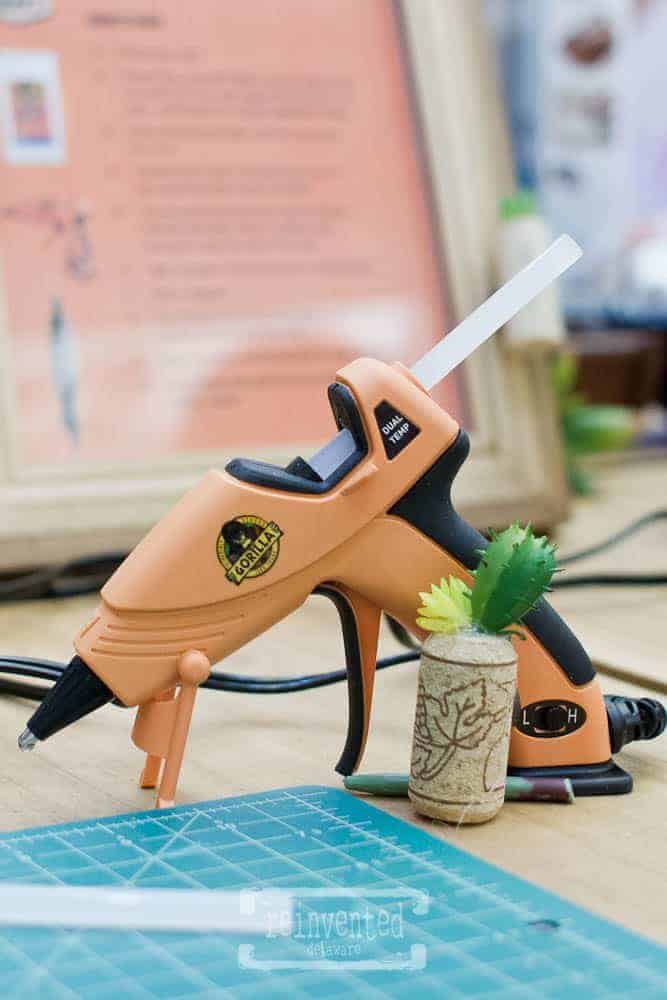 Other vendors brought construction tools.
Kreg Tool Company and Ryobi Tools shared a great space and had demonstrations throughout the day of how their tools can work together. Among many products, Kreg has jigs for hardware installation and straight edge tools for accurate cuts. Ryobi Tools had circular saws that are small and compact as well as drills and drivers. It was great to see two companies working side by side and showing how the tools can be used in conjunction with one another.

Many of the vendors catered toward the decorating side of the home decor world.
The Stile Company had a gorgeous fan display. The Anderson pictured below was sleek and stylish. Ceiling fans are kinda frowned upon in home decor even though most of us like the effect of them. I for one love ceiling fans for the movement they bring when my windows are open. I also love the soothing hum they make at night while I fall asleep ;). The Anderson fan is the perfect solution for those who don't want the look of a typical ceiling fan but still want the benefits that a ceiling fan brings.

The weekend was filled with so much learning!
Everything from SEO to interior photography to blogging full time to using social media to expand my reach and everything in between! I am still pouring over the notes I made all weekend.
This conference was exceptional. If you are a blogger who writes in the home decor space, this conference is a must! I cannot recommend attending enough!!
I hope this information was helpful to you! Thanks for stopping by!