Hi friends! Thanks for joining me here today!
Have I told you lately that I appreciate the fact that you stop by here for a visit, to see our projects, to read our posts, and to visit our YouTube channel?
Thank you!! Thanks for your support here on our blog! It really does mean the world to me!
My hope is that you find inspiration here to create a home that you love with vintage items that you have repurposed, upcycled, and re-loved. And I hope to be the one to show you how to do just that 😊
In fact, I am really hoping to branch out just a bit here on the blog. Here are some of the topics I want to expand on:
Seasonal project Ideas
Simple Recipes
Vintage Style Home Decorating
Outdoor Living
and of course DIY Projects & Furniture Makeovers
In fact, I would love to hear your thoughts about those topics! Are you interested in learning more about them? Let me know in the comments! I would love to hear from you!
In the next couple of weeks, my blog will be undergoing a reconstruction of sorts. It's going to be quite a task since we have about 300 blog posts! You might not notice any changes on the surface, but I'm hoping that it will be easier to find the projects and ideas that I share here.
But I'm up for the challenge! Be sure to stay tuned so you don't miss the reorganization!
recent projects
Here are some of my recent projects that I think you might enjoy!
Simple click the image to head over to the post!
YouTube videos
Things have been busy over on YouTube also! Here are two recent videos. While you are over there, be sure to subscribe to our channel so you don't miss any of our future videos!
Tap the images below to watch the videos!
one for the road
Remember I said earlier that I had some exciting news to tell you?
One of our YouTube videos went viral!
Well, at least viral by my standards! It was a crazy two weeks of comments, views, and new subscribers (close to 6000 new subscribers!) and learning to understand analytics 😂
Mind you, I'm not being braggadocious by any means. I just couldn't believe it was even happening!
Thank you if you are one of the many who watched and enjoyed the video! It means a lot to me that you find our blog tutorials and YouTube videos helpful!
Click below to watch the video 😊
And now I have a question for you
I want to change the name of this weekly (sorta weekly) newsletter from "All Things Vintage" to something else. Ok, so maybe this isn't that big of a deal, but….. I need your help with the name!
Here are a couple of choices but if you have another great idea for a new name, feel free to tell me in the comments!
Along the Journey
The Vintage Weekly
Vintage Style Weekends
The RD Weekly
Weekend Coffee Chat
Honestly, I'm terrible at this sort of thing so my ideas might be lame. That's why I need your help! I'm looking for a creative name for a weekly newsletter that would include what we've been up to, what's in my Amazon cart (or other online carts!) what some of my blogging friends have been up to, and maybe what is on our menu for the week.
You know, just general catching up and chatting 😊
Let me know your thoughts about the ideas I listed above or maybe you have an idea of your own! Tell me in the comments!
---
Visit my Amazon Storefront!
Click the button below and head over to our online shop on Amazon!
Until next time…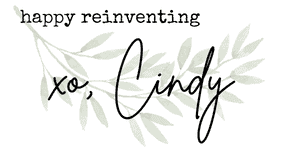 Shop for all your paint
supplies here!
Dixie Belle has what you need for your next project!