Along the Journey Shopping with Friends
Is your turkey in the oven yet? Just kidding, I know it's too early for that!
brine your turkey
But it's not too early to brine your turkey. I've been doing this for a couple of years now. Have you tried it? I use a combination of water, sea salt, brown sugar, and the usual spices like rosemary, thyme, and sage. Garlic and onion powders are optional.
I make a big batch and then add it to a clean cooler filled with ice water, put the turkey in, and fill it to the brim with more water to cover the turkey.
Then I keep putting ice on it to make sure it stays icing cold until Thanksgiving morning. This makes for a tender, flavor-filled turkey that we love!
spatchcock your turkey
I'm also going to Spatchcock our turkey this year! I've used this method when roasting a chicken but this will be a first for the turkey. It should roast quicker and get an evenly browned outer skin. Fingers crossed! I'll try to share a picture of the bird next week.
However you cook your turkey, I hope you have the best Thanksgiving celebration yet! Give your family big hugs and enjoy your time together this Thanksgiving! 🦃 🥰
freebie library goodies!
Have you checked out the freebie library lately? This week, I added all sorts of Christmas designs for you. Phone wallpapers, printable gift tags and artwork, and several greeting card designs. Get the cards printed and you could start on that Christmas card list this weekend!
If you plan on printing the greeting cards and the gift tags, use heavy card stock for a professional look. Grab some cute brown craft paper envelopes for a special touch!
Don't you just love this simple phone wallpaper design? They are so easy to put on your phone!
Head over to the freebie library and scroll down to the phone wallpaper section. I have this design and five more you will enjoy!
Download the image to your phone and add it as your background.
Change it out to the other designs anytime you need a change.

recent projects
This weekend, I will be out thrift shopping for a couple of old wool sweaters to make my annual sweater snowman. I've made one of these snowmen for the last 20 years! I'm excited to see what I come up with this year.
If you need a quick pumpkin centerpiece for your Thanksgiving table, grab a couple of cloth napkins and throw these sweet pumpkins together in no time! Make 3 or 4 and that should be plenty for a sweet table decoration!
Tap the images below for the tutorials!

recent YouTube video
I took the week off from YouTube. In fact, I might take a couple of weeks off! Some time away might be refreshing 🙂
Here is a fun video from last year that I am sure you will enjoy watching! In it, I will show you how to make a back wrap apron. This would be a great Christmas gift idea. It's soooo easy to make and inexpensive especially if you use dropcloth!
Tap the image below to watch! You can also read the blog post How to Make a Back Wrap Apron.

The following post may contain affiliate links. That means if you click and then buy something, I will make a small commission at no additional cost to you! Thank you for supporting my blog. full disclosure here.
Saturday shopping
Some of my blogging friends and I are getting together and sharing our recent finds while shopping online.
You can check the links below for our faves and be sure to pop over to visit their blogs. Each of these ladies has a beautiful vintage-loving and repurposing style like you and I do. I'm sure you will enjoy reading their posts!
Reinvented Delaware – Cindy



'Tis the season for decking the halls with boughs of holly and hustling to complete our shopping lists. I've recently completed my decorating spree and am eager to share some of my cherished discoveries with you.
I put two Nobel Fir Faux trees up in my family room this year and decorated them with a woodland theme full of darling critters from the forest. These trees are my absolute favorite. They look so natural and have over 600 lights on them.
Next, I added these wood jingle bells; they are amazing! And they come in large and small.
If you love the natural look for Christmas, you will love all of these great choices to make your holiday extra special.
I was busy all week turning my house into a White Christmas. Which is my theme for this year. I'm pretty happy with how it has turned out.
Are you expecting house guests over the holidays?
I love having house guests, even with just a two bedroom home, we make it work. Starting with the bed. Every guest appreciates a comfy bed, even when you can't offer a full bedroom.
Happy Thanksgiving To All!

one for the road
If you are looking for a great way to make stock from your leftover turkey bones, use this recipe. If takes no time to make, it's a healthy bone broth and it goes perfectly in the freezer for any time you need stock for soup! Winter is coming and you are going to love this stock on a cold day!
Tap the image for my easy chicken stock method that you can use for your Thanksgiving turkey!
---
Visit my Amazon Storefront!
Click the button below and head over to our online shop on Amazon!
Until next time…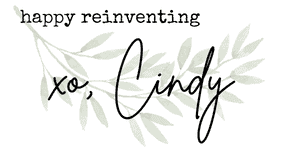 Cindy has been decorating her home with thrift store finds for 40 years. She is an avid thrift store shopper who loves to makeover the items she finds into vintage-inspired home decor and furniture. When she isn't thrift shopping or painting a piece of furniture, you can find her making homemade butter, working in her garden, or painting with watercolors.