Along the Journey Fall Capsule Wardrobe
Do you have coreopsis planted in your gardens? I have a little patch in my herb garden just outside of my kitchen window. The color makes me think of fall. That warm, rich yellow is so pretty!
fall projects
In fact, that coreopsis got my creative mind working! I started making a wreath today that involves this color. I'll be sharing it soon!
The first project below is a little hint of what I am working on today. Wink, wink.
It might look a little springtime-ish but those adorable pinecone flowers can be painted in any color for any season! You will love making them!
See that corn husk wreath on the right? It all started because I was packing corn husks tossed to the roadside from a tractor near our home into the pocket on my hoodie! My hoodie front pocket was stuffed!
Tap the images to see the full projects!

recent YouTube video
You are going to love my recent thrift store makeover video! I made over some silver plate pieces that only cost a couple of bucks. Now I'm using them for a gorgeous vase for the brightly colored zinnias I've enjoyed this year.
Tap below to watch.
Could I ask a little favor while you are over there watching? I'm soooooo close to 20K subs on YouTube and I would love for you to help me reach my goal! Thanks for supporting my channel and the FREE tutorials I offer there!

recent episodes
Here is a list of all of our recent podcast episodes!
Reinvented Delaware The Podcast
Do you love to create? Are you passionate about sustainability? Then you'll love Reinvented Delaware: The Podcast!
Join hosts Cindy and Steve as they explore the world of repurposing, upcycling, DIY projects, thrift shopping, antique shopping, auction shopping, and thrift hauls in Delaware. In each episode, they'll share their tips and tricks for transforming old materials into new treasures. They'll also interview experts in the field, and give you inspiration for your own projects.
From Hutch to Farmhouse Sink
In today's episode, From Hutch to Farmhouse Sink, we take you on a journey through on of our most popular DIY adventures – repurposing a 1980s oak hutch into a charming farmhouse-style laundry room sink, complete with a galvanized tub as the sink basin.
The Backstory: We share the inspiration behind their hutch makeover. We also discuss our love for farmhouse-style décor and the desire to repurpose furniture whenever possible, breathing new life into old pieces.
The Furniture Piece: Hear the history of this oak hutch, when we bought it, how long we have had it, and even when we tried to sell it!
The Vision: Listen as we describe our vision for the hutch-to-sink transformation. We talk about how we planned to blend the 1980s oak hutch with the rustic charm of a galvanized tub to achieve the perfect farmhouse aesthetic.
The Makeover Process: Dive into the nitty-gritty details of the makeover. From sanding and painting to reconfiguring the hutch's countertop to accommodate plumbing, we take you step by step through the transformation process.
Challenges and Triumphs: Like any DIY project, this one had its fair share of challenges. we share the hurdles we faced and the creative solutions they came up with to overcome them.
The Finished Product: Prepare to be amazed as Steve and Cindy reveal the stunning final result of their hard work. The hutch-turned-sink is now a centerpiece of our laundry room, adding both functionality and style to the space.
So, whether you're a seasoned DIY enthusiast or just someone looking to add a touch of farmhouse charm to your home, this episode is a must-listen. Join us as prove that with a little creativity and a lot of love for repurposed furniture, even a 1980s oak hutch can have new life in your home.
Thanks for watching! If you have any questions, feel free to ask in the comments below.
Buy Me a Coffee | Support our channel! Thanks!
https://www.buymeacoffee.com/cindygayle
==============================
BLOG POST:China Cabinet Makeover:https://www.reinventeddelaware.com/china-cabinet-makeover/
===============================
VIDEOS MENTIONED:
https://youtu.be/bdqG329wa3k
===============================
Sign up for our email so you don't miss a new video or blog post! Plus you will gain access to our FREEBIE LIBRARY!
https://www.reinventeddelaware.com/freebie-library-opt-in/
===============================
JOIN OUR JOURNEY ON THE SOCIALS:
Pinterest:
https://www.pinterest.com/reinventeddelaware/pins/
Facebook:
https://www.facebook.com/reinventeddelaware/
Instagram:
https://www.instagram.com/reinventeddelaware/
Blog:
https://www.reinventeddelaware.com/
Podcast:
https://podcasts.apple.com/us/podcast/reinvented-delaware-the-podcast/id1695124625
My Amazon Storefront (includes my camera gear)
https://www.amazon.com/shop/reinventeddelaware
Disclosure: The links contain affiliate links. I will receive a commission for items purchased via these links at no additional cost! I appreciate your support.☺️ Read the product labels carefully and take all recommended precautions when using these products. Complete these projects at your own risk 🙂
Search Results placeholder

inspiration from the web
Do you have a favorite home decor piece to collect? My friend Lora shares some great tips for displaying those collections in your home!
Tap the image below to see her ideas!

shop with me
The following post may contain affiliate links. That means if you click and then buy something, I will make a small commission at no additional cost to you! Thank you for supporting my blog. full disclosure here.
Speaking of fall, I'm ready for some clothing changes. How about you?
I'm loving the simple and easy style of clothing that Walmart has with their Time and Tru brand. Several of these pieces are already in my closet and several are in my cart!
Let me know your faves! The links are below the collage. Tap the individual links or the single images you see below the list of links.


Visit my Amazon Storefront!
Click the button below and head over to our online shop on Amazon!
Until next time…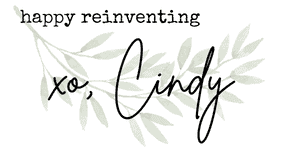 Shop for all your paint
supplies here!
Dixie Belle has what you need for your next project!
use code: 10OFFRD at checkout and save 10%!