Hey friends! Thanks for stopping by today for my weekly edition of Along the Journey where I share what projects we have been up to lately.
This week I have been on a little adventure. Let me fill you in.
My mom was born and raised in Beaumont, Texas. She met my dad when he lived in this house. Eventually, they were married and started their family.
My dad was in the Air Force so that meant a life of training schools and deployments. During one of his first training schools, my mom stayed with his parents in this house. She was expecting their first baby.
She had grown up and then lived several years as a married woman with children in Beaumont.
And at 87 she wanted to see Beaumont again. One of my sisters made all of the arrangments, we jumped on a plane and spent this whole week seeing some of the places she remembered.
Seeing this home had an impact on me that I ddin't expect. I'm still working through some of that but for now, I like to think about my dad growing up here with his mom, dad and sister.
It helped me to connect to him in way I had never considered. And for me that meant a lot.
My parents eventually divorced when I was three and I didn't know my dad for many, many years due to living 2000 miles away from him.
Seeing this house in person helped me to connect to him and his parents, whom I never really knew.
This is a story that could go on and on and I am even wondering why I am writing all of this. Maybe it's a little bit of therapy 🙂 Maybe I am just processing.
At any rate, the adventure from this past week included traveling 1500 miles so that my mom could see some of her hometown and it led me to discovering some of my own roots.
And for that, every mile was worth it.

top sellers
Here are some of the items that my followers are grabbing. Click on the images to get one for yourself! And yep, you can see some Christmas shopping has been happening already!
The soap-making supplies are popular too – I think people are interested in making these soaps as gifts for friends. I've shared about that over on YouTube when I told them about the freebie library gift tags.
Peeps are also loving that back wrap apron pattern and the grain sack fabric. Those would make great gifts too!
Anyway, you'll see what others are buying! Tap any of the images to shop!

Visit my Amazon Storefront!
Click the button below and head over to our online shop on Amazon!
Until next time…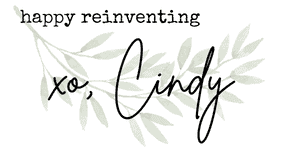 Cindy has been decorating her home with thrift store finds for 40 years. She is an avid thrift store shopper who loves to makeover the items she finds into vintage-inspired home decor and furniture. When she isn't thrift shopping or painting a piece of furniture, you can find her making homemade butter, working in her garden, or painting with watercolors.
Shop for all your paint
supplies here!
Dixie Belle has what you need for your next project!
use code: 10OFFRD at checkout and save 10%!