Along the Journey Hand Picked Faves
It's fall.
Like most of us, I love the colors of fall.
I might not want orange inside my home for decorating, but I love to see the beauty of the warm orange tones that God has created outside. They are perfect with all of the green tones He created too. Don't you think?
fall colors
Are you in full swing with the changing colors in your neck of the woods?

recent projects
This week, I created a gorgeous plate wall decor art display on one of the walls in our bedroom. Yep, plates on a wall in a bedroom! They look amazing.!
Hanging them reminded me about using unconventional pieces to decorate rather than the standard 'home decor' pieces you might find in the big box stores. Decorating with ironstone adds a vintage feel to any room!
Tap the images below to see the posts!

The following post may contain affiliate links. That means if you click and then buy something, I will make a small commission at no additional cost to you! Thank you for supporting my blog. full disclosure here.
Four of my blogging friends and I are getting together and sharing our hand-picked favorite finds just 'four' you! We will each be sharing four things we are currently loving and we know you will love them too!
You can check the links below for our faves and be sure to pop over to visit their blogs. Each of these ladies has a beautiful vintage-loving style like you and I do. I'm sure you will enjoy reading their posts!
Reinvented Delaware – Cindy
Click through the images below by tapping the arrows on the right and left hand sides of the images. That will help you to scroll through and see the items I mentioned. Tap to purchase!


These finds are items that I have purchased, use and enjoy. I am linking the actual product I purchased, not a similar item. I wandered into Target the other day and stumbled across some amazing holiday finds at really good prices.

Thanksgiving is right around the corner. I love to tuck feathers and feather spheres here and there for the holiday. November is hunting season and feathers add such a nice texture to vignettes and centerpieces. You can stick a handful into any vessel for an instant bouquet to tuck them here and there into your floral arrangements. Shop feathers HERE. Find feather spheres HERE.
Christmas decorating will be happening soon; time to make sure you've got all the helpful necessities to attach and make the pretty! I've listed all my favorite floral styling supplies HERE. (follow me while you're there;)
Usually we have a real tree in our living room. But this year I decided I'd had enough. As a blogger, it's important for me to get my holiday decor up early, and a real tree just doesn't fit into that time frame. And the new artificial trees are so easy to set up! I got spoiled with the one I use in the kitchen. So I ordered THIS tree. It's got LED lights that can be switched from clear to colored with a foot pedal (because every year I'm in the mood for something different). I just hope it's not too big for our small living room; we'll see! All of the Christmas trees in our house are from here; can't beat their prices;)
I have enjoyed this classic wheat wreath for a couple years now. Last year it was above the mantel; this year it hangs on the dining room hutch. The texture is perfect for this time of the year. I added a simple metal gather word to the front. Find wheat wreaths HERE. (And if you've amassed quite a few seasonal wreaths like me, grab THESE to store them).

WOOD AND MARBLE CUTTING BOARD: We are back on track about starting our kitchen remodel. These are the colors we are doing and I'm loving this wood and marble cutting board.
LONG VEST: I have a teeny coat addiction and I'm loving this one. Such a comfy style for chilly days but not tight or bulky being a vest. Super versatile and perfect for the car.
WINTER GARLAND: Maybe it's the chilly weather but I guess you can see a theme. I got one of these almost two years ago and it's such a fun item to decorate with. I've used it on old windows, wreaths and the mantle.

one for the road
If you didn't know, Ironstone is also the name of a milk paint color! I gave this tea cart a makeover a couple of years ago. Someone bought it right away when we were still selling pieces in our vendor booth.
It's gorgeous, don't you think?
Tap the image to see how I gave this $20 thrift store find a makeover!
---
Visit my Amazon Storefront!
Click the button below and head over to our online shop on Amazon!
Until next time…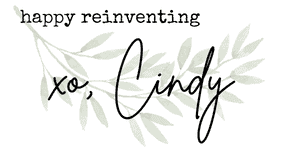 Cindy has been decorating her home with thrift store finds for 40 years. She is an avid thrift store shopper who loves to makeover the items she finds into vintage-inspired home decor and furniture. When she isn't thrift shopping or painting a piece of furniture, you can find her making homemade butter, working in her garden, or painting with watercolors.