Tuesday Turn About #198 Spruce up for Spring
Thanks for popping by today! My co-hosts and I have some fun features for you this week. I'm sure you will enjoy the inspiration you find here.
We also have many bloggers linking back to this post over the next couple of days. Stop back and check out the great projects, recipes, diy's, and home decor inspiration these amazing bloggers share!
Also, stay tuned next week – we are hosting a giveaway JUST FOR YOU! Don't worry if you are not a blogger, you will still have a chance to win! All the details will be shared next week!
UPDATE: My Freebie Library is having a tech issue!!
I'm working on it behind the scenes as quickly as I can and will have it fixed as soon as I can! The following paragraph was written prior to the technical issues!
One more thing before we check out the home decorating inspiration: I have a new Freebie Library! You can join our journey via email and then gain access to all the fun printables I have made for you! See that red button on the top left of the page labeled: "Get My Freebies"? Just click it and follow the steps!

Weekly Thrifting Tip
It's spring and that means people are clearing out their stuff! A couple of weeks ago, I mentioned that you can find great deals at yard sales. This week I wanted to mention that you can find great deals at your local auction.
Scope out your area and find the auction houses near you. Ask about the days they hold auctions and if they share images online prior to the event. It's a great way to decide if you want to attend the auction.
You can watch how my hubby and I shop at an auction this week, Wednesday, 4/19 at 8pm EST over on YouTube! Hop over after you link up or visit this weeks features!
My Camera Gear
You might be interested in the gear I use to photograph all of the tutorials we offer here at Reinvented Delaware. If you have any questions about any of the camera equipment, just let me know!

My Photography Ebook has been Discounted!
If you need help with your DSLR skills, this book is for you! It is packed full of tips to help you improve your photography skills. Your readers want to see lovely images that tell the story of your blog post and this guide will help you to do just that!
If you are not a blogger, no worries, this ebook can still help you! This guide includes:
how to shoot in manual mode for full control of your final images
how to read and understand the exposure triangle
tips for lighting and composition
how to organize your images
Learn to tell your story through images for only $9.97!
Click below and sign up for my email – I'll send you a free photography cheatsheet that I have in my new freebie library!
DSLR Photography Guide for Bloggers
Now for the Inspiration!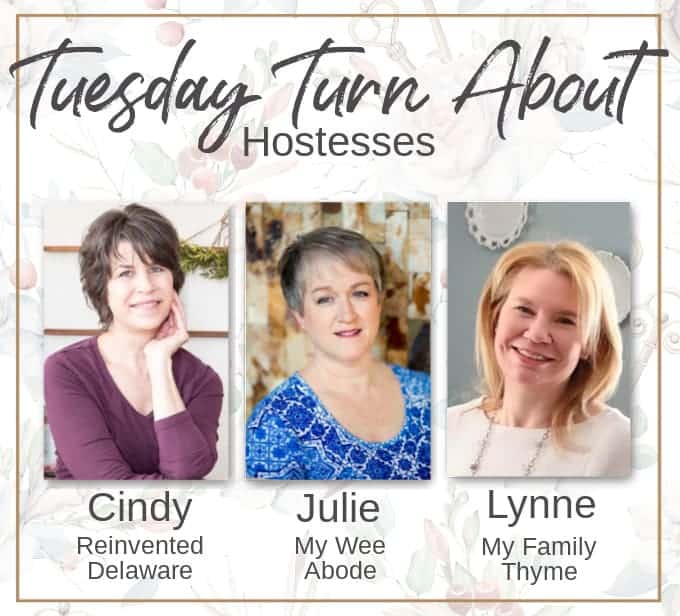 Join us on the socials!
Though not a requirement, we would love for you to join us on other platforms. Feel free to subscribe to our email lists, our Facebook pages, our Instagram accounts, and our Pinterest boards!
Let's create community!
Cindy at Reinvented Delaware
Lynne at My Family Thyme
The Best Blueberry Muffin Cake | How to Paint Wood Kitchen Cabinets
Julie at My Wee Abode
How to Find the Best Price on Your Favorite Products //
How to Dress-up a Charger with Wood Beads
Be sure to hop on over to Julie's blog at My Wee Abode and Lynne's blog at My Family Thyme to check out SIX additional features from Tuesday Turnabout! If you haven't been featured on Reinvented Delaware this week, you just might be featured on one of the other hosts' blog!
Lost and Found Decor – Melanie
An Organized Season – Donna
Maintain and Organize Yard Tools
The House on Silverado – Niky
Let's start sharing! Because this is a party, we encourage all who link up to visit several other bloggers who have linked as well – comments and pins are a great way to spread the love!
Before you get started, take a look at our guidelines:
This party is for home decor and home-related posts only (recipes, organizing, DIY, crafts, etc.). Link up to 3 related posts. Please do not link up informational posts that do not relate to the topic.
If you would please not link up shops, advertising, round-ups, other link parties, or any posts promoting sales, we would appreciate it.
DO NOT PIN FROM IMAGES ON THIS PAGE (it just won't work right on Pinterest). However, please visit the original post/source and pin from there. That works perfectly!
Please make sure that your images are in a jpeg or png format. If we can't save your image, we may not be able to feature you. So sad!
By linking to the party, you give us permission to share your projects on our blogs and social media. We will always give proper credit with a no-pin image.
We're looking forward to all of your fun posts this week! Give us your best!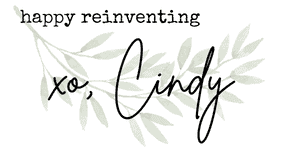 Tuesday Turn About Link Party runs from Tuesday 6 pm EST to Saturday 1 am EST. Join us during those times each week!
Before you link up, did you catch my thrifting tip for the week? Scroll up and read the tip! Then scoot down here to link up your amazing posts!