Tuesday Turn About #212 A Bittersweet Goodbye
Hi friends! You might be surprised at the title of this post. Before I explain, let me just say that this post is full of inspiration for you. You'll find recipes, DIY projects, thrifted and upcycled ideas, and more!
My blogging friends, Julie and Lynne are also sharing their latest posts to inspire you.
Be sure to click and read the posts that interest you! And comment on those posts to tell my blogging friends that I sent ya'!
Now, let's get to the bittersweet goodbye.😔 This might be a little long – I'm just speaking from my heart.

Something Different
Blogging is hard work.
beginnings
When I first began blogging in 2018'ish, I photographed the upcycled and repurposed furniture makeovers and home decor that hubby and I sold in a local vendor booth. It felt like the right thing to do since I already had a good camera from a previous family photography business.
Plus, it was hard to work on projects knowing I would never see them again after they were sold. The photos helped me to say goodbye to those pieces. 😂
Truth be told, most of those posts from the beginning haven't even been seen by people who would be interested in the how-to process of the projects. It's completely my fault that people are not finding those tutorials and here's why: I was terrible at writing in a way that would help Google guide diy searching people to my posts.
I naively thought that if the project was a good one, people would find it. Haha! I had to learn a lot!
In fact, I had (and still do) a lot to learn about blogging in general especially if I wanted to earn income from all of this hard work.
business goals
Fast forward to 2023 and recent years. I've learned a lot about blogging, why I am blogging, who I want to reach, and how much time I spend blogging.
I want to continue this reinventing journey and yet I don't want an expensive hobby. What I mean is, if my blog isn't earning an income for me, then it is an expensive hobby. If you are a blogger, then you can relate.
BTW, if you blog as a hobby, keep on!! No judgment here for your purpose in blogging! 😊
If you have ever had a job that earns a paycheck, imagine doing that same work without pay or just pennies for doing the work. Or even worse, spending money to show up there to do the work!
hard decisions
So I've had to make some hard decisions. And it's taken me since January of this year to get to this point of making those hard decisions. But I want my business to be successful. I want my time and efforts to be enjoyable for me, and my readers, and good for our savings account. 😂
My blog will continue. Hubby and I enjoy working on our projects together and sharing those projects with others who are interested.
Our YouTube channel will also continue. The support we have found over there has been amazing and we are humbled that anyone wants to even watch!
And our new podcast will continue to develop. Yep, we have a podcast! It's new and we are both looking forward to growing on this podcast journey.
do the hard things
That leads me to the bittersweet goodbye. Because I'm focusing on other things for my online business, I need to reconsider where I am putting my blogging efforts.
One of my blogging mentors (and friend), Do Dodson, told me about three years ago, "Cindy, you will have to make hard decisions for the benefit of your business."
I'm following her advice. This will be my last week with Tuesday Turn About Link Party. It's been a good two years (almost!) but it's time to focus on the other aspects of my online work.
I encourage you to continue to follow along with my co-hosts, Julie (My Wee Abode) and Lynne (My Family Thyme) as they carry on with this link party. Many bloggers will continue to share inspiring posts for you and this is a great way to connect with them.
These two ladies have been a wonderful support system and I will miss our weekly DM messages about the link party! 😢 No worries, we are going to stay in contact!
press on!
If you are a blogger, I encourage you to continue your work, re-evaluate your blog growth on a regular basis and keep learning new things for your blog.
Blogging is hard work. You are providing resources for thousands of people who want to read your posts. You are doing a great job! Keep on keeping on my friend!
One last thing to my blogging friends specifically: if you need to unsubscribe to my email announcing Tuesday Turn About, feel free to do so! I understand that you have to do what is best for your online business (or hobby!) too! 🥰
Thanks for supporting my online business. If you want to continue to be inspired by our projects, I encourage you to subscribe to my blog, become a subscriber on YouTube and join us on our Podcast.
We'd love for you to join our journey. 🥰
Bloggers Resources
I've gathered the blogging resources I use for my blog just for you! If you are a blogger or you want to start a blog, check out the tools I use to continually grow my blog! Click the button below!
**** I'll be adding this section to my sidebar – if you need any blogging resources in the future, you can find the sidebar in any of my blog posts!
Now for the Inspiration!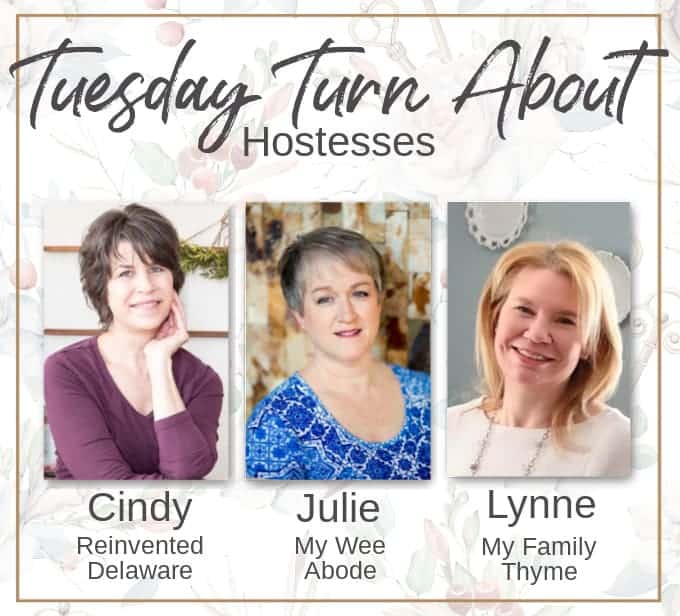 Join us on the socials!
Though not a requirement, we would love for you to join us on other platforms. Feel free to subscribe to our email lists, our Facebook pages, our Instagram accounts, and our Pinterest boards!
Let's create community!
Cindy at Reinvented Delaware
Lynne at My Family Thyme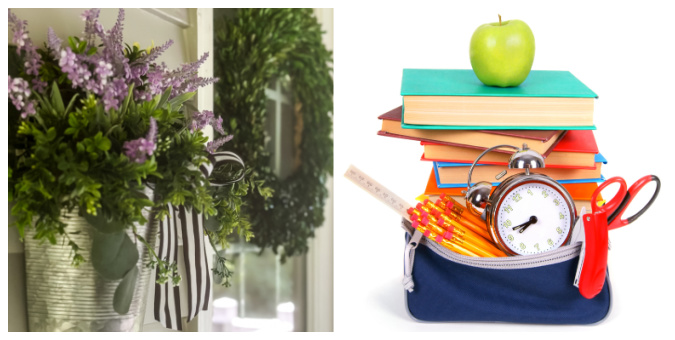 How to Create a Floral Wall Basket with Boxwood| Ten Helpful Back To School Organization Tips For Parents
Julie at My Wee Abode
Easy Egg-free Black Forest Trifle Recipe and FREE Printable //
Christmas in July – DIY Velvet Ornaments Two Ways
Be sure to hop on over to Julie's blog at My Wee Abode and Lynne's blog at My Family Thyme to check out SIX additional features from Tuesday Turnabout! If you haven't been featured on Reinvented Delaware this week, you just might be featured on one of the other hosts' blog!
Shop at Blu – Suzanne
Thrifted Outdoor Metal Footstool Upcycle
Thrifting Wonderland – Lynne
Home Decor and a Thrifted Wine Rack
My French Twist – Wendy
Let's start sharing! Because this is a party, we encourage all who link up to visit several other bloggers who have linked as well – comments and pins are a great way to spread the love!
Before you get started, take a look at our guidelines:
This party is for home decor and home-related posts only (recipes, organizing, DIY, crafts, etc.). Link up to 3 related posts. Please do not link up informational posts that do not relate to the topic.
If you would please not link up shops, advertising, round-ups, other link parties, or any posts promoting sales, we would appreciate it.
DO NOT PIN FROM IMAGES ON THIS PAGE (it just won't work right on Pinterest). However, please visit the original post/source and pin from there. That works perfectly!
Please make sure that your images are in a jpeg or png format. If we can't save your image, we may not be able to feature you. So sad!
By linking to the party, you give us permission to share your projects on our blogs and social media. We will always give proper credit with a no-pin image.
We're looking forward to all of your fun posts this week! Give us your best!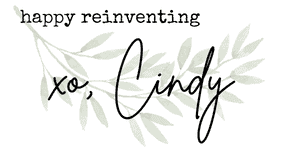 Before you link up, did you catch my thrifting tip for the week? Scroll up and read the tip! Then scoot down here to link up your amazing posts!